After speaking in Rome, I wondered how I could experience wheelchair-accessible tours, enjoy Rome (in January), manage the cost, and celebrate with friends. After all, it's the month and year I have a milestone birthday. (We'll refer to it as the F-bomb birthday.)
With a bit of help, we had a darn good time exploring Rome.
Accessibility and money
When I travel for work, I have a limited budget and can't control accessibility. But for my fun time after the conference, I wanted access, food, and tours. I didn't want to struggle with transferring into a vehicle (I need assistance – and, hey, we're all getting older!). I wanted a real-life tour guide and let my inner nerd enjoy The City of Seven Hills.
And yet…
The cost. Unfortunately, wheelchair-accessible tours and money often go hand-in-hand. So, we decided to stay at the inexpensive retreat center ($60/night) after the conference and take the Metro into Rome. (Watch how I wash my hair in the inaccessible bathroom in this Instagram reel.) By saving money on accommodations, I booked two tours. The F-Bomb birthday deserves it, right?
Wheelchair-accessible tours
After viewing multiple accessible travel websites, I contacted Sage Traveling—The European Disabled Travel Experts. They offered a variety of tours in Rome, including two that caught my eye: St. Peter's Basilica and Sistine Chapel Wheelchair Accessible Guided Tour and the Accessible Guided Food Tour.
I'd been to Rome in 2016 and my coworkers took me to the Colosseum, Roman Forum, Spanish Steps, Trevi Fountain, and other well-known sights. While I'd like to see those with a tour guide for more history, I was concerned about the weather in January in Rome. Since I can't regulate my body temperature, I thought being inside the Vatican Museum and Sistine Chapel was the perfect tour. Also, in 2016, I hadn't had surgery to help with my "belly issues" (read more here), and couldn't fully indulge in or enjoy the food. I included a food tour on my wish list.
Teresa from Sage Traveling quickly responded to my questions and made booking the tours incredibly easy. So easy that I decided to book accessible transfers to and from the retreat center instead of navigating two trains to and from the airport. What luxury!
Accessibility in Rome
On a previous trip to Rome, I didn't find it to be the most wheelchair-friendly city. The cobblestones, called sampietrini, are 5-inch by 5-inch stone squares. Some streets have curb cuts, but many don't. A FreeWheel attachment is a must for a manual wheelchair user. Also, chair users may need to roll on the main roads alongside traffic.
Elevators are tiny. My small manual chair fit in the elevator at the retreat center, but my power wheelchair wouldn't have fit. Call ahead and request the dimensions of the elevator.
As I mentioned in the article 10 Must-Have Items for Every Wheelchair User, flexibility and attitude are important when traveling.  
Vatican Museum, Sistine Chapel, and St. Peter's Basilica
Our first tour with Sage Traveling was of the Vatican Museum, Sistine Chapel, and St. Peter's Basilica. A wheelchair-accessible vehicle met the four of us at our lodgings and dropped us off at the main entrance of the Vatican Museum.
The Vatican Museum
Rahul was a talented and friendly tour guide who personalized our tour to what we wanted to see and learn about in the museum. Out of over 1400 rooms, Rahul guided us through 18, explaining the works of art, their creators, and interesting facts and histories. We saw works by Raphael, Da Vinci, and Caravaggio. I'm no art historian, so the information our tour guide shared provided meaning to what I saw.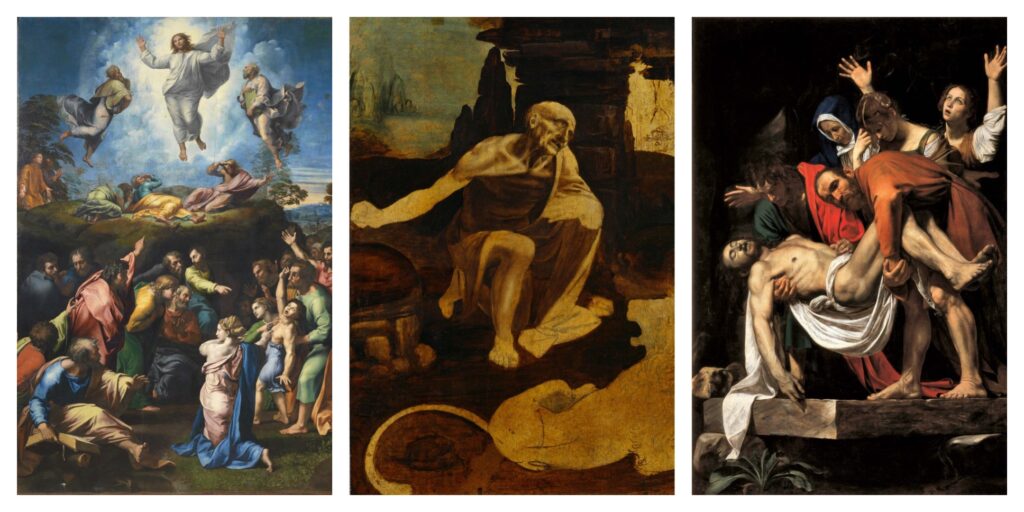 The Sistine Chapel
Before we headed to the Sistine Chapel, Rahul explained what we'd see in the Chapel since no talking (or photography) is allowed.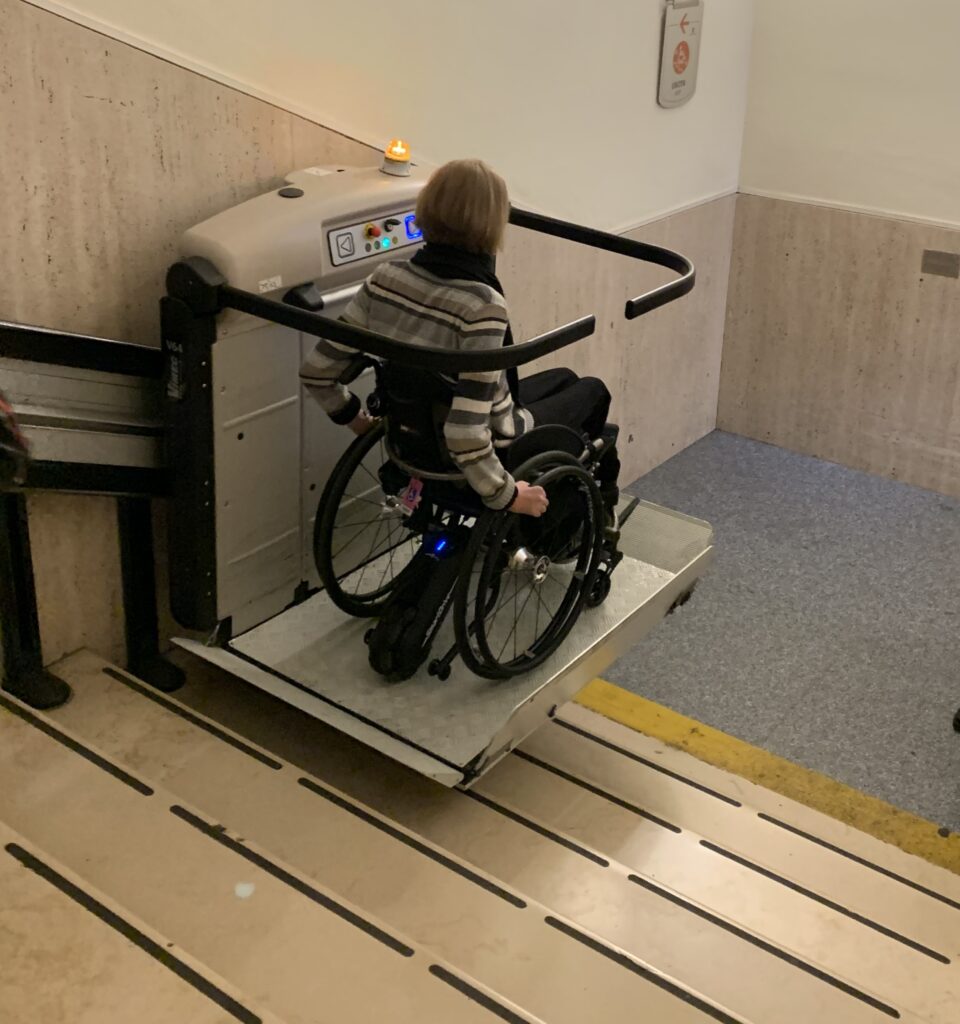 To access the Sistine Chapel, we walked against the flow of tourists to get to a lift. The lift took me down five steps to the level of the Sistine Chapel. Despite the crowds, I had a great view.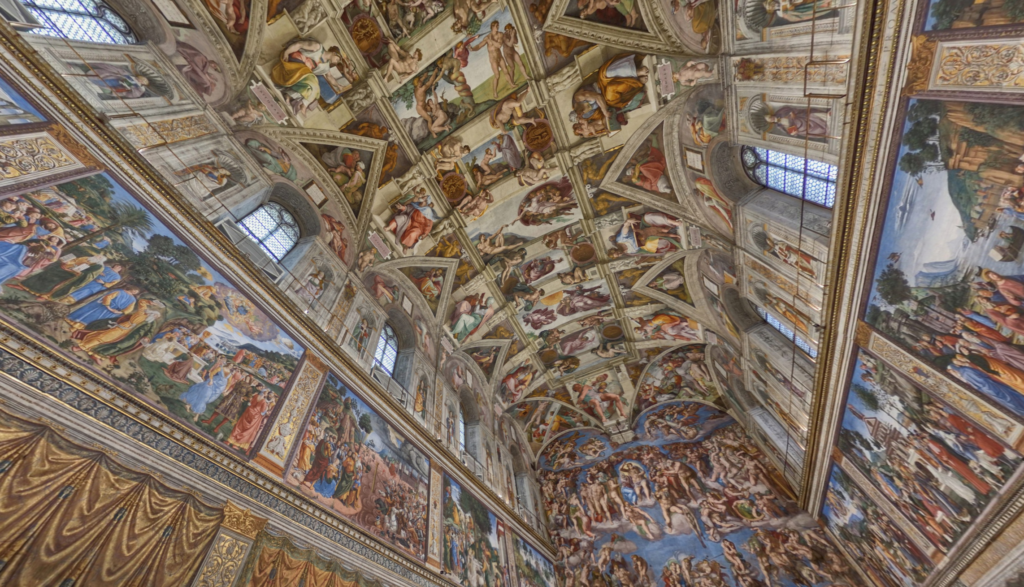 St. Peter's Basilica
Next, we headed over to St. Peter's Basilica. Due to the massive crowds gathering to view the body of Pope Benedict, we weren't sure we would be able to enter. The walk from the Vatican Museum to St. Peter's Basilica was rough enough to need my FreeWheel, so I'm glad I had brought it. With Rahul's knowledge, we made it into the Basilica, and security guided us to the closest viewing area—passing up the crowds of people waiting in line.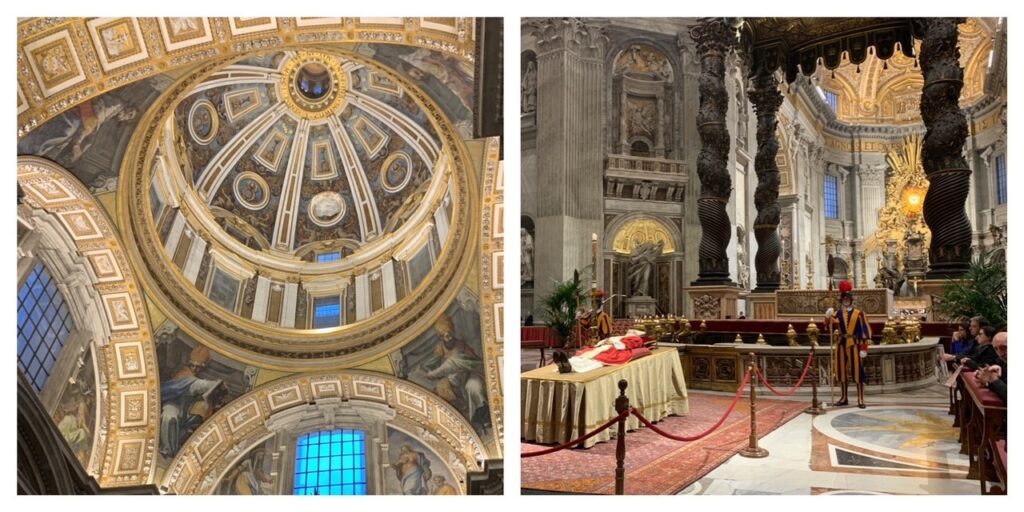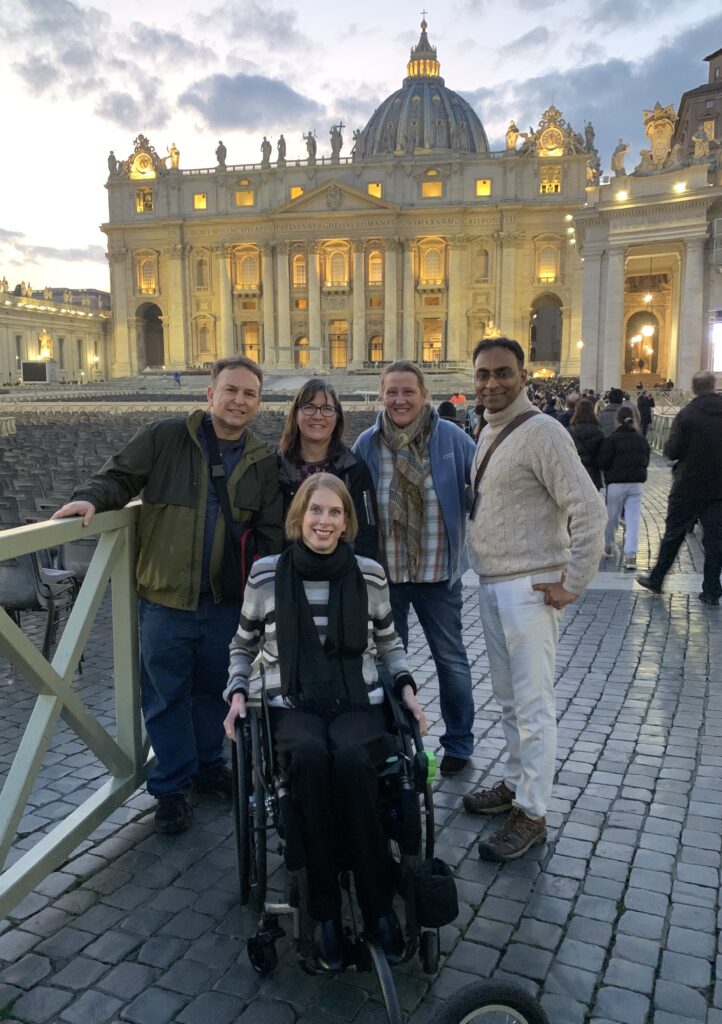 Wheelchair-accessible food tour in Rome
This tour was so much more than a food tour. Our tour guide, James, allowed us to experience the Roman culture, history, and food.
My friend Misty and I took the Metro to the Colosseo station. When we found the stairlift to go up to street level, I pushed the button for assistance. A man showed up in about five minutes. After about 10 minutes of an uncooperative lift, I exited the station. The Colosseum—with the sun shining through its arches in all its glory—welcomed us to Rome.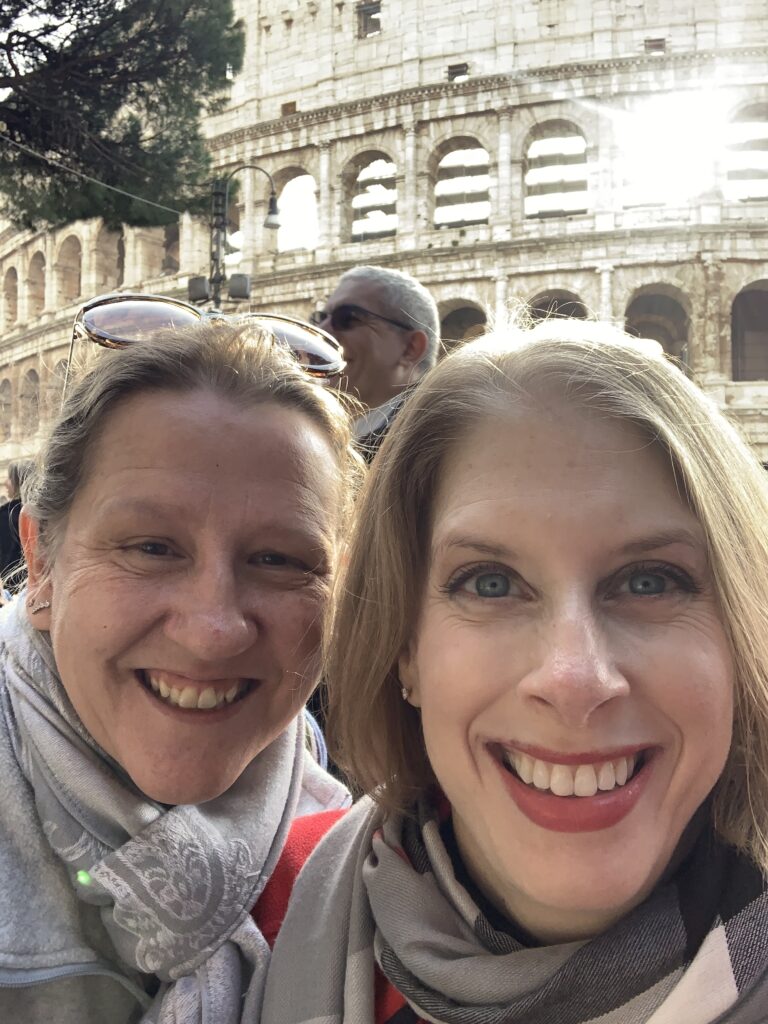 The sights along the way
James graciously met us at the Metro stop and guided us toward Trastevere. Along the way, he pointed out historical and archeological sites. We learned the Altare della Patria—a monument built to honor the unification of Italy into one country—has multiple nicknames, such as the wedding cake, the urinal, and the typewriter.
While winding through picture-perfect back alleys, James pointed out ancient columns reclaimed and reused in "newer" buildings (built approximately 500 years ago). Then he announced that to our left was the Portico d'Ottavia.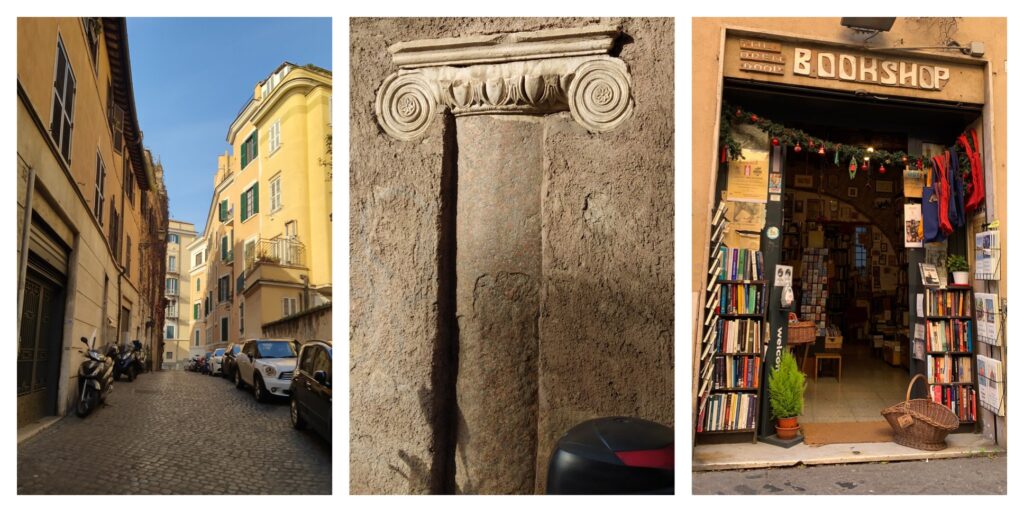 Here's something James didn't know: I wanted to see Portico d'Ottavia and the Fatebenefratelli Hospital. I recently read The Italian Ballerina which was set in this location during World War II. I was awed that I was "in" the book.
We walked by the Portico d'Ottavia, where over 1200 people from the Jewish community were detained by the Nazis on October 16, 1943. Then we crossed the Tiber River on the oldest bridge in Rome, Ponte Fabricio, built in 62 BC.
On our right was the Fatebenefratelli Hospital, another setting in the book. I was overwhelmed that my desire to see the locations in the book were unknowingly part of the tour—actually just on the way to where we would start the food tour.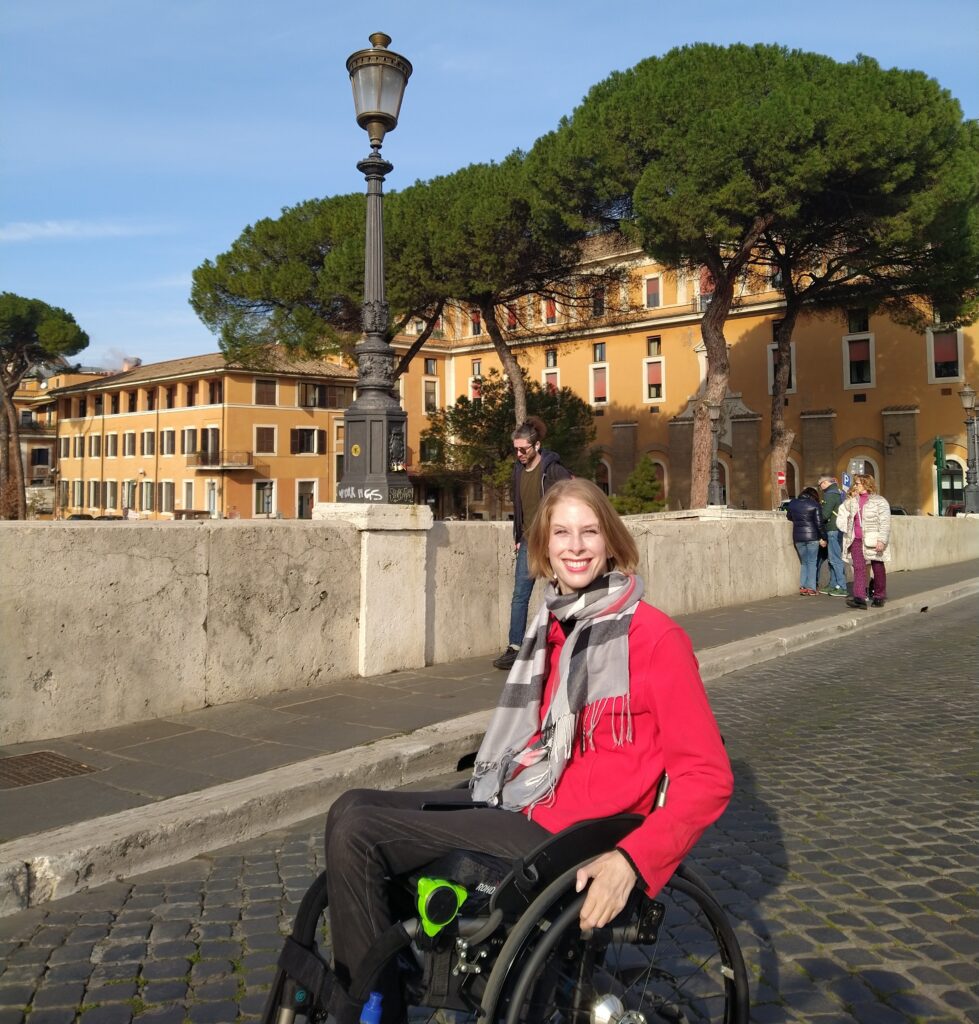 The food of Rome
Our first stop was in a meat and cheese shop where we tasted a variety of cheeses and cured meats. We continued walking to Suppli Roma where we sampled a few treats. Suppli is a fried ball of rice with tomato sauce stuffed with cheese. Marinara is a flat bread topped with an incredible marinara sauce. If we had stopped there for longer, I'd have eaten much, much more.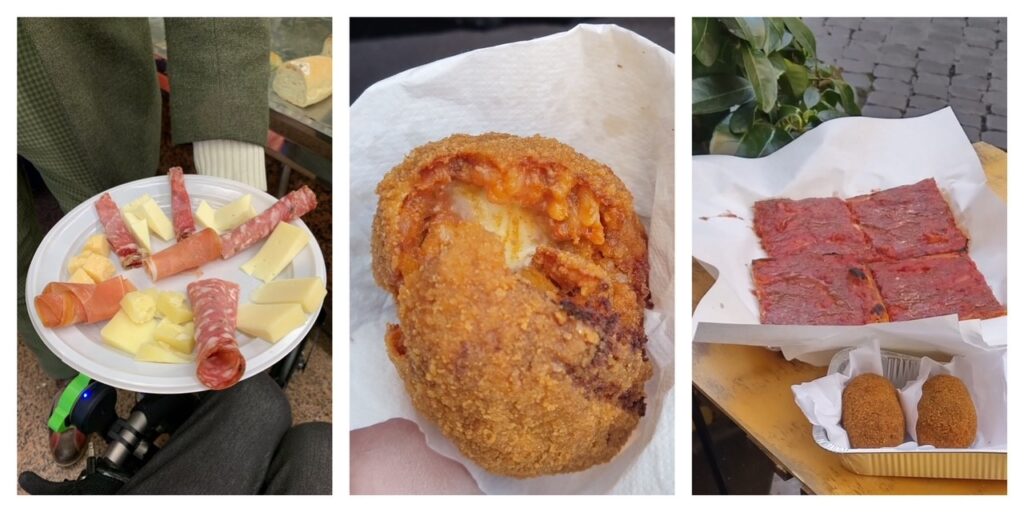 Tulipano Nero was our next stop. We tasted pasta carbonara and another type of pasta that I didn't catch the name of. After heading to a restroom that was somewhat accessible, limoncello was awaiting us when we returned to our table. I have to say I'm a lightweight when it comes to alcohol. But I'm a sucker when it comes to lemon. The limoncello was divine…and exceptionally strong! I couldn't resist several sips.
We forged ahead to Fatamorgana Trastevere to indulge in gelato. I tried three flavors of chocolate gelato—all delicious.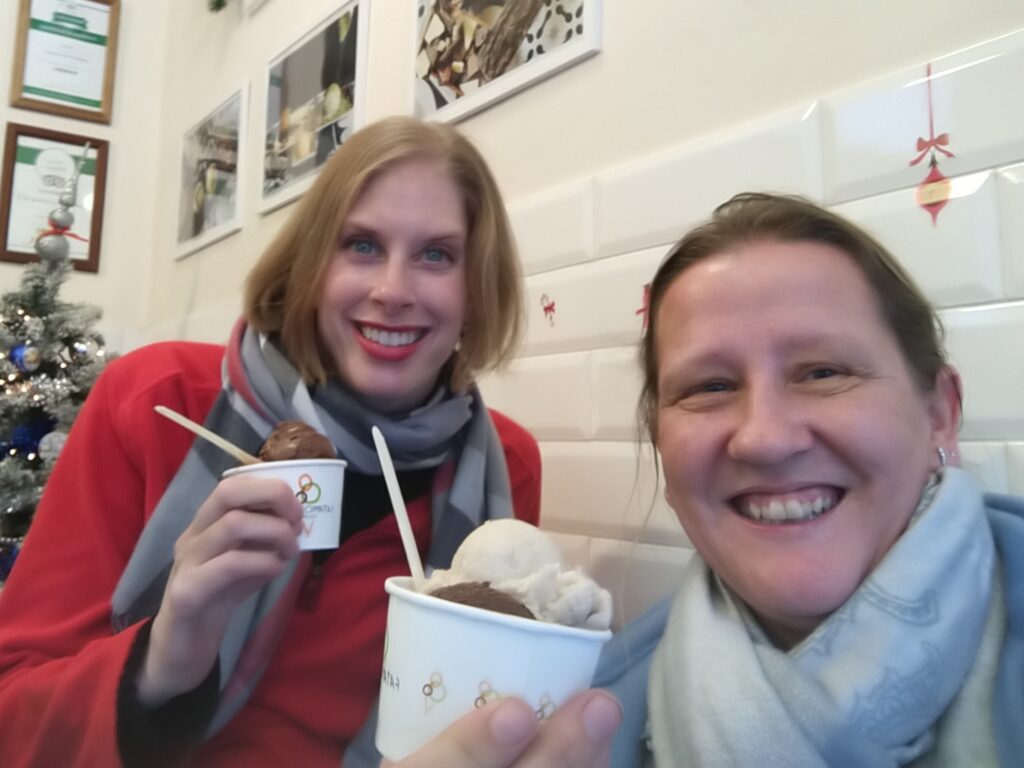 After the gelato, James was kind enough to help us find a bus and then the closest Metro station. He was invaluable with his guidance, direction, and knowledge while helping us navigate the roads, accessibility (or lack thereof), and the transportation system.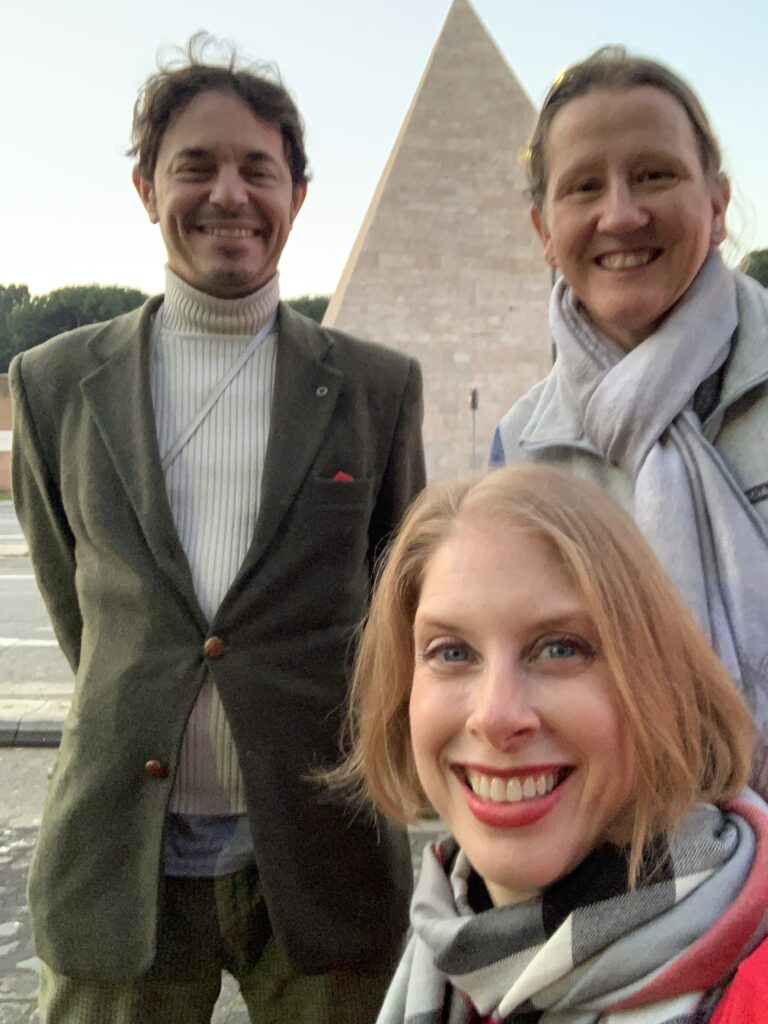 When in Rome…
Before heading home on the Metro, we stopped at Caffe Piramide to try a marocchino, which I was told is coffee and chocolate. Sounds great, right? I think my expression in the picture says it all. (I'm not a coffee drinker, but when in Rome…).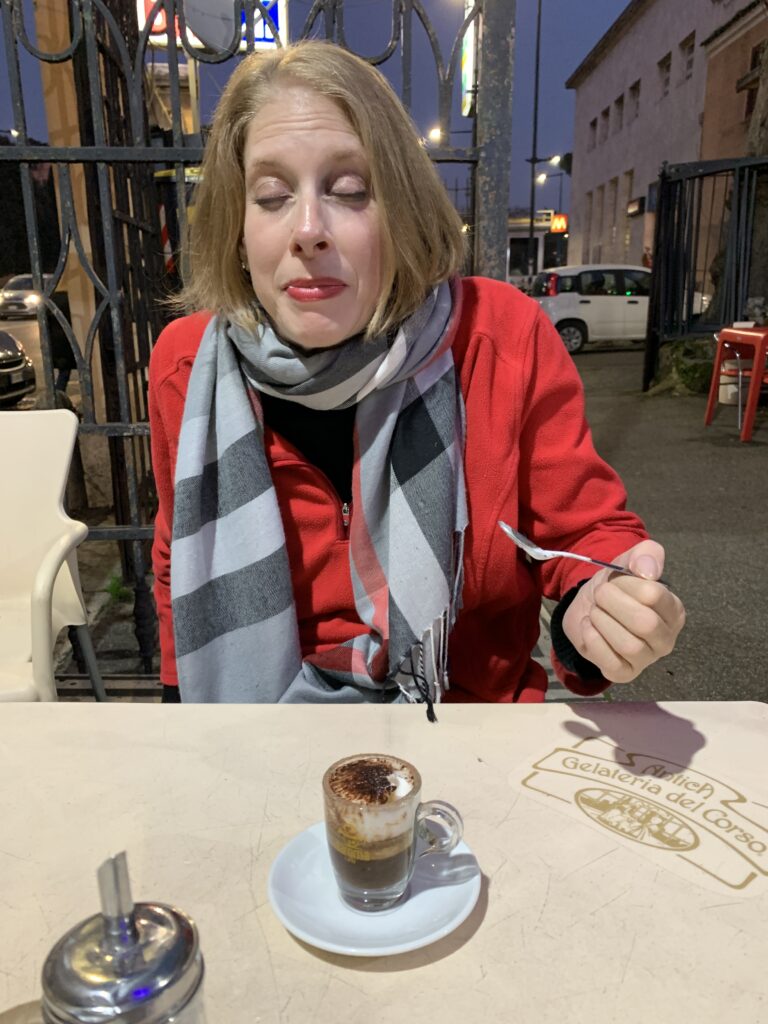 Finally, we headed back onto the Metro and successfully made it back to our hotel. Hail the conquering travelers!
Our three-hour food tour lasted all day. We left our hotel at 10am and returned at 6:30 elated from our journey through food and history.
Access and adventures in wheelchairs
It's the adventures—and misadventures—while traveling with a wheelchair that make trips so memorable. Monday, January 2, 2023, was one of these days.
Capuchin Crypts
On the first day we ventured into Rome, six of us went to what a friend called "a cool bone art exhibit." We took the Metro B and switched to the Metro A to get off at the Barberini station. I'd researched a bit and heard the Metro A Line wasn't accessible, but I didn't know if that meant none—or just some—of the stations had elevators or lifts. It turns out that the station isn't accessible. So, we got back on the Metro to the main Termini station, then walked. And walked. And cobbled. And pushed. It took us two hours and 45 minutes to get to the Capuchin Crypts.
The crypts were… the most bizarre thing I've ever observed. Some in our group appreciated the display of bones from 3000 human bodies more than others. Six underground crypts included one displaying skulls, a crypt featuring leg bones, and one highlighting pelvises. Interestingly, human pelvises make a fascinating artistic pattern.
But bizarre.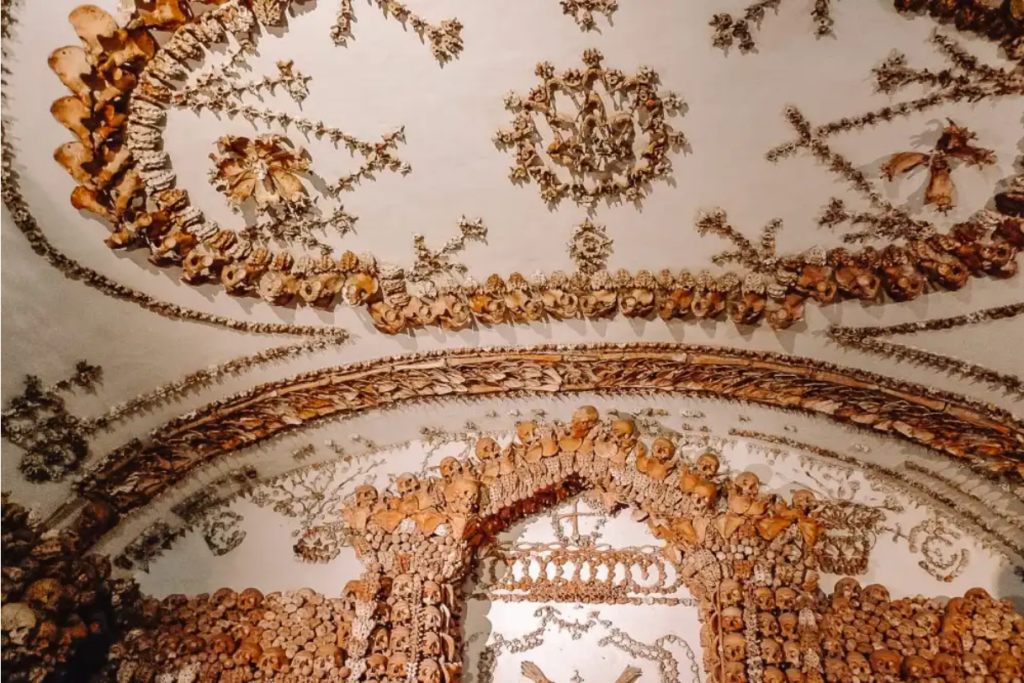 While the museum has an accessible entrance, to get to the crypts you must go down two or three steps. I wasn't offered any accommodations, but I didn't ask if a ramp was available. If you use a power wheelchair, call ahead if the crypts are a must-see on your list. As with all tourist sites in Rome, a disabled traveler and a companion do not pay an entrance fee.
Adventures and misadventures
We headed to a delightful restaurant, had a laughter-filled dinner, and then a decision needed to be made.
"Can we carry you down the steps of the Metro station?" my friends asked.
And, so, our adventurous day continued.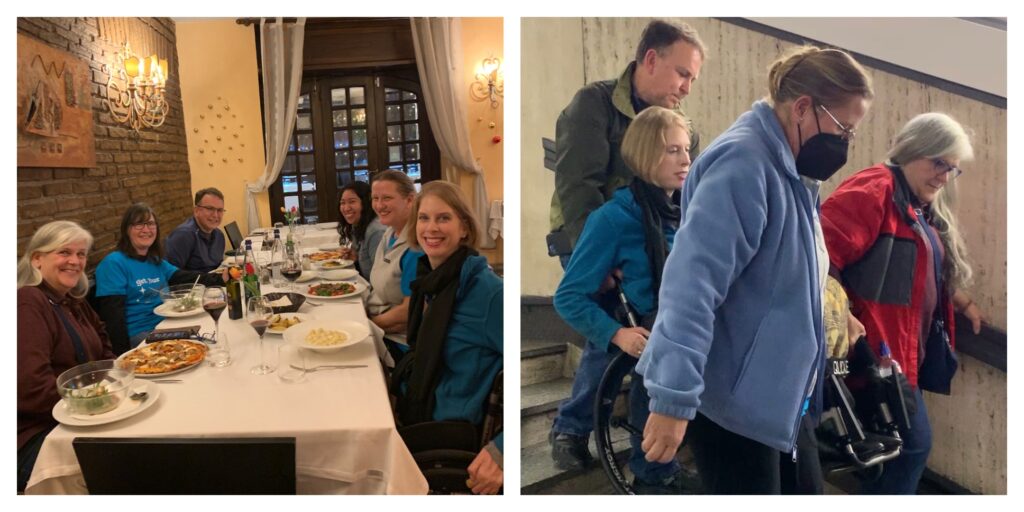 Two flights of steps. Accomplished. Only to discover… an escalator.
I've done stairs. Pyramids. Mountains. But never an escalator. I knew it was possible, so I YouTubed a video (yeah, seriously) for my friends to see how it's done. And on we went. (I'll be honest: We prayed first!)
That was the longest stinkin' escalator. But we did it. Instead of a three-hour trek back to the hotel, we made it back in 50 minutes.
Final thoughts on Rome in a wheelchair
Rome is doable. It's beautiful and history-filled, and Rome's foods and sites are iconic. If you have the opportunity to go, don't hesitate. I highly recommend booking wheelchair-accessible tours and transportation to make your trip more meaningful, insightful, and accommodating.
While this was my first experience with a tour company specializing in wheelchair-accessible tours, I hope it won't be my last.
Enjoy the journey. But don't fear going off the beaten path to find some misadventures of your own.
You might also like: