I'm a planner by nature. I try to plan for the what-if scenarios that may happen when I travel. Here is a list of my 10 must-haves items for traveling as a wheelchair user with a spinal cord injury.
1. Extra medicine and supplies
Am I an over-packer? Yes. And on purpose. Instead of packing 10 days' worth of catheters for a 10-day trip, I will bring 15 or so days' worth. Travel can be interrupted by weather, political unrest or terrorist situations, strikes, health problems, and mechanical issues with planes. Always put your medicine in your carry-on and several days of
catheters in the carry-on, as well.
2. Antibiotics
If I am outside the U.S., I bring two types of antibiotics in case of a UTI. My urologist and I have worked out a plan on which antibiotic to start with when no culture is available. I also increase my intake of Ellura to two a day to help prevent UTIs. I also have the antibiotic Xifaxin with me for traveler's diarrhea.
3. My FreeWheel
When roads are rough (cobblestones, gravel, dirt, etc.) this add-on makes pushing so much more bearable. It lifts the front casters off the ground and allows you to push a manual chair without being jarred to death or catching the casters on rocks, etc.
4. A Poncho
Nothing screams TOURIST like a rain poncho, but I despise getting wet and this little thing has saved me several times. It is lightweight, easy to pack, cheap, and does the job well.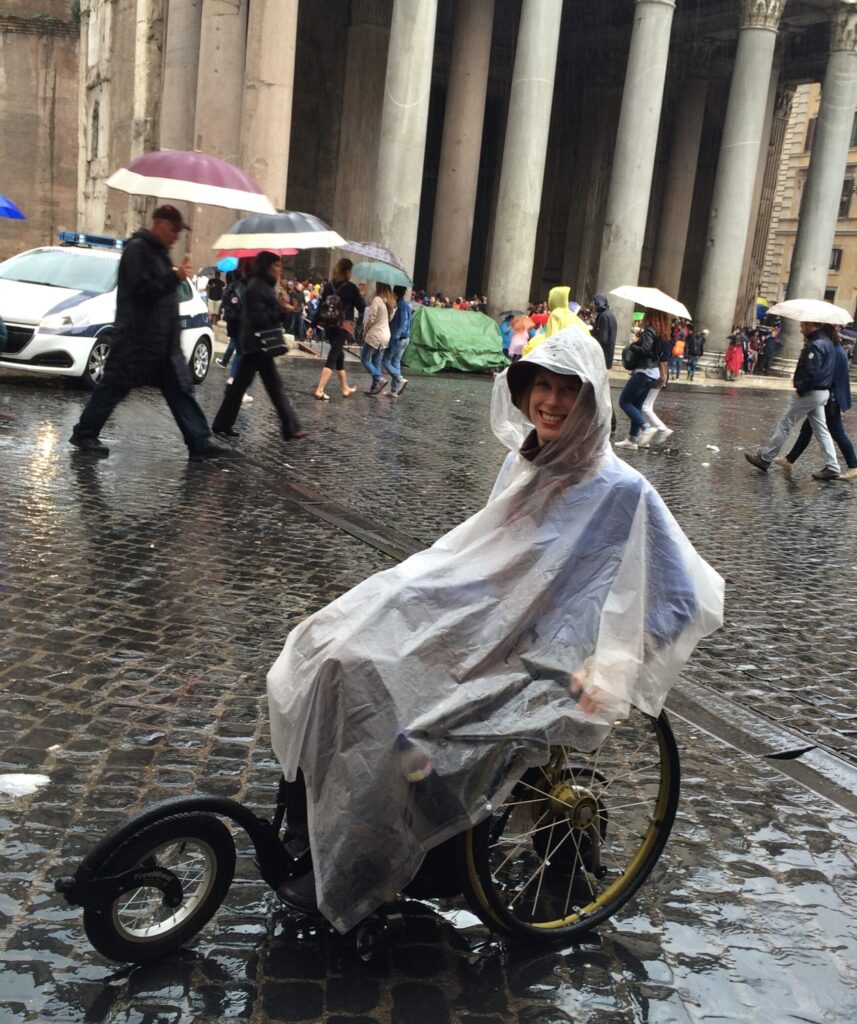 5. An Extra Cushion
I never take any chances with my tush. When I'm traveling out of the country, I pack an extra Roho cushion… just in case.
6. Water Bottle and re-hydration fluid
I always have a water bottle with me, especially when safe drinking water may not be available. My choice of re-hydration fluid is Liquid IV. It comes in individual packets and is easy to pack for travel. (Learn more about Liquid IV here.)
7. Snacks
I get "hangry" very easily. I always bring granola bars, protein bars, nuts, etc. I felt silly doing this on a recent trip to Europe, but the breakfasts were very light, and I needed extra food in the mornings.
8. List of Emergency Contact Numbers
I have a list with the contact information for my family, my rehab doctor, and the Medtronic representative in the area I'm traveling to (I have a baclofen pump). I keep a paper copy in my carry-on and a digital copy in my Dropbox account that I can access from my phone. When I travel with my SmartDrive, I have a digital copy of this document for airlines to prove I can take the SmartDrive with me on the plane.
9. Tools
Yes, my Allen wrenches come with me in my carry-on. Airlines are notorious for damaging wheelchairs and I want to be able to adjust brakes and other parts when necessary. Security has wanted to take them from me at a few international airports, but I've managed to hold on to them so far. I have solid tires on my manual chair, but bring patches and tubes with you if you have pneumatic tires.
10. A Good Attitude
This is especially important when accessibility and independence are stripped from you during travel. Go knowing you may need more help than you need at home and be okay with it. I freely admit this takes a lot of humility and is one of the more difficult aspects of traveling for me.
You may be asking how to pack all this in a 50-lb bag. There are two ways. First, the Air Carrier Access Act permits individuals with disabilities to check an extra bag for medical supplies at no cost. I have packed my catheters and other supplies in a small suitcase and put the rest in my "regular" suitcase. But I have also packed everything in one suitcase knowing it is overweight. Then I just pray and explain at check-in the extra 10 pounds is medical supplies. I have only been charged an overage fee a few times. Asking politely always helps!
Bon voyage!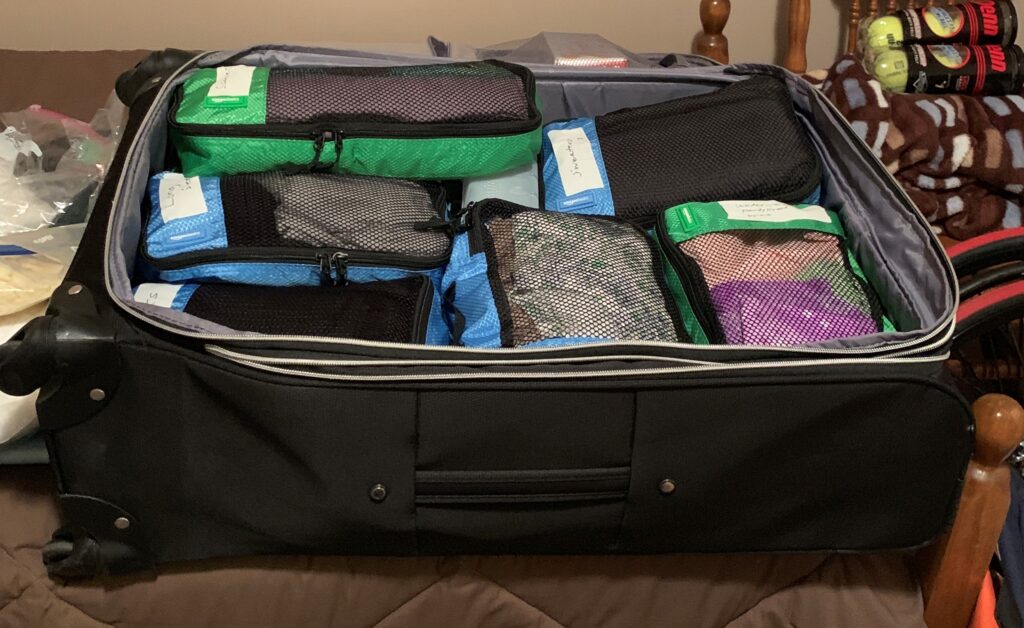 You might also like: