Throughout decades with a spinal cord injury, peer mentors have taught me the "tricks of the trade" of transfers, bladder and bowel care, dressing, the importance of sports and staying active, among other things. I now enjoy walking (or rolling) with others on this journey as a peer mentor as they learn to live life after a spinal cord injury.
And even today, I need peer mentors to encourage and teach me in my life with a spinal cord injury.
The gathering
I recently met another woman who is a quadriplegic and lives in my area. We planned to have lunch. As I thought about it, I wondered if we should try to get a few female quads together. I asked her opinion. She replied, "Let's get a group together. I think it would be a lot of fun!"
So, I sent emails and text messages, and posted on social media. I invited women who use wheelchairs to lunch.
The response was overwhelming.
After getting excited about the event, I panicked. How are we going to find a restaurant—or a parking lot—big enough for more than 10 wheelchair users?
It's a great problem to have. Thankfully, Superior Van and Mobility allowed us to meet in their building. Gathering Strength offered to cover transportation for anyone who couldn't find a ride.

The day came and we had 10 women, plus eight friends and caregivers, show up from as far away as Indianapolis. I'd spoken with one by phone, "met" several women in a social media group, and had known the others from around town.
After introductions and eating lunch, we circled up for some open and honest discussion and questions. This is the stuff you can't ask your able-bodied friends.
What shoes work for you?
Who's had the Mitrofanoff? A suprapubic?
What do you do about foot drop?
What mascara do you use? (Okay, I guess ABs can answer that question, but, seriously, Lacey, your eyelashes are great.)
Power in numbers
I've previously experienced the power of peer mentors and fellow roll models. (Yes, roll model is an intentional misspelling. It's a pun.) After my injury, I met Lois who showed me how to put on mascara. Terri demonstrated it was possible to work, be a full-time student, and have a boyfriend. When I was first injured, I thought these things were impossible.
At the Ms. Wheelchair America pageant, I realized there is strength in numbers. Surrounded by twenty-five women with similar disabilities, I witnessed an even bigger world of possibilities than Lois and Terri had exemplified. The contestants had been willing to openly and honestly answer my questions and show me what as possible.
Roll Models support
As I get wiser (translate: older), I have needed to talk with wheelers who have successfully pushed through their 40s, 50s, and 60s after decades of living with a spinal cord injury. I've needed peer mentors. Again.
I don't believe our need for peer mentors and roll models ever ends.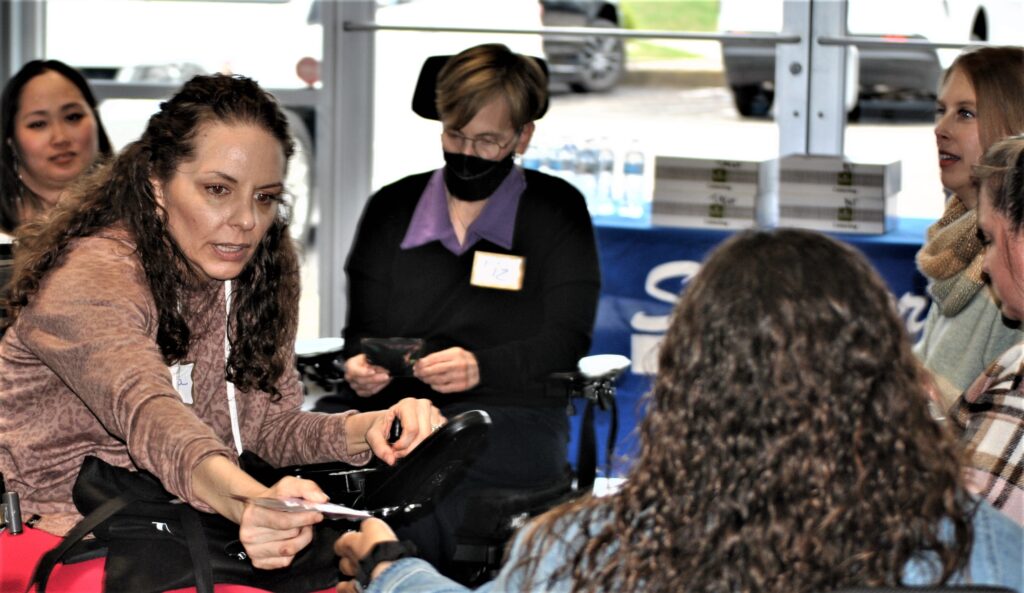 You're not alone
Gathering a beautifully diverse group of roll models lets us know we're not alone. We learn from each other. Encourage one another. Share resources.
How great was that day? We already have another date set.
Click here to sign up for my newsletter to receive information on upcoming Roll Model gatherings. (Times and location will only be shared with people who register for safety and security.)
Where to find a peer mentor
Where do you find a peer mentor, whether immediately after an injury or as an experienced wheeler? Here are some ideas:
If you have a good rehab facility in town, contact them and request to talk with the person in charge of peer mentors. They should be able to connect you with someone with a similar injury and/or life stage as you.
If someone you know says, "You need to meet…," trust them and take them up on it.
Check out the following organizations:
If you have a business in the Louisville, Kentucky, area and would like to support upcoming gatherings, please contact me and let me know how you can help.