There are many ways to manage bladder care with a spinal cord injury or disability. Foley catheters, suprapubic catheters, and intermittent catheterization are options. There are pros and cons to each method. This is my story of how I decided to undergo a major surgery to be able to independently catheterize through a stoma.
It all started when the Foley, or indwelling, catheter began slipping off the leg bag that I kept tucked in my underwear at my right hip. I'd look down and see that my pants were wet from where the drainage bag had slipped off. It was an inconvenience and embarrassing.
For 16 years I had been happy with a Foley catheter. I was independent and didn't need help getting undressed and catheterizing every four hours. Luckily, I had not had frequent urinary tract infections, which are more common with indwelling catheters than with clean intermittent catheterization. 1
Meeting Katie
In 2006 I met a female quad who'd had a procedure that allowed her to catheterize through a stoma, or small channel, in her belly. So when I couldn't find a solution to the catheters slipping off the drainage bag, I went to see a urologist in Louisville. I asked about this surgery, commonly called a Mitrofanoff (after the surgeon who first performed it).
The urologist encouraged me to talk with a specialist about having the surgery. His response shocked me.
I had been thinking of this as a "vanity surgery": elective and solely for looks. What I had never heard about was the higher rates of bladder cancer2,3 and increased rates of UTIs for those who use indwelling catheters.1
A few months later I made an appointment with Katie's surgeon. The appointment coincided with a rowing regatta in Philadelphia. At the time, there were no doctors doing this procedure in Louisville.
So many questions
I had done as much research as possible before I met with the doctor. What I knew was that the procedure typically uses the appendix or colon to make a stoma.4,5 I took my 101 questions with me to the appointment. Dr. Shenot patiently answered them all.
Below are a few of the questions I asked about the Mitrofanoff procedure:
Where is the stoma placed? Typically the stoma is placed near the lower abdomen in a location that is easy to see and perform catheterization; sometimes it is placed in the bellybutton.5,6
Is it typical to develop problems after the surgery? Research varies greatly, but some patients may need a revision of their stoma due to a narrowing or closure of the stoma.4,7,8
Would I need to irrigate my bladder? Probably. More than likely I would need to increase the size of my bladder using bowel tissue. Bowel tissue produces mucus which increases the risk of stones and infections. Irrigation of the bladder can decrease these issues.5,9
Does the stoma interfere with pregnancy or C-sections? The procedure would not interfere with pregnancy or delivery.10
How much down time would I have? He recommended that I plan on four to six weeks for recovery. Since I traveled internationally quite a bit for my job, he suggested that I not travel for four months after the surgery, just to be safe.
Should I?
After gathering all this information, it boiled down to answering this question: Why should I have the surgery?
I wasn't having problems with my kidneys. My urethra wasn't damaged (this can cause the catheter to come out easily or leak urine).5,11 I wasn't showing signs of cancer. So, in my doctor's opinion, having the surgery might prevent future health problems.
It's difficult making these big decisions. So I waited until my self-imposed deadline to make the decision and call the doctor. But I began to increase my food intake to try to gain some weight. (Dr. Shenot wanted me to gain some weight before the surgery. Ice cream sandwiches and Hostess® Fruit Pies became my nightly snack.) Finally, I nervously scheduled the procedure.
The Surgery
On October 23, 2007, I arrived in Philadelphia. The next day I had a urodynamic study done. This study shows the amount of fluid the bladder can hold, as well as the internal pressure and if any spasms occur.12
Long story short – my bladder was very small. It only held 20cc (about 4 teaspoons). After 18 years of having an indwelling catheter, this wasn't a surprise. So in addition to the Mitrofannoff procedure, I would have a bladder augmentation. This would enlarge my bladder using bowel tissue.5,13
In preparation for the surgery, it is typical to go on a liquid diet.9 For three days before the surgery, I was limited to liquids. I drank a lot of juices and sports drinks. Surprisingly, I had enough calories that I didn't feel as weak as I had expected.
I was admitted the day before the surgery to "clean me out." I drank 1000cc of a mostly-tasteless liquid that stimulated my bowels. Then the long process began. The nursing staff was great and took extra precautions to keep my skin intact and decrease risk of infection. This process lasted until about 2 a.m. Surgery was at 6 a.m.
The surgery lasted 9 ½ hours. During the procedure, the surgeon had put in an NG tube. I wouldn't be allowed to eat or drink until my bowels began to move. Thirty-seven staples – from an inch above my belly button to just above my pubic bone – held my stomach together.
Recovery
I spent ten days in the hospital. Thankfully, I didn't lose much weight. Five days after surgery the NG tube was removed. Slowly I began eating. Eight days after surgery I was sitting up in my chair. I was released on day 10.
My mom and I spent the next month with my aunt and uncle who lived just outside of Philadelphia. After a bit, I began transferring independently again.
For the first several weeks, a suprapubic catheter was used to empty my new bladder while the stoma healed. During the day we put a stopper in it, allowing the new bladder to stretch and hold more urine.
Within four weeks of the surgery, I was catheterizing through the stoma. It didn't take much time to get the hang of it. But it was weird that I was sticking a foreign object into a hole in my body. Even as a C6-7 quad (with tendon transfers), it was fairly easy to do.
One month after my surgery I wrote this update to friends and family:
I am now catheterizing through the new stoma. My bladder is currently holding up to 600 cc. Last night was my first night in 18 years without being connected to a catheter and night bag. I made it until 2:30 a.m. when I could tell I needed to go (dysreflexia, not sensation). So I sat up in bed and "took care of business." Then was fine until I woke up in the morning. I will fly back to Louisville in one week! I don't feel quite ready to come home and be back to "normal." I've got a lot to work on in the next week. I'm back to working, although I'm not quite at 100 percent yet.
The results
Ever since 2007 when I got the stoma and bladder augmentation, I regularly hold at least 500cc of urine without experiencing dysreflexia. I can independently cath and enjoy being free of a Foley catheter and drainage bag.
My stoma does create a small amount mucus, so I place a thin panty liner on the inside of my underwear to protect my clothing. Since new bladder does produce some mucus, I irrigate as needed. I cath approximately every four to six hours. But it's dependent on my fluid intake.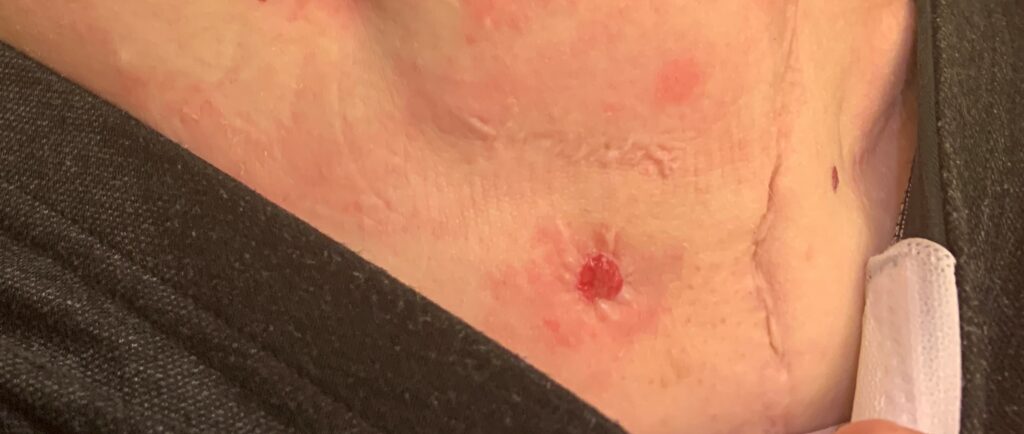 Although I do no leak through my urethra, at the first sign of dysreflexia I know I should get to the bathroom to keep my body healthy. During the surgery, the doctor can close the urethra to prevent leakage,5 but I wanted a "safety valve" in case of a future surgery or emergency.
Closed system catheters are most convenient for me – both day and night. At night when I'm in bed, I place the full closed-system bag in a basin next to my bed and empty it in the morning. Best of all, with a closed system, I can discreetly cath in inaccessible locations – even on an airplane!
Complications
Did I have complications? Yes. About a year after the surgery I developed a fistula from the stoma to my lower belly. I packed the wound for almost two years before it healed on its own. The surgeon said he had never seen this in one of his patients before. (Lucky me.) In addition, I need to have B12 injections every two weeks since I am now unable to absorb B12.4,14
Worth it?
Was it difficult? Yes.
Was it worth it? Absolutely.
If you are considering this procedure, talk to your doctor. Talk with others who have had it done. The majority of people experience increased quality of life and satisfaction after the surgery.15
References
Newman DK, Willson MM. Review of intermittent catheterization and current best practices. Urologic nursing. https://www.ncbi.nlm.nih.gov/pubmed/21542441. Accessed September 13, 2017.
Ho C-H, Sung K-C, Lim S-W, et al. Chronic Indwelling Urinary Catheter Increase the Risk of Bladder Cancer, Even in Patients Without Spinal Cord Injury. Medicine. 2015;94(43). doi:10.1097/md.0000000000001736.
West DA, Cummings JM, Longo WE, Virgo KS, Johnson FE, Parra RO. Role of Chronic Catheterization in the Development of Bladder Cancer in Patients With Spinal Cord Injury. The Journal of Urology. 1999:1572. doi:10.1097/00005392-199910000-00144.
Mitrofanoff Procedure. Mitrofanoff Support UK. http://www.mitrofanoffsupport.org.uk/mitrofanoff-procedure/. Accessed September 13, 2017.
Veeratterapillay R, Morton H, Thorpe AC, Harding C. Reconstructing the lower urinary tract: The Mitrofanoff principle. Indian Journal of Urology : IJU : Journal of the Urological Society of India. https://www.ncbi.nlm.nih.gov/pmc/articles/PMC3822348/. Published 2013. Accessed September 13, 2017.
Australia MS. The Mitrofanoff Procedure Explained. http://mitrofanoffaustralia.org.au/MiTrofAnOff/TheMitrofanoffProcedureExplained.aspx. Accessed September 13, 2017.
Spahn M, Kocot A, Loeser A, Kneitz B, Riedmiller H. Last Resort in Devastated Bladder Outlet: Bladder Neck Closure and Continent Vesicostomy—Long-term Results and Comparison of Different Techniques. Urology. 2010;75(5):1185-1192. doi:10.1016/j.urology.2009.11.070.
Silva EAD. Re: Appendicovesicostomy: The Mitrofanoff Procedure: a 15-Year Perspective. The Journal of Urology. 2000:2029. doi:10.1097/00005392-200012000-00047.
Kniest K, McGovern P. Using the umbilicus for catheterization . RN Magazine. August 2002. http://www.modernmedicine.com/modern-medicine/content/using-umbilicus-catheterization. Accessed September 13, 2017.
Mitrofanoff Procedure. Craig Hospital. https://craighospital.org/resources/mitrofanoff-procedure. Accessed September 13, 2017.
Harrison SCW. Managing the urinary tract in spinal cord injury. Indian Journal of Urology : IJU : Journal of the Urological Society of India. 2010;26(2):245-252. doi:10.4103/0970-1591.65399.
Urology Care Foundation – What is Urodynamics? http://www.urologyhealth.org/urologic-conditions/urodynamics. Accessed September 13, 2017.
Urology Care Foundation – What is Bladder Augmentation? http://www.urologyhealth.org/urologic-conditions/bladder-augmentation-(enlargement). Accessed September 13, 2017.
Continent Urinary Diversion. Neurogenic Bladder. http://ngbladder.org/treatments/4-3-ii.asp. Accessed September 14, 2017.
Touma NJ, Horovitz D, Shetty A, Caumartin Y, De J, Luke PP. Outcomes and quality of life of adults undergoing continent catheterizable vesicostomy for neurogenic bladder. Urology. https://www.ncbi.nlm.nih.gov/pubmed/17707889. Published September 2007. Accessed September 13, 2017.