As someone who works for an international non-profit organization, I have the perk of traveling at times. I recently attended a conference in the Czech Republic. After the conference, a few friends and co-workers decided to spend a couple days in Prague. I hadn't traveled to Central Europe before, so I didn't know what to anticipate. As always when traveling on wheels, expect a few bumps in the road. And I mean that both literally and figuratively.
And it begins…
The night before our flight I checked my email. A message from United Airlines was in my inbox. Our flight from Louisville to Newark had been cancelled due to "crew scheduling issues." My stomach sank.
I spent the next three hours on the phone rebooking tickets. (No, a half hour layover is not acceptable.) My perfectly planned one-layover itinerary turned into a two-layover hassle with stops in Chicago and Frankfurt. I try to keep layovers at a minimum since each change of planes is an opportunity for my chair to be damaged.
In addition, more layovers increase the travel time. Travel Time = Time Up on the Butt. I was going to need to be especially cognizant of doing pressure relief since I'd be seated for over 24 hours.
The only positive change in the schedule was that we flew Lufthansa Airlines. They ensured my co-worker, Betty, and travel buddy, Louise, and I were together in bulkhead seating. Score!
Expect the unexpected
We arrived in Prague. There were no surprises getting through immigration or customs. Although I hadn't set up transportation to our hotel, we simply walked out to the taxi area and found a large van that was roomy enough for the three of us, our luggage and my chair.
We overnighted in Prague at Zlata Vaha Hotel, which was within walking distance of the train station. After taking a short nap and getting dinner, we enjoyed a park across the street from the hotel. Then we walked down to the river, taking in Prague's fairy tale-like architecture.

We decided that the train station was not within walking distance when I'm pushing my chair on cobblestones and the others are all towing suitcases. So we scheduled a taxi through the hotel for the next morning.
After a good night's rest (albeit with no air-conditioning and the sun rising at 4:30am), we headed to the train station to get to Ostrava, the closest stop to the conference center.
In Western Europe, accessible signage is typically very clear. But the Praha hlavni nadrazi station was confusing. Looking at the signs, we knew we were to go to Platform 4. So we walked and pushed (and pushed – my SmartDrive wasn't working) to Platform 4. But as we passed platforms 1, 2 and 3, I noticed there were only steps and escalators. We arrived at Platform 4.
No elevator.
As quickly as possible, my friend and I ran/pushed to find an elevator as Betty and Louise followed behind. Long story short, there are two tunnels to the platforms. Only the left side has elevators to access the platforms.
We arrived at the elevator at 11:34am. Up the elevator we went to make our 11:41am train.
Tips about Trains
Not all trains in the Czech Republic are accessible (request České dráhy SuperCity Pendolino). Thankfully, I had worked with Lea at Accessible Prague to purchase the correct tickets. The station requires 48-hour notice to have a lift available for wheelchair users.
Our three-hour train ride to Ostava was nice, but quite warm. Very little air conditioning was available, if any. I arrived overheated. A lift awaited us in Ostrava. We spent the next three days in beautiful Malnovice, Czech Republic.
I'll spare you the details of the return train ride. Actually, I can't. It's exactly these moments – the good and the bad – that make travel so memorable.
Making Czech Friends
We missed our return train. Who knows what happened. Our best guess is that there were two trains to Prague at 1:15 and we were on the wrong platform.
With Google Translate open on our phones, we tried getting tickets for the next train. But the next accessible train was in 4 hours and it was sold out. So I kind of made them sell me tickets for the next train at 2:15. I don't know European Union regulations on accessibility, but I figured if got on and off the train with my friends' assistance, then they couldn't stop us.
But they tried.
Thankfully, a nice man who spoke English saw we were in "a situation" and interpreted the conversation with the railway workers for us.
We got on the train, but not without making a scene. My friends had to carry me on the train, break down my chair and haul in the luggage, all while the railway workers kept pushing the "panic" button to prevent the train from leaving.
After a breather, we started a game plan for getting off the train. Then a woman seated near us chimed in.
"I'm getting off at Prague. I can help you."
And this is the beauty of travel.
Vendula is an actor and does voice overs for movies dubbed into Czech. She and another passenger, Alexandra, helped with the luggage while others assembled my chair and carried me to it.
We had a big celebration once I was successfully planted on the ground in Prague.

Hotels
Prior to this trip, I was overwhelmed with multiple responsibilities. I didn't have the mental energy to find and book hotels, something I usually enjoy doing.
Going to the Accessible Travel Club Facebook group, I asked for recommendations for hotels in Prague. The overwhelming response was, "Contact Lea at Accessible Prague."
So I did.
Not only did Lea recommend hotels that fit my budget, she sent pictures of the bathrooms and details about access. As I looked over the information and read reviews of her first recommendation, I noticed the hotel did not have air conditioning. (This is actually fairly common in Czech Republic; we had no AC at the conference center either.) As a quad without the ability to sweat to regulate my body temperature, I didn't think it was wise not to have air conditioning during the month of June. I opted to pay a bit more to get a hotel with AC.
We settled on the Ibis Praha Old Town, especially since I've always had success with Ibis. Although hotels are reasonably priced in Prague, remember that a 15% VAT tax will be added. With tax, this very accessible, air conditioned and well-located hotel cost about $142 per night with tax. And that included breakfast.
Being a Tourist
By Bus
Since I was going to Prague to spend time with co-workers and friends, I hadn't planned any activities ahead of time. Unfortunately, I wish I had done more research.
On Saturday morning, four of us headed out to buy tram tickets. But we got sidetracked. We saw a hop-on hop-off bus tour. Another co-worker had mentioned how much she enjoyed the one she went on. Thinking this was a more expedient way to see much of the city without much effort, we inquired.
Are the buses accessible? The Red Line tour has accessible buses. Are the buses air conditioned? Yes. How often do the buses come? Every half hour.
Perfect!
Except it wasn't. We walked to the beginning of the tour (which was not a 7-minute walk, as Google had informed me.) And we waited and waited for a bus to appear. It was in the upper-80s by 1 o'clock and I'd already started to overheat. After waiting over an hour for a bus to appear, it finally pulled up: inaccessible and no AC.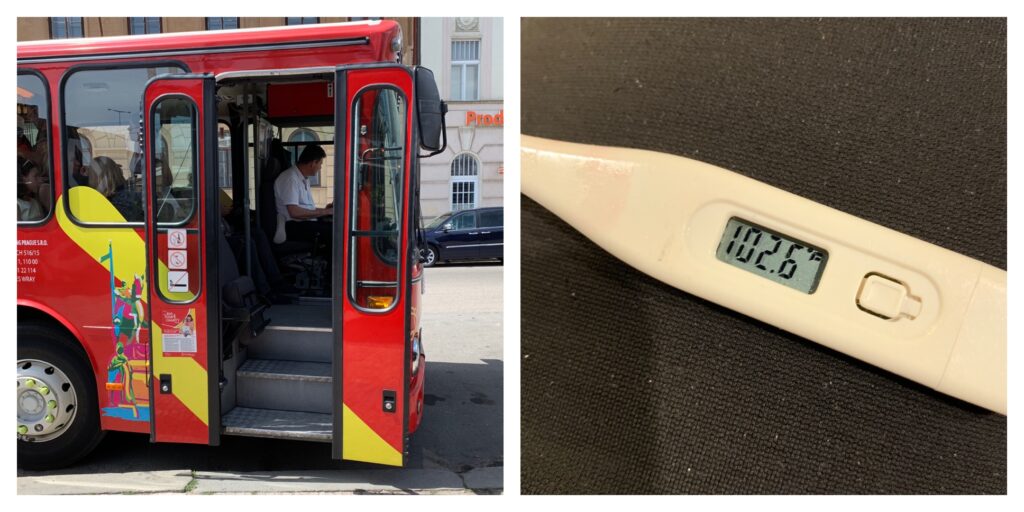 "The next accessible bus will come in an hour," the bus driver told me.
I pulled out my phone and booked an Uber. Louise and I went back to the hotel where I doused myself in ice since my temp had risen to 102.6 ̊ F (39 ̊ C).
Sightseeing Prague refunded my money after a few email exchanges, but it was the loss of an entire morning and afternoon that frustrated me more than money.
Enjoying Prague by boat
After cooling off, Louise and I ran across the street to a Turkish restaurant to grab a quick and delicious meal for under $15 for both of us.
We then walked down to the river where I was meeting a friend for a boat cruise on the Vltava River. She found this excursion online and since it was advertised as accessible, we thought it would be a fun way to spend some time together.
As we neared the dock, I could tell it wasn't accessible. But we got in line, requested assistance to lift me down the four steps and boarded the boat. I didn't ask if there was a bathroom I could get to, so I avoided drinking much water. The cruise ended at 11pm. Prague's nightlife was just beginning, so we felt comfortable walking the 20 minutes back to our hotel. All in all, it was a nice evening.

The Culture
Prague has a rich history of music. My nerdy self wanted to see Mozart's opera Don Giovanni where it was first performed at the National Theatre, but timing didn't work out. So we opted for a concert at Municipal House which was just down the street from our hotel.
Municipal House is a stunning building, both inside and out. The concert was nice; it was an hour-long performance with a 12-piece orchestra along with a soprano, and a few ballet dancers (not en pointe). If I had it to do over again, I would prefer to spend that time seeing more of the city.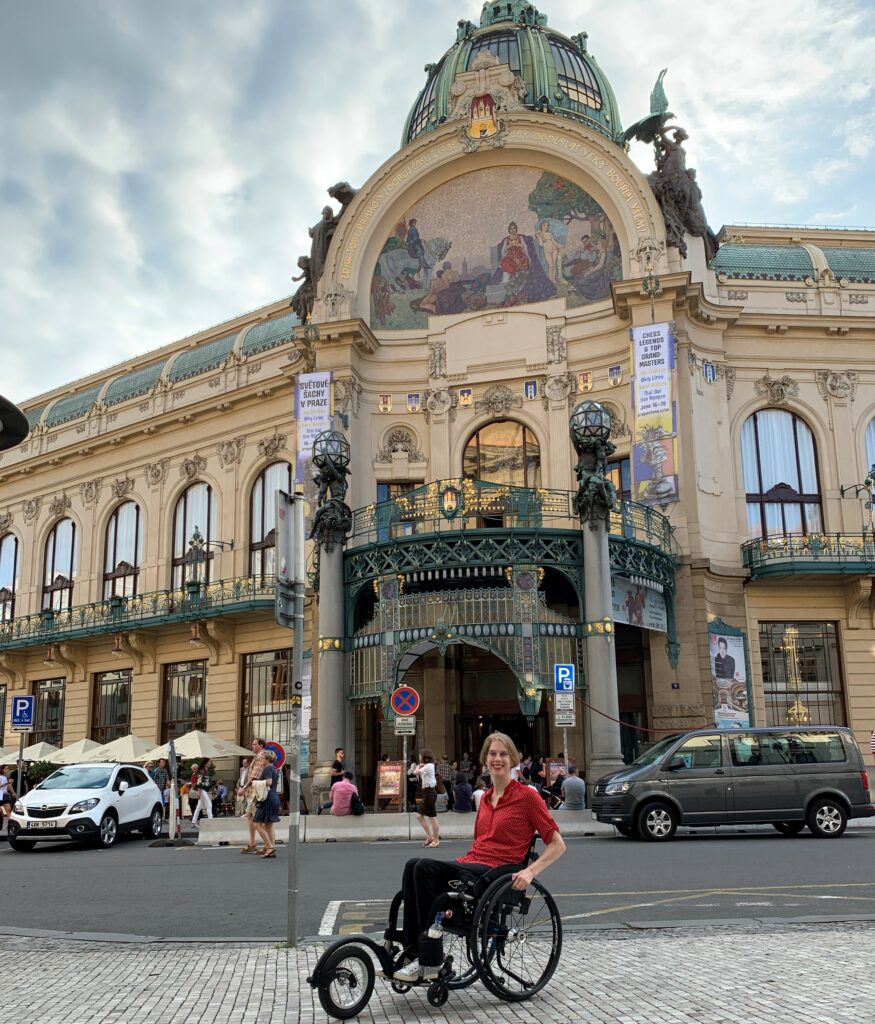 Prague Castle
After Saturday's disaster with the bus tour, I wrote Lea asking if she'd be available to set up a tour. Thankfully, she was available on Monday (our final day). We set up a four-hour tour of Prague Castle and Charles Bridge.
Why did I not take everyone's advice and schedule accessible tours with Lea from the beginning? The tour went beautifully. And it was affordable at 600 czk (about $26 USD) per hour – no matter the size of the group.
Lea is a wealth of information with her knowledge of the culture, history and architecture of Prague. We met at the Strahov Monastery Gate, then walked along the Golden Lane on the cobbled, centuries-old streets with Gothic-era buildings that are still inhabited.

Finally, we arrived at Prague Castle. "Castle" is a bit of a misnomer, in my opinion. Rather than a single residence, it is a collection of government and church buildings constructed throughout the centuries in Romanesque, Gothic and Renaissance architectural styles.
If you are short on time and money, the free tour is a perfect way to see the castle. Throughout the tour, Lea gave us historical facts and stories about each of the buildings.
The star of the show is St. Vitus Cathedral. The original structure was built in 925 AD, with additions made by Charles IV in 1344. During the 16th century, construction continued on the South Tower with the addition of the "flying buttresses" renowned in Gothic architecture. Construction, or reconstruction, continued in the following centuries.
A ramp into the church allowed for easy access. Once inside, the sun sparkled through the stained glass onto the floor. The truly awe-inspiring view is outside of the cathedral where its height and beauty can be taken in.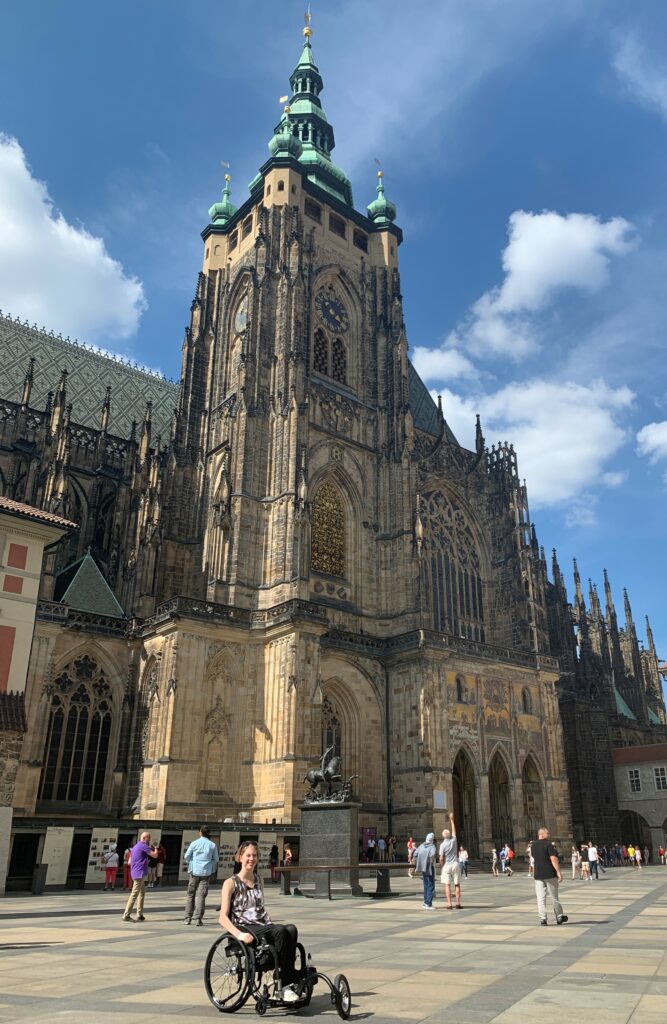 Charles Bridge
When we left the property of the castle, we caught a tram to go down to Charles Bridge. I highly recommend taking the tram, as the castle is up high on a hill. (Have those tram passes available.)
The bridge offers an amazing view of Prague. Buildings painted in pastel colors. Boaters enjoying recreational activities on the river. And if you're looking for trinkets to take back home, this is the place to buy them.
Construction on the Charles Bridge was started by Charles IV in 1357. It was finished 150 years later. It crosses the Vltava River and legend has it that egg yolks were used in its construction. Lea told us that recent archaeological evidence shows this might be more than just a myth.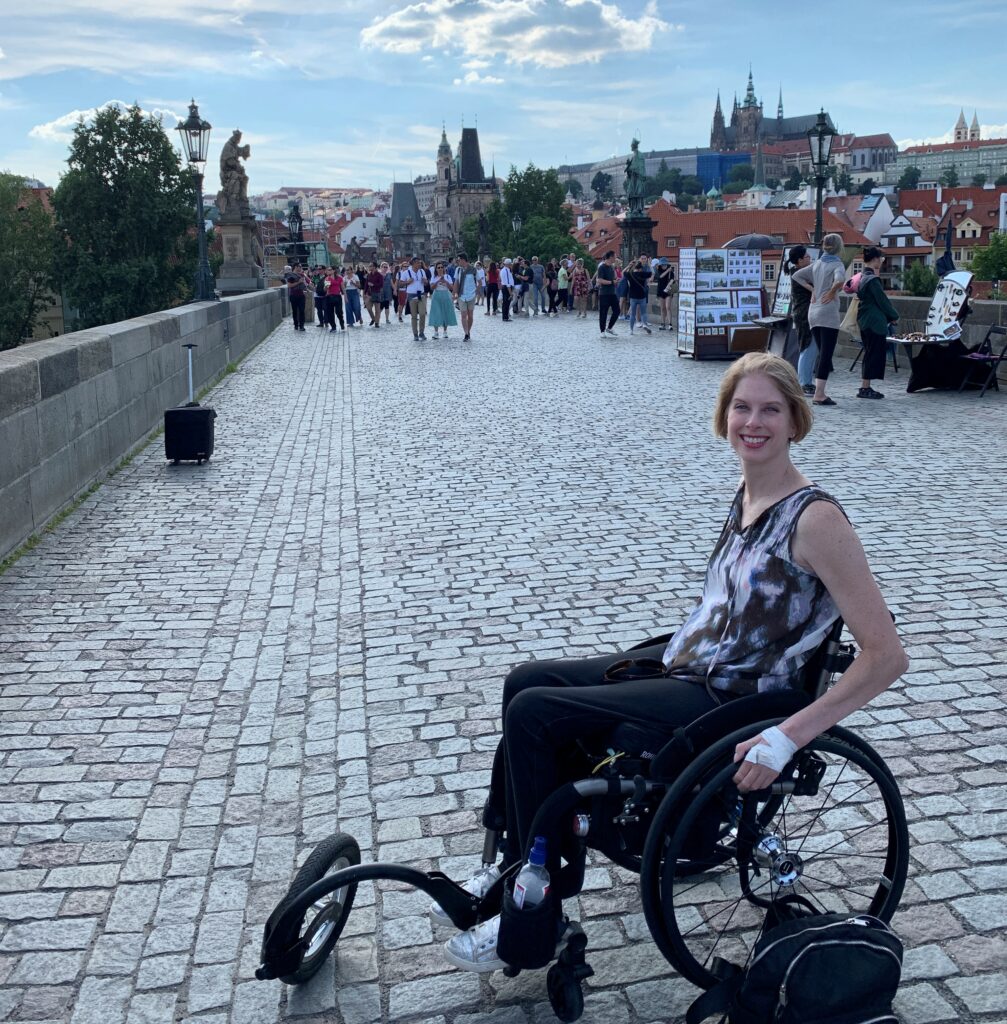 The Food in Czech Republic
What's the food like? Expect meat, a starch (typically potatoes or dumplings) and a gravy or sauce to top it off. It's quite good – and definitely satisfying. Yet I was craving a fresh salad by the end of our trip.
In addition to Czech food, many other ethnic foods are available. Restaurants seem to be reasonably priced for a touristy area, costing about $15 USD for a dinner plate (water and drinks not included).
My favorite Czech restaurant was recommended by our friendly train companion, Vendula. Kantyna (pronounced like our English "cantina"), had an assortment of meats and sides that could either be chosen from the meat counter and cooked your taste, or placed on your tray from a variety of options that were already prepared. I chose the pulled pork and a garlic potato pancake. Delicious.
While we're on the subject of food, many of the restaurants in Old Town have one or more steps. Since I was in my manual chair, it was possible to request assistance up or down the steps. A power chair would have eliminated quite a few restaurant options.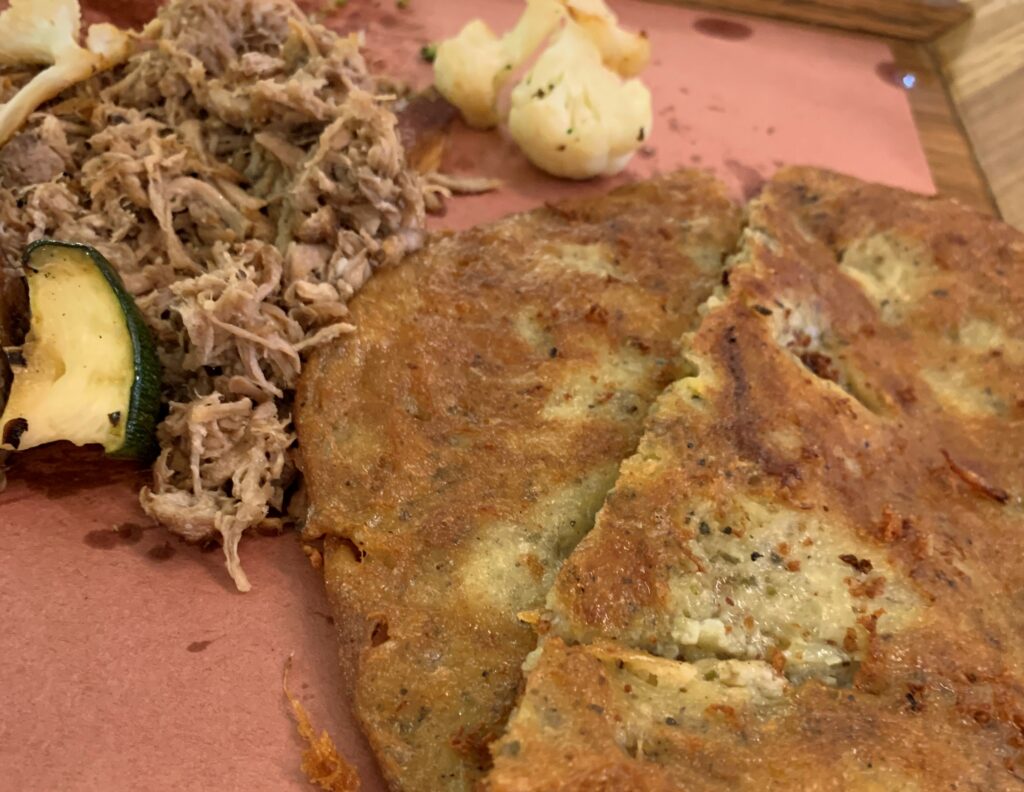 Cobblestones
I'm not sure humanity has come up with a more difficult surface to push a wheelchair on than cobblestones. Prague is cobbled. Everywhere. Big ones. Little ones. Yes, they are beautiful and durable. But if you are a manual wheelchair user, I recommend investing in a FreeWheel. Without my FreeWheel, I would not have enjoyed Prague as much.
I had randomly packed a bungee cord and it came in handy. My feet kept coming off my footplate as I bounced over the cobblestones, so I just strapped them on.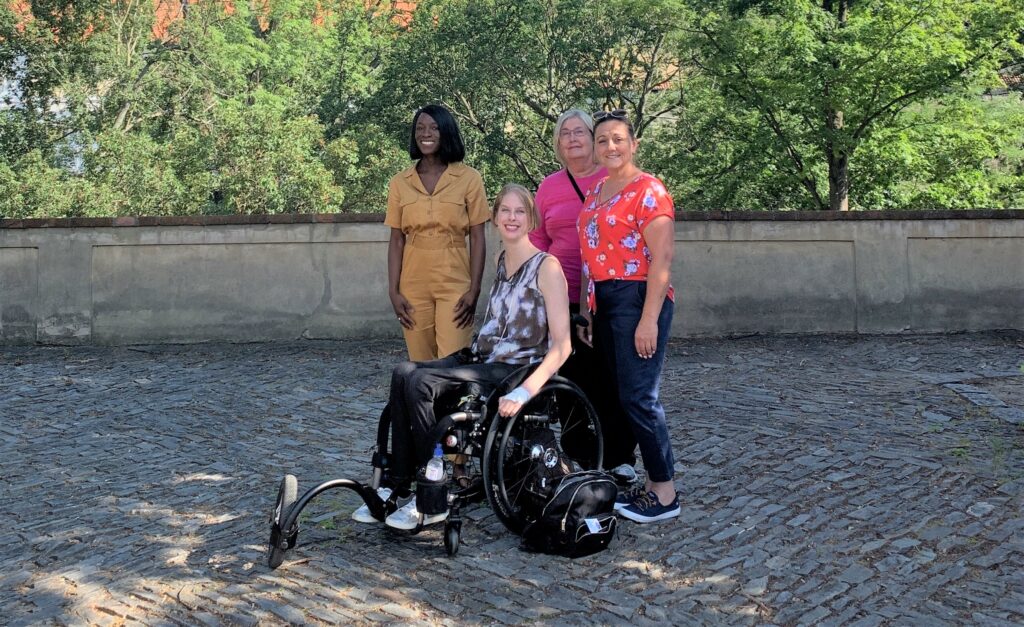 Worth it?
So is Prague worth the effort? My answer – at this point in my life – is yes. As I mention in Wheelchair Must-Haves for Traveling, two things you need to pack are appropriate expectations and a flexible attitude when traveling.
Lessons Learned:
Three days was not enough for us. Granted, we were a slow-moving group. Due to the bus fiasco and a half day of rain, I never saw the Old Town Square, Wenceslas Square, the Jewish Quarter or the National Theater.
Bring layers for clothing. The predicted mid-60s to 70-degree weather turned into 90 ̊ + temperatures in June.
This is a lesson worth repeating: If something says it's accessible… well, you never know what their definition of "accessible" is.
Work with a tour guide experienced in accessibility issues. Contact Lea at AccessiblePrague.com. No, I'm not getting paid to say this. She's just that good. I want to save you the headaches I experienced. (She works with travelers without disabilities, too.)
If you need wheelchair accessible transportation or taxis, book it early. None were available by the time I requested one from the airport.
I recommend purchasing tram tickets. We could have saved time, money and energy by using the trams.
Using Uber was less expensive than taxis and so much more convenient. Since I don't know how to request an accessible vehicle, I can't speak to if they are available.
In my experience, English speakers in Czech Republic, especially outside of Prague, aren't as plentiful as in Western Europe. Just be prepared to use sign language or Google Translate – and remember, a smile is worth a thousand words.
Do you need data on your phone? The iPhone X models have an eSIM that replaces the need to buy a SIM card. By downloading an app (I used gigsky.com), you can connect to global mobile data plans that cost a fraction of international roaming fees. I chose a 15-day plan with 1 GB of data for $20.
Do you need to tip at restaurants? Yes. 10% is expected.