In my experience, finding shoes that work for wheelchair users can be just as difficult as Prince Charming trying to slip Cinderella's glass slipper on her step-sisters' big feet.
Can I put the shoes on independently? Is there room to swell throughout the day? Might they cause skin breakdown? Will the shoes stay on during transfers? And, finally, are they stylish? Over the years, I've discovered shoes that work well for me. They all pass the test for the questions above.
Dress shoes
About 12 years ago I gave up on wearing flats. Flats would fall off during transfers. Plus my feet were swelling too much and turning a not-so-attractive shade of scarlet. Purple feet cause concerned looks. And too many questions. I can't count the times I've heard, "Shouldn't you elevate your feet?" My breaking point came when my young cousin asked, "Why are you wearing purple panty hose?"
After a lot of searching, I found my go-to dress shoes. With straight-cut or boot-cut dress pants, I wear Drew Rose Mary Jane in Black Croc and Brown Croc.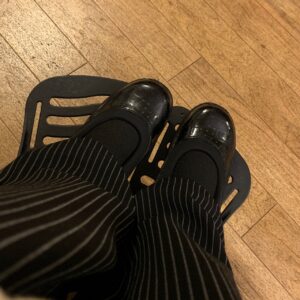 They're considered orthopedic shoes, so they are extra deep. I'm not going to lie, they are pricey. But they don't hurt my feet and stay on well when transferring. They fasten easily with Velcro – which is very convenient for quads. I've had my black pair for about seven years and they still look new.
Another option are Mary Jane-style casual flats, since they don't fall off due to the strap. I'll pair cute socks with them (once again, hiding the purple feet and swelling) and wear them with skinny pants or jeans.
While they don't have dress shoes, BILLY Footwear has some nice casual shoes (as well as sneakers and boots). According to their website, "BILLY Footwear incorporates zippers that go along the side of the shoes and around the toe, allowing the upper of each shoe to open and fold over completely. Thus the wearer can place his or her foot onto the shoe footbed unobstructed. Then with a tug on the zipper-pull the shoe closes and secures overtop the user's foot."
I like my BILLY's but they take a bit of effort to get on. One trick is to not fully unzip the zipper. MONEY-SAVING TIP: Sign up for their mailing list. They offer 60% savings at least twice a year.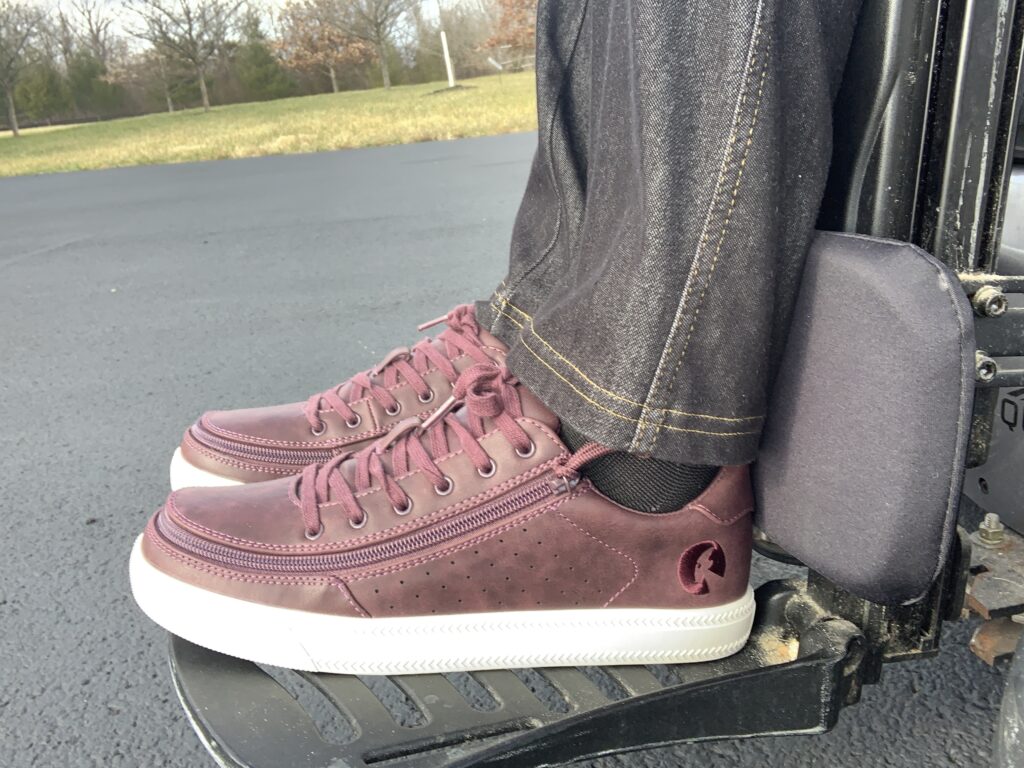 Sneakers
Converse-style shoes are great for casual wear. (However, I can't squeeze my feet into a pair of Keds to save my life.) I've now worn out one pair of silver sneakers (one of the few pairs of shoes I've ever worn out!). I replaced them with these blingy shoes. They are great for a casual look – or when you want to hide swollen ankles. A plus is that they match everything and are lightweight for packing while traveling.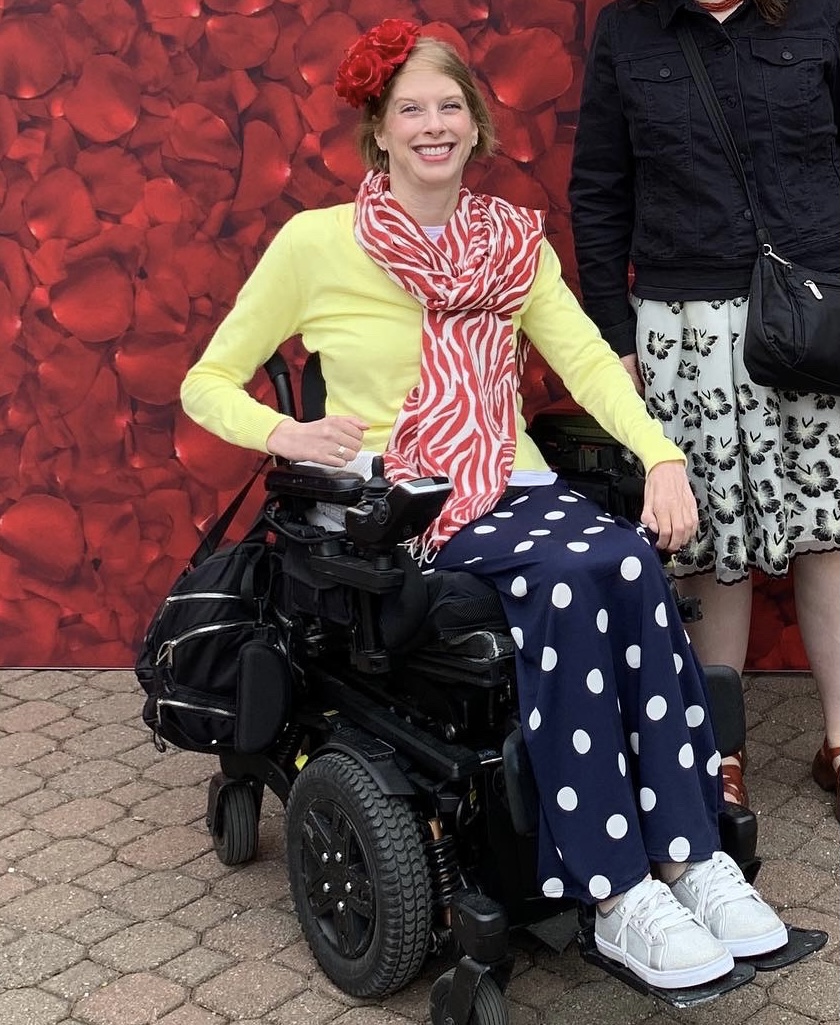 A great addition for adaptive sneakers comes from Nike. The Nike Club MEMT Parafit sneaker combines function and fashion. And they come in wide widths. These are unisex shoes, so the sizes are listed in men's sizes. Read my review here.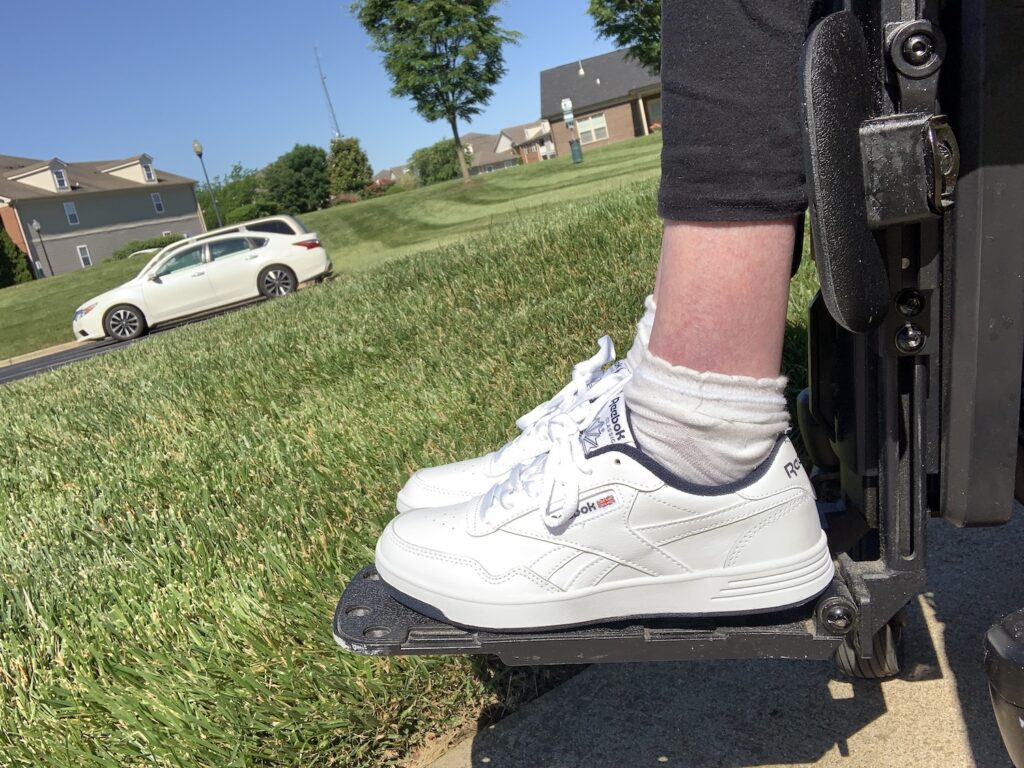 Easy-to-use Laces for Shoes
With my athletic shoes, I use stretch laces with a lock that were originally made for triathletes. Once again, I'll never run a triathlon, but these do the trick well.
With sneakers I use SlackLace – Flat Elastic Shoe Laces. Someone ties these once, then I can just slip my shoes on and off since the laces stretch. It not only makes them easier to get on and off, but the laces give with the swelling my feet experience, too.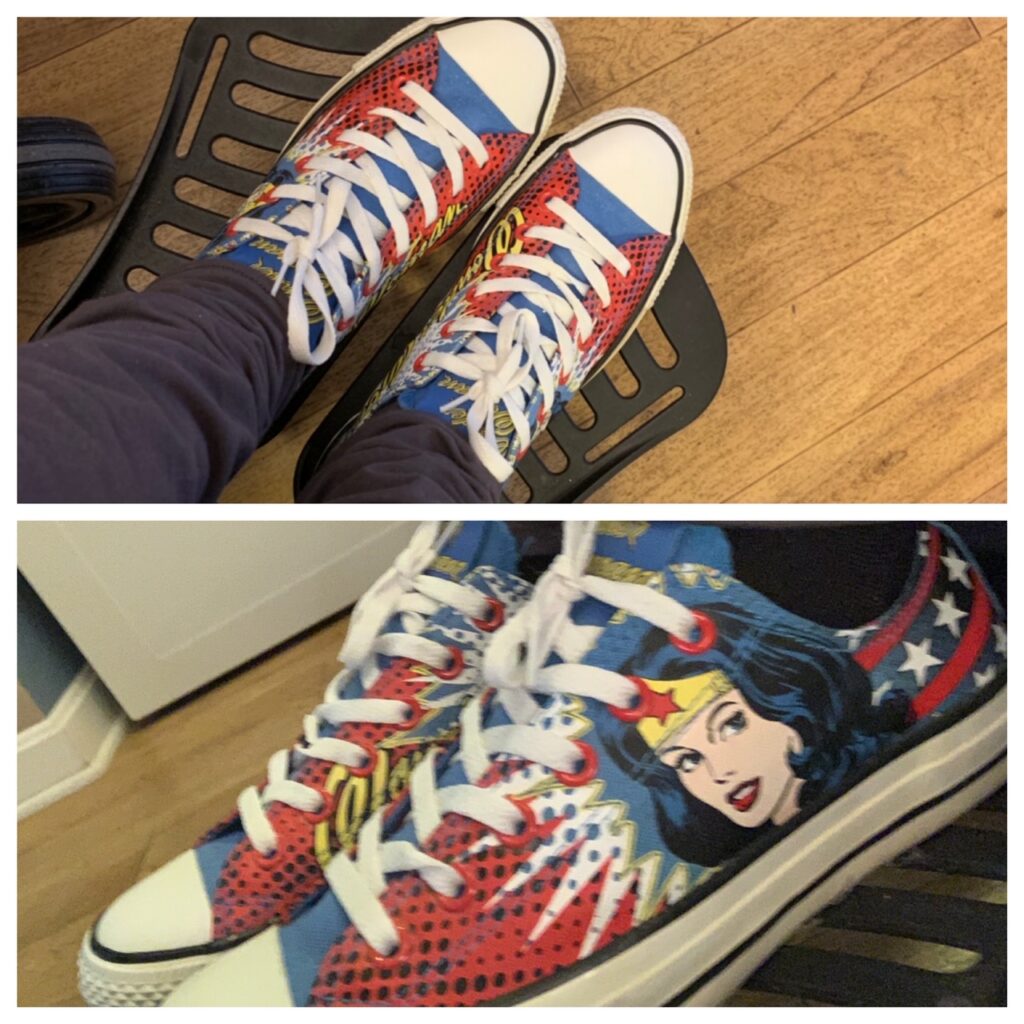 Another type of laces recently recommended by a friend was Zubits. These magnetic closure laces come in different "sizes" based on activity level. She recommends the Child/Elder option for people with limited hand function. These allow you to open up the shoe wide so it's easier to slip your foot into the shoe.
Boots aren't made just for walking
Finally, I've found boots that actually work for me. For years I swore I couldn't wear boots. Then a friend let me (well, made me) try hers on. I felt so… stylish!
The trick for me is a back- or side-close zipper with a zipper-pull attached. I've found that ankle length boots are great for leggings – even in the summer. It's a great alternative to wearing flats.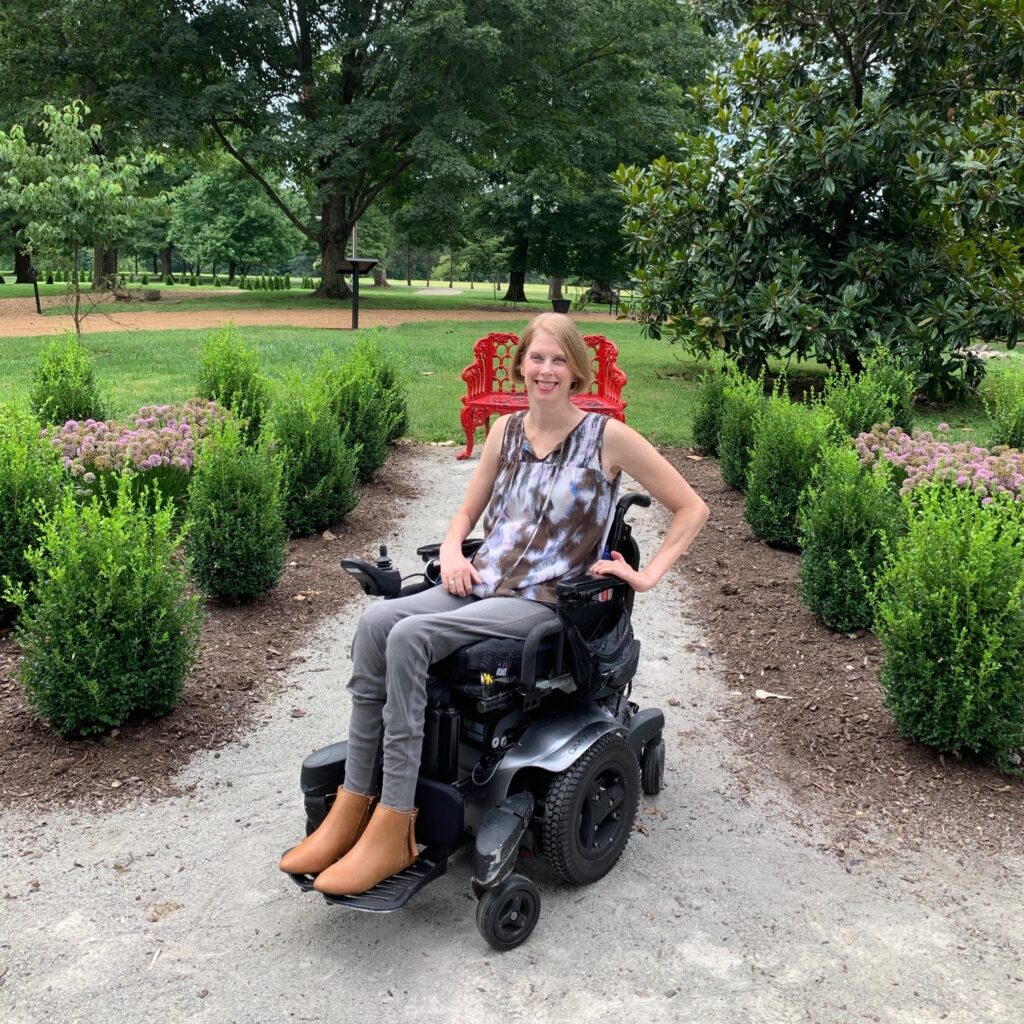 Shoes for warmth
SOREL Explorer II Joan Dual Zip are a new adaptive option for warm, waterproof boots. Read my review of them in New Mobility. Here's a link to purchase them.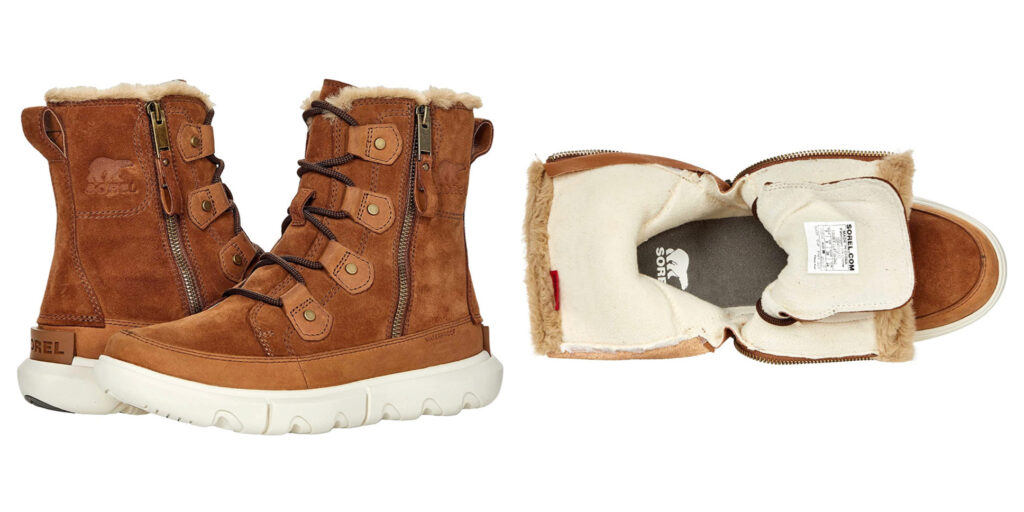 Many women with spinal cord injuries swear that UGG boots keep their feet and legs warm and toasty. Unfortunately, I bought a knock-off brand and couldn't get them on or off off easily even though I sized up. One night I panicked as I thought I was going to have to sleep in them!
But recently a friend had on a pair of tall zip-up UGG-like boots from Target. These are so cute – and warm! And they come in wide sizes.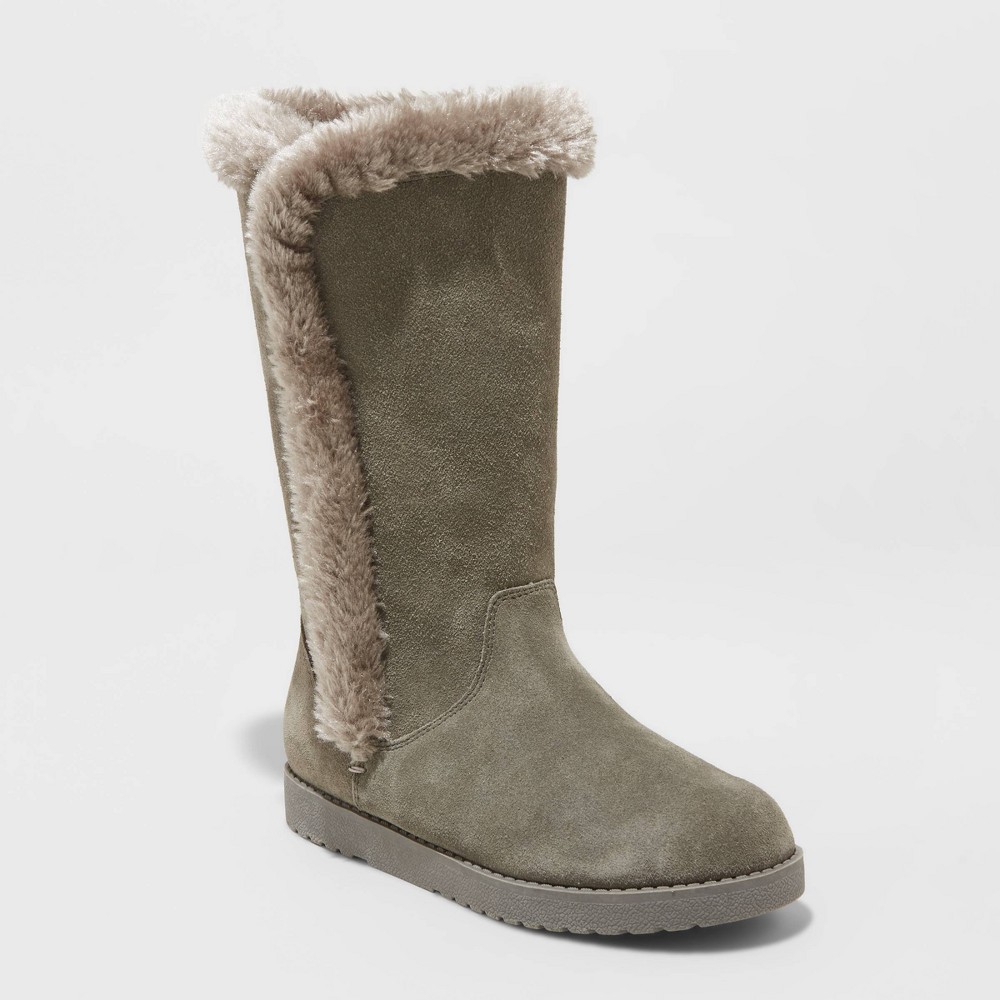 AND AN UPDATE … UGGS now offers an adaptive version of their boots. Click here for more information.
Preventing your shoes from slipping
In my manual chair, my feet have a tendency to bounce or slip off the footplate under bumpy conditions (think cobblestones). I've found that self-adhesive non-skid shoe pads or non-slip tape on both my shoes and footplate work well. (In desperate situations like Prague, I'll actually add a bungee cord.)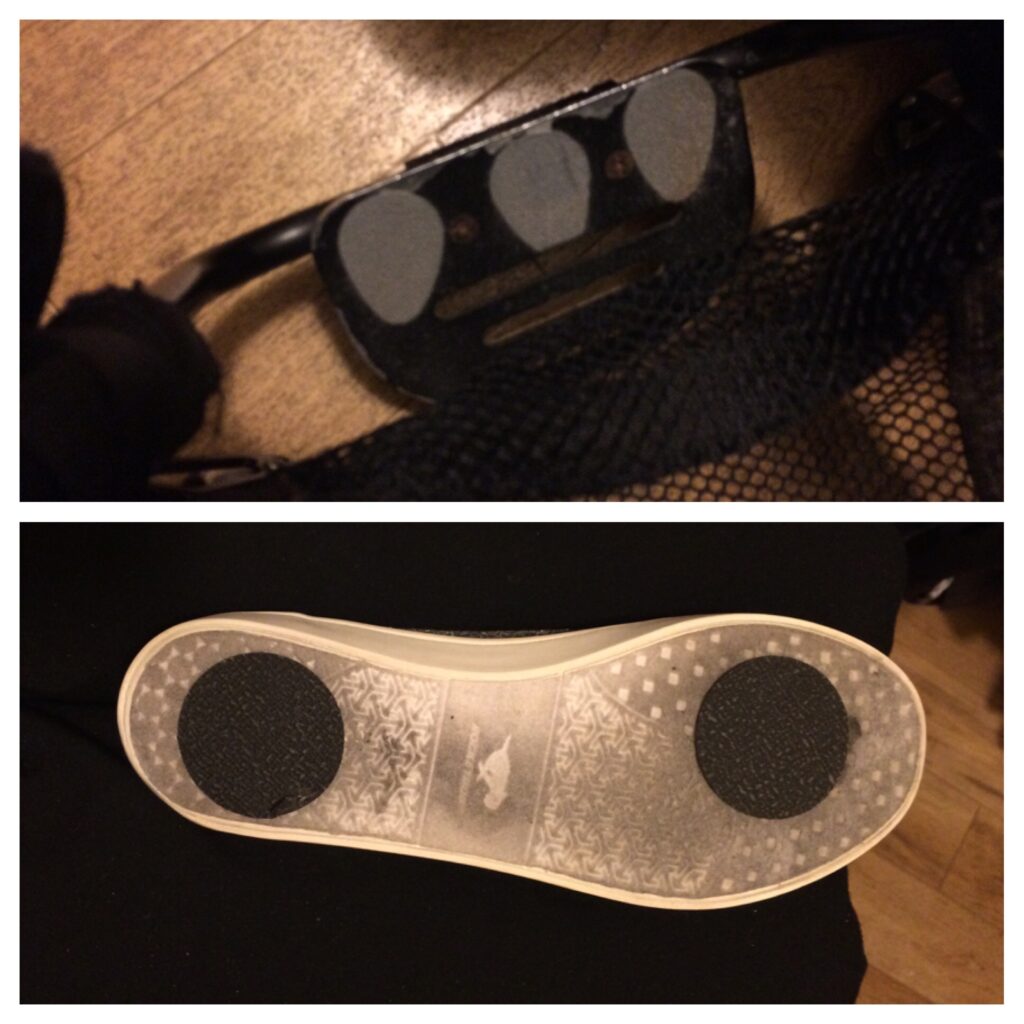 Swelling
If you're like me, swelling is a problem. The past few years I've switched over to wearing compression socks all the time. It helps with swelling, but doesn't eliminate the problem. I like these black compression socks by Swell Relief. They also come in different colors. Compression socks are also easier to put on that compression hose.
Shoes are more than style
Just because we don't walk, it doesn't mean we don't need shoes. I learned this the hard way during a fire alarm in the middle of the night. In the chaos, my bare foot slipped off my footplate and my big toe dragged along the concrete. It wasn't until I got back inside that my roommate noticed a puddle of blood under my chair. And I have to admit, this has happened more than once.
With that in mind, I encourage you to wear shoes for safety. (What hits the door first when you are opening it?). Also, shoes can help prevent your feet and toes from curling under.
A few things to remember about shoes for wheelchair users:
Go up a size or two – or go wider.
If the shoe that fits well costs a bit of money, just remember you'll have them for years without wearing them out.
Talk to your doctor about wearing compression socks or compression hose to help with swelling.
Check your feet for red spots or pressure sores just as you would your tush. A sore on a foot can take ages to heal due to lack of circulation.
Wear socks inside out to prevent the seam from creating pressure points on your toes/feet.
Slit a pair of shoes down the back if you need less pressure on the back of your heel/ankle.
For sandals, use clear bra straps or color-coordinated elastic to keep the sandals from slipping off during transfers.
Return shoes that don't fit. (I'll admit… I've kept a pair on for several hours until I'd know if they would work.)
Just remember these wise words of wisdom from Not Will Ferrell @itsWillyFerrell on Twitter: "Never trust a man in a wheelchair that [sic] has dirty shoes."
(P.S. It's a joke… I know some of you chair users are able to walk, too.)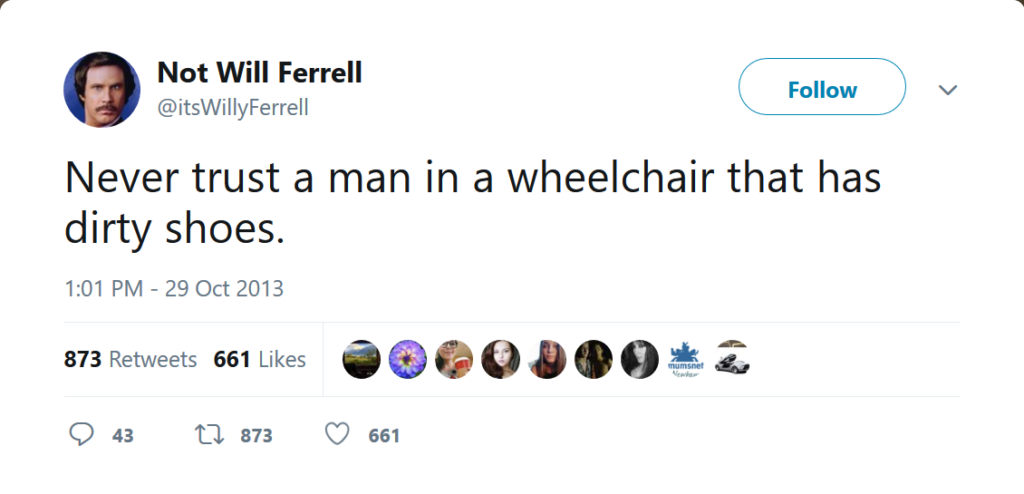 This article contains affiliate links.