After having some amazing lemon chicken soup at a Mediterranean-inspired restaurant, I wanted to cook a dish with similar flavors. But I wanted it more filling than a soup. After looking at a number of recipes online that were too difficult, I decided to take the basic ingredients and toss them in the rice cooker. It's one of my favorite creations.
Lesson learned: It never hurts to experiment.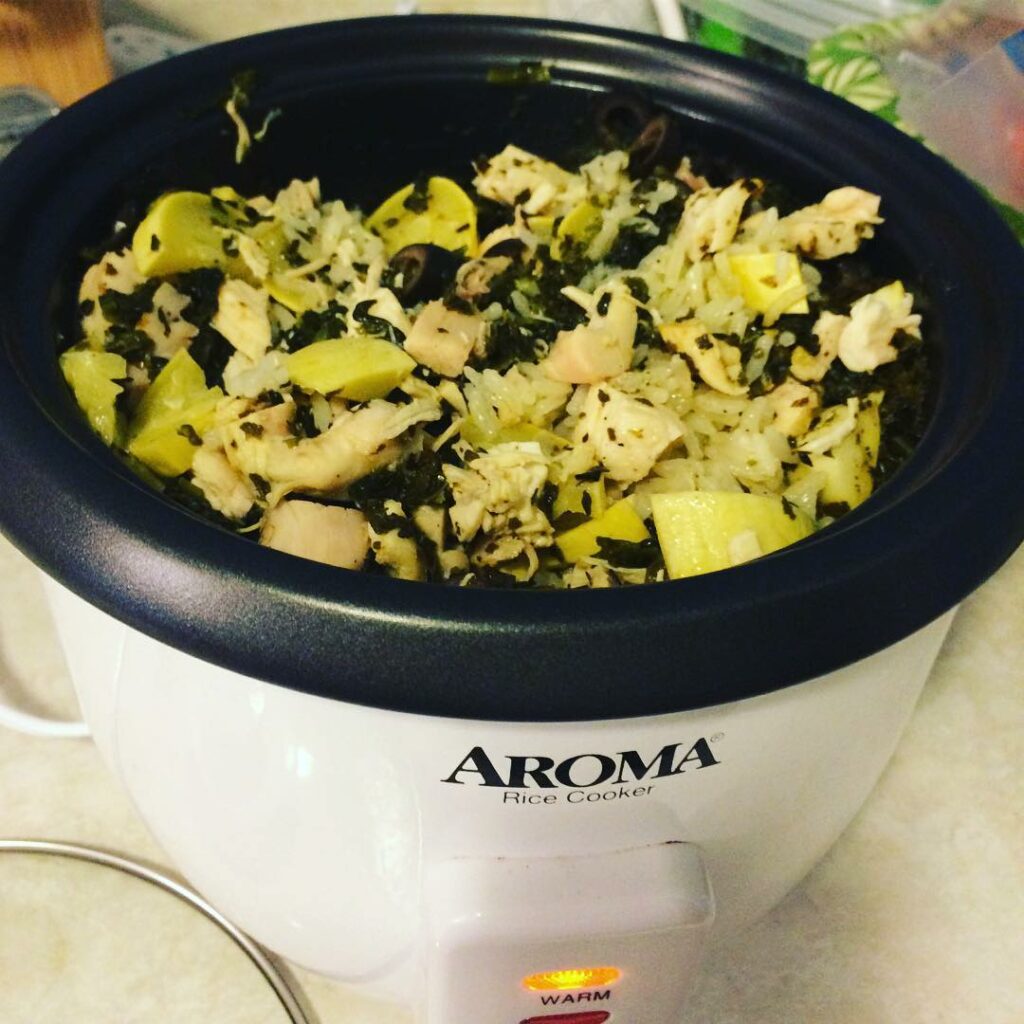 Ingredients:
1 ½ cups basmati rice
1 tablespoon oregano
1 teaspoon salt
1 teaspoon pepper
¼ to ½ teaspoon garlic powder (or ½ teaspoon asafoetida*)
4 tablespoons lemon juice
4 tablespoons olive oil
1 14-ounce can sliced carrots or 1 cup shredded carrots
1 small sliced and quartered zucchini or squash
4 tablespoons dried scallions/green onions
1 ½ cups cooked chicken
1 2-ounce can sliced olives (if desired)
About 2 cups broth
Directions:
Rinse rice thoroughly in a colander, then place into the rice cooker. Next, add the broth as directed by rice cooker. Then add spices, lemon juice and olive oil and mix. Finally, add chicken, olives and other vegetables, making sure there is room in the rice cooker for rice to expand as it cooks. Gently stir. Place lid on the rice cooker and press the cook button. When rice cooker is finished, stir well and serve.
Tips & Tricks:
My biggest trick for this recipe is having a big stash of frozen rotisserie chicken in my freezer. My mom pulls chicken off the bone and packs up 1 1/2 cups into Zip Lock bags. Then I put them in my freezer. Simply pull a bag out of the freezer and defrost it to have chicken available for rice cooker recipes, salads, quesadillas, and much more.
Add additional quartered squash or frozen chopped spinach for more veggies. Just make sure the rice has room to expand in the rice cooker.
Asafoetida is a great substitute for garlic and onions for sensitive stomachs.
I love my Aroma rice cooker. Fool-proof rice every time.
Read more of My Favorite Things in the Kitchen for links to the measuring cups and adaptive knives I used for this recipe.

This article contains affiliate links.