Let's be honest. Cooking with a disability takes quite a bit of time and effort. With my Quadly Cooking recipes, I offer Tips & Tricks to making healthy meals. But in addition to easy shortcuts, good cooking utensils, gadgets and appliances are necessary. So I have made a list of my favorite things in the kitchen.
Food Preparation
T-FAL Pan. This 12" T-Fal Pan is easy to clean, dishwasher-safe and holds a ton of ingredients. I use it for almost everything I cook on the stove top.
Knives. (Some people use ActiveHands gripping glove to hold the knife or improve their grip, if necessary.) The knives I have are no longer for sale, but here are links to similar ones.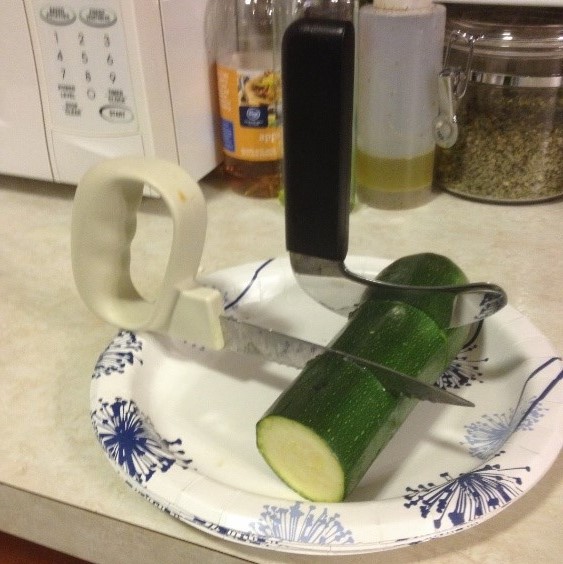 Toaster Oven. I replaced my old toaster oven with this Black & Decker model with easy-to-push buttons.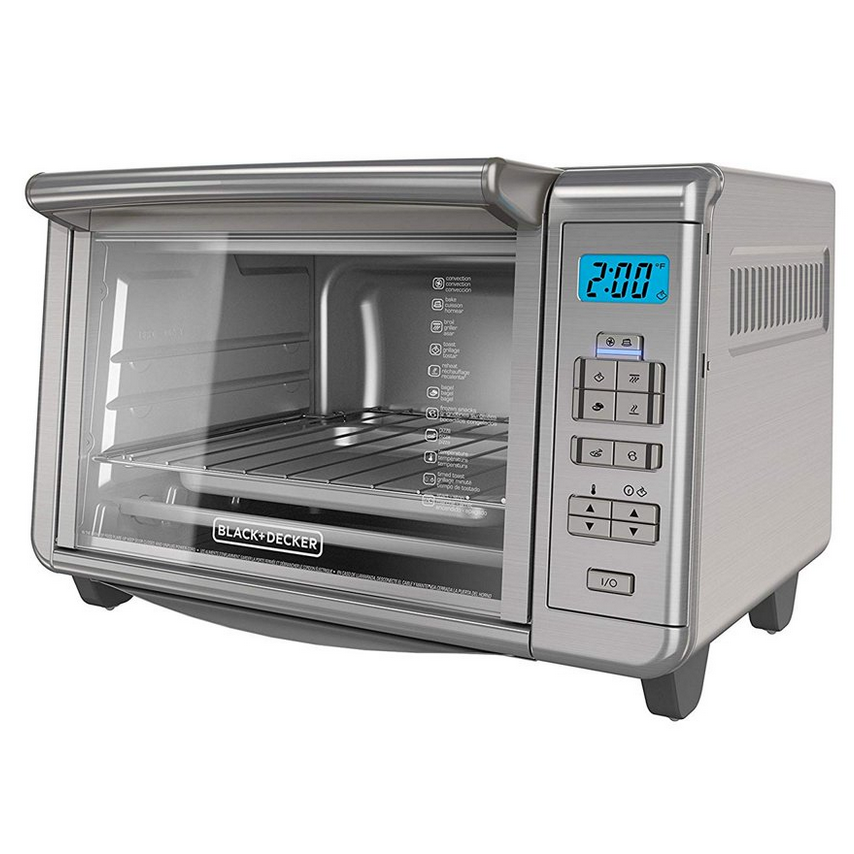 Measuring Cups. To measure liquid ingredients, I use a mini measuring cup. The larger ones, like this one-cup measuring cup, are great for liquid or dry ingredients. The handle is easy to hold and it's made of a lightweight material.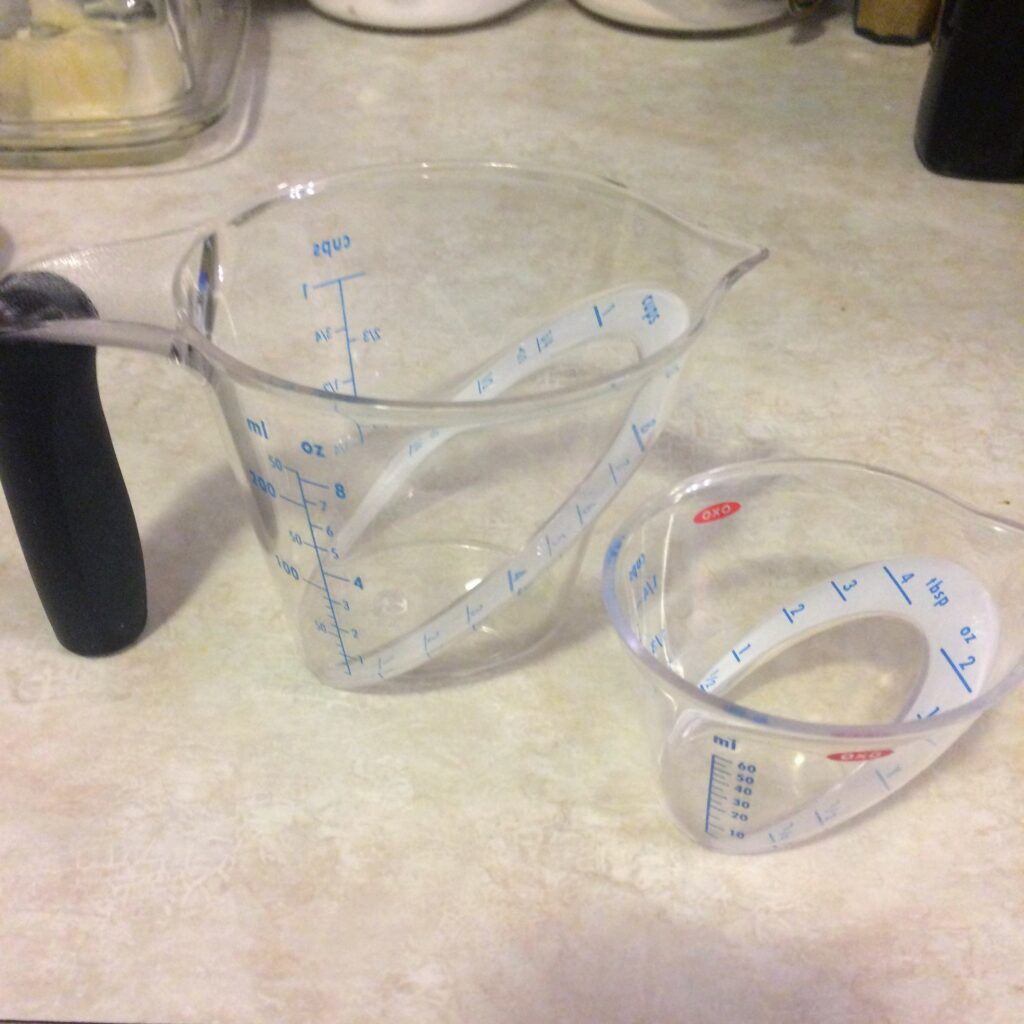 Gadgets
Rice maker. Seriously, I had no idea what I was missing out on for years. This Aroma Rice Maker takes zero talent to make great rice. As you can see in some of my recipes, I even make full meals in it, like Qabuli Palow.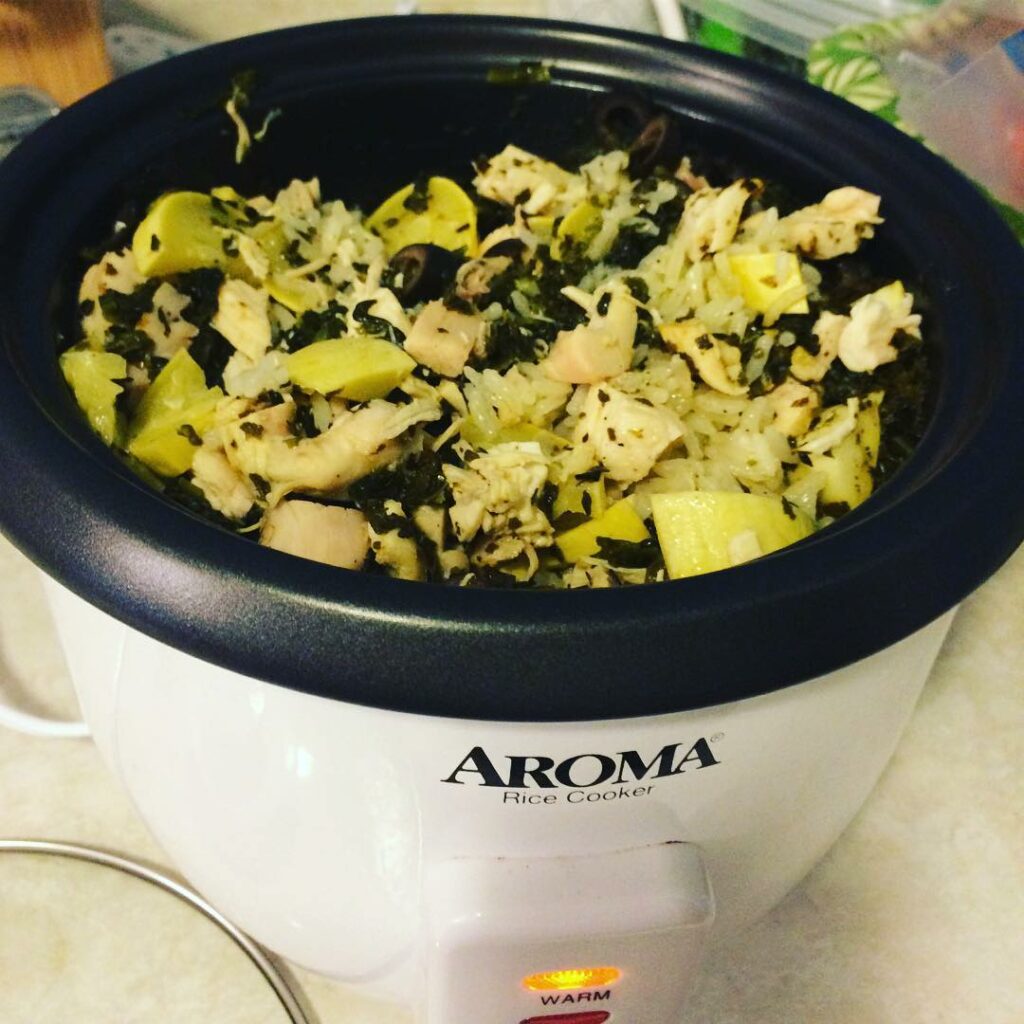 Crock Pot Express. After testing out the differences between Crock-Pot Express and Instant Pot, I chose to go with the Crock-Pot Express since it was easier to seal. It comes in a 4-quart size which is perfect for people who are single or just cooking for a few.
Automatic Can Opener. I can't live without an automatic can opener for canned vegetables or liquids. With a push of a button, the can gets opened – leaving a smooth edge so I won't cut myself.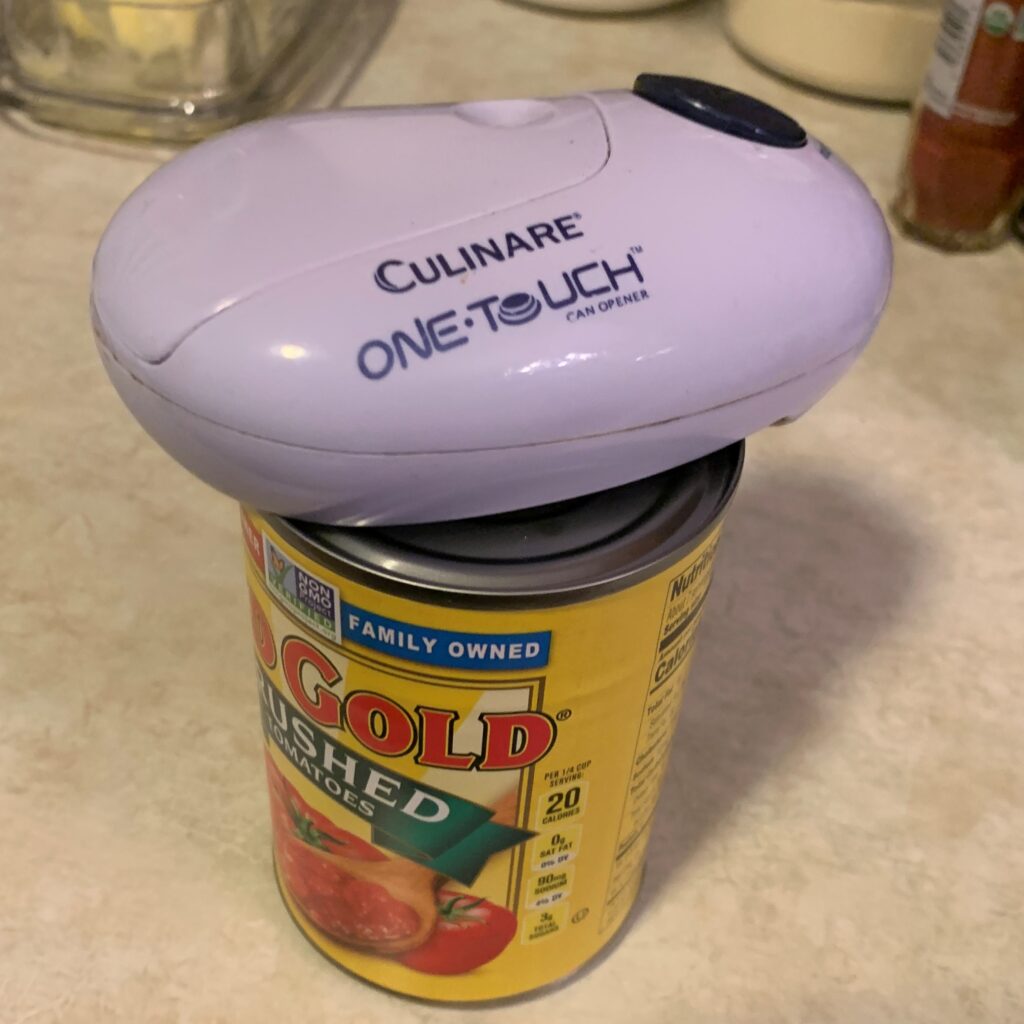 Dinnerware
Plate and Bowl Sets. I keep my plates and bowls lightweight, dishwasher-safe and virtually unbreakable with Corelle. For over 11 years, I've repeatedly washed them and occasionally dropped them – and they are still in perfect condition. I love the "super" soup and cereal bowls (28 oz.) for eating noodles, stir fry, naked burritos and other big-helping meals where a plate just gets messy. Mine are Winter Frost White, but Corelle offers a variety of colors and patterns to fit any style.
Storage
Easy Open and Close Storage Containers. These air-tight canisters by OGGI keep green chives, sugar, flour and other dry ingredients fresh. The lid is easy-open even with limited hand function and they're lightweight – and come in a variety of sizes.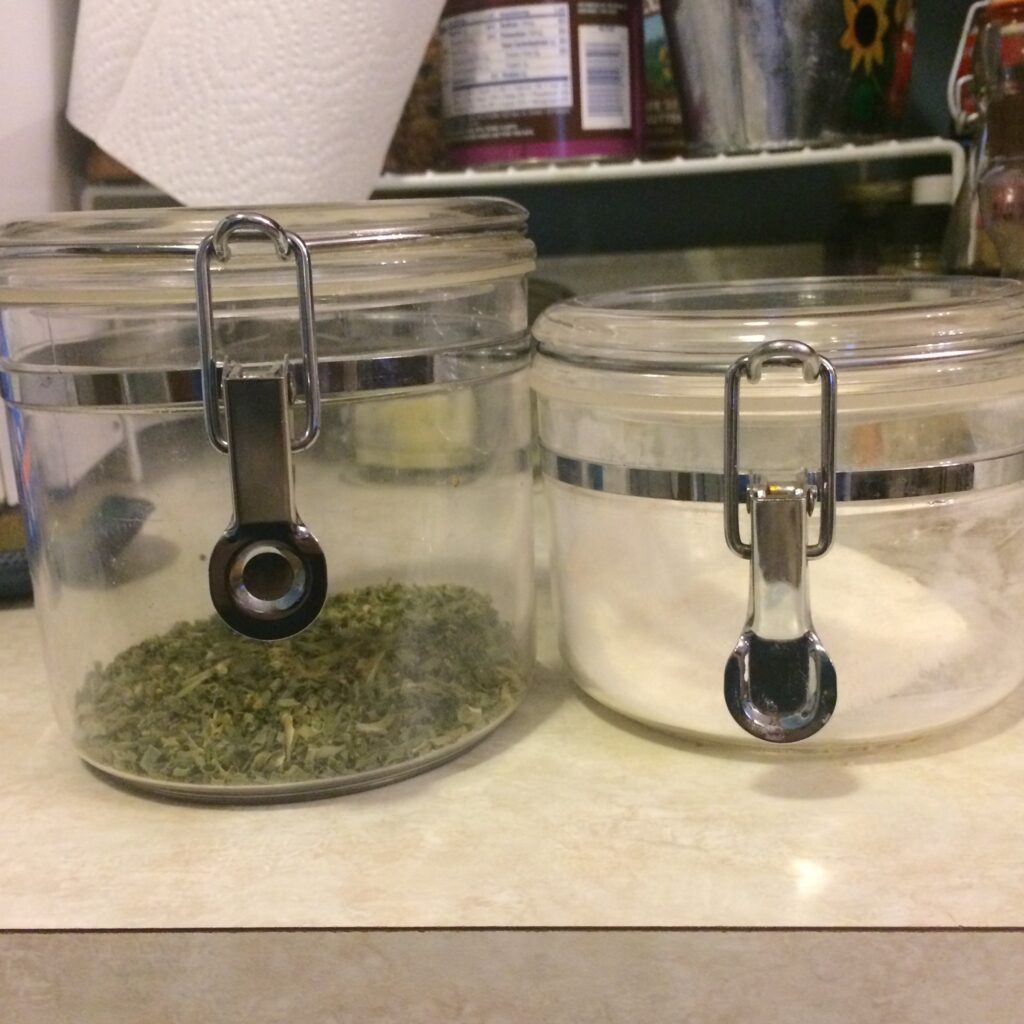 Spice Rack. This spice rack keeps everything hidden and organized, but pulls out easily. I put mine on top of my microwave for easy access.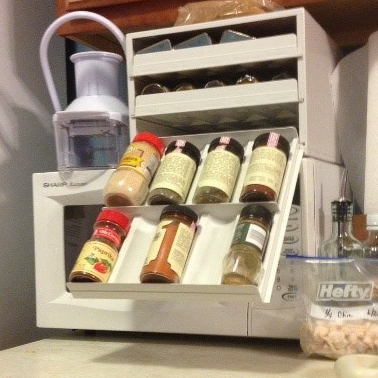 GladWare plastic containers. Whether using them for mixing spices, heating ingredients, mixing up liquid ingredients, or storing leftovers, these containers are lightweight – and won't break if/when they get dropped. They are also microwave and dishwasher safe. I have a variety of sizes, but in the same brand so that the lids and containers don't create a messy storage area. (Yes, they do get stained after a while.)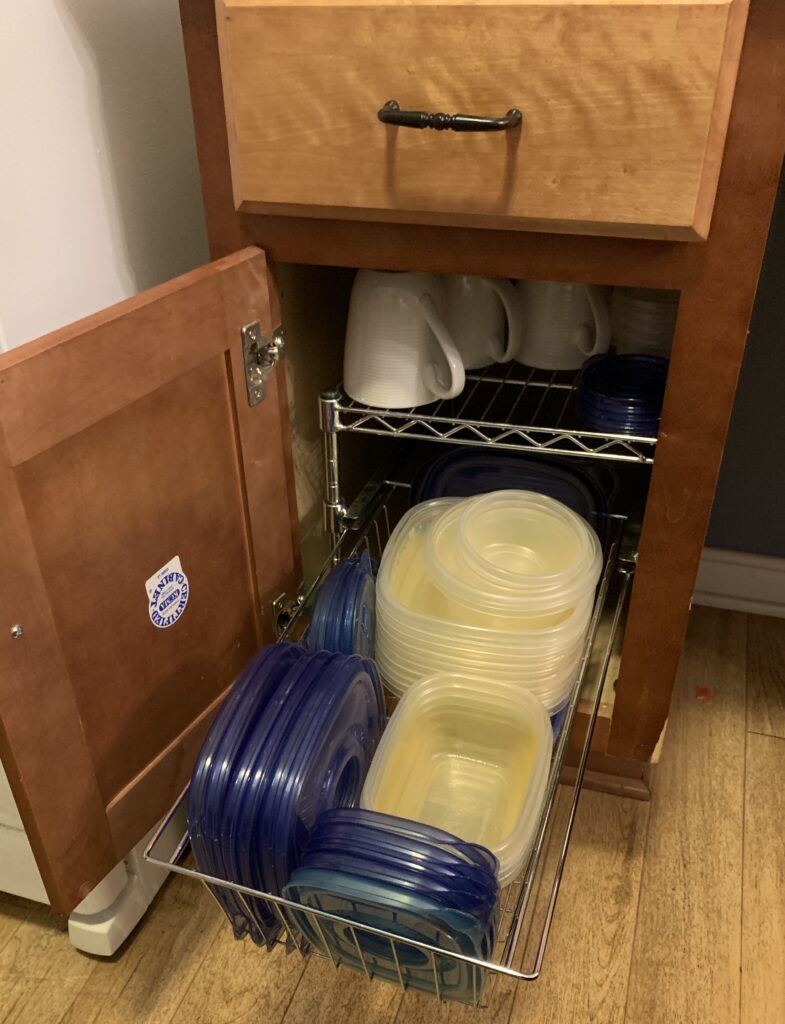 Appliances
Refrigerator. Everyone is different, but I prefer a freezer-on-the-bottom style refrigerator. The refrigerator door swings over my legs so I can conveniently reach items without effort. Yet I can easily get to the frozen items on the bottom, too. I have an Amana refrigerator.
Stove and Oven. I only cook on my stove top. Honestly, my oven is used for storage since I don't feel safe using it (hence my love for the toaster oven). This GE Free Standing Electric Stove isn't much to look at, but it does the job. The knobs are in the front for safety and ease.
Don't forget
Garbage disposal. If you will be designing a wheelchair-friendly kitchen, don't do what I did: I forgot to place the switch for the garbage disposal where I could reach it. I had to have a friend rewire it. The switch is now under the sink where I can easily access it.
Add more storage. As a chair user, I cannot reach my top shelves. Instead, I have two extra storage areas that I can reach. I love my pull-out shelves so I can reach the back of the shelving units. Get creative. Another great option if you have the resources is Rev-a-Shelf. These pull-down units provides lots of extra storage in higher cabinets.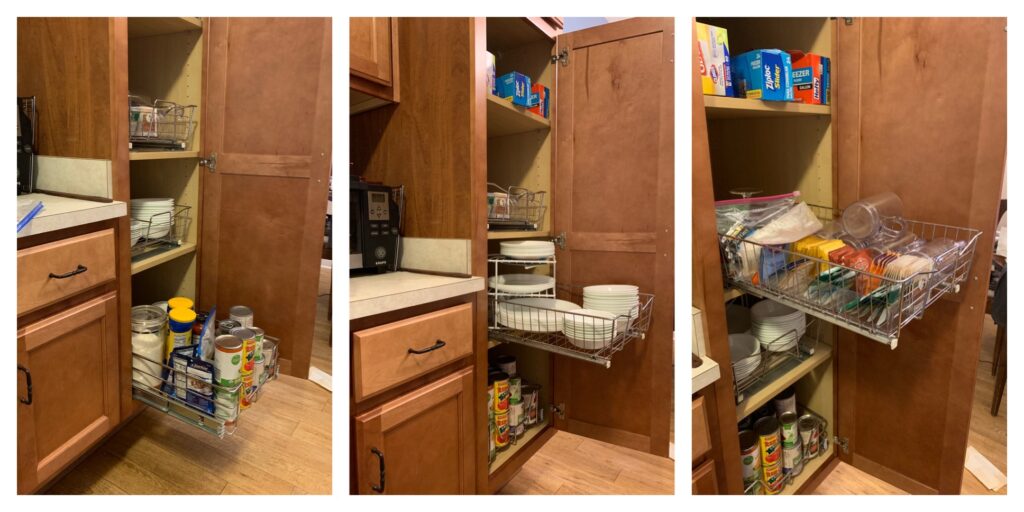 This page contains affiliate links.