I know what you're thinking: "Cinnamon and raisins in pasta?"
I promise, it tastes as good as it looks.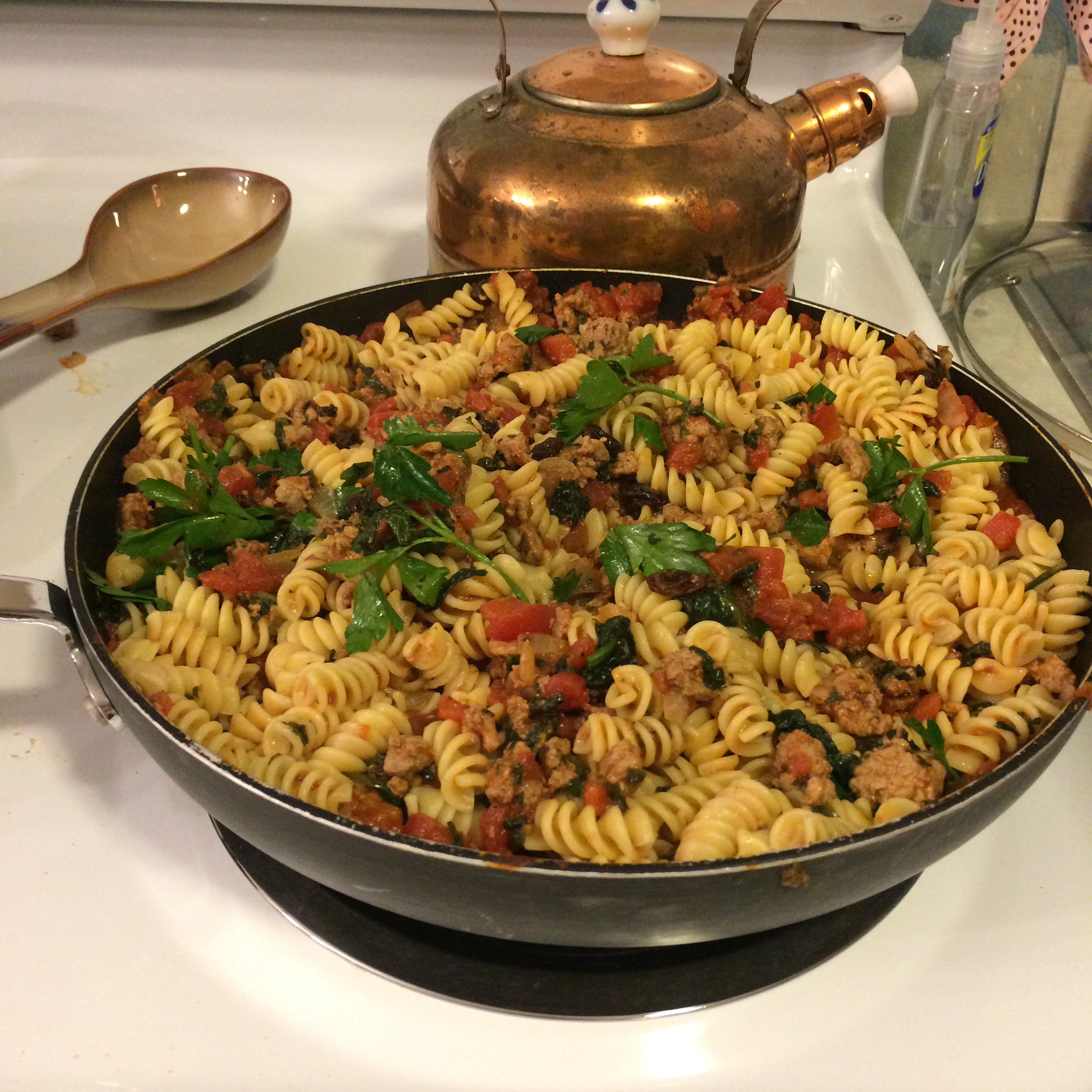 Ingredients:
2 teaspoons olive oil
1 cup chopped frozen onions
2 teaspoons minced garlic
1 teaspoon ground cumin
½ teaspoon ground cinnamon
1 lb lean ground beef or ground turkey (I always use ground turkey)
1 teaspoon salt
½ tsp black pepper
2 14 oz cans petite diced tomatoes
1/3 cup raisins
3 tablespoons tomato paste
8 ounces pasta (See tip below)
1/4 cup snipped fresh Italian parsley
Directions: In a large skillet, heat olive oil over medium high heat. Add onions and cook about five minutes until softened. Stir in garlic, cumin and cinnamon. Add ground turkey, salt and pepper. Cook until the meat is cooked through. Stir in undrained tomatoes, raisins and tomato paste. Bring to boiling, then reduce heat, breaking up the tomatoes with a spatula or potato masher. Simmer for 10 minutes. Cook pasta according to the directions, then mix it into the meat sauce.
My tips for this recipe:
Barilla Ready Pasta is the BEST for safely and easily cooking pasta. I love this stuff!
I always substitute frozen chopped onions or 2 tbsp onion flakes for fresh onions that require cutting. (I often use dried chives/green onions if I need to avoid onions for my tummy.)
The original recipe calls for a 28 ounce can of whole tomatoes, but that was too big for me to pick up. I couldn't find whole tomatoes in 14 oz cans, so I substituted diced tomatoes.
See the pretty copper kettle in back of my skillet? It's there so I can stir the ingredients one-handed without the pan sliding off the burner.
Using a pasta skimmer, I fish out the pasta by the spoonful and place it into the meat sauce. I wait to empty the big pot of water until I have help.