If you have ever traveled, you've experienced it. Digging through a suitcase looking for that pair of pants you need right now. Inevitably, they're on the very bottom and the contents of the suitcase become upended.
However, I've found a solution. I think I'm a bit late to the game, but I finally discovered packing cubes.
For years I used Ziplock bags for packing. Although it worked well for smaller personal items and liquids, the gallon-sized bags weren't large enough for multiple items of clothing.
Packing cube come in a variety of sizes and colors. I've purchased two sets of the AmazonBasics 4 Piece Set Small and one 4 Piece Set with Small, Medium, Large and Slim cubes.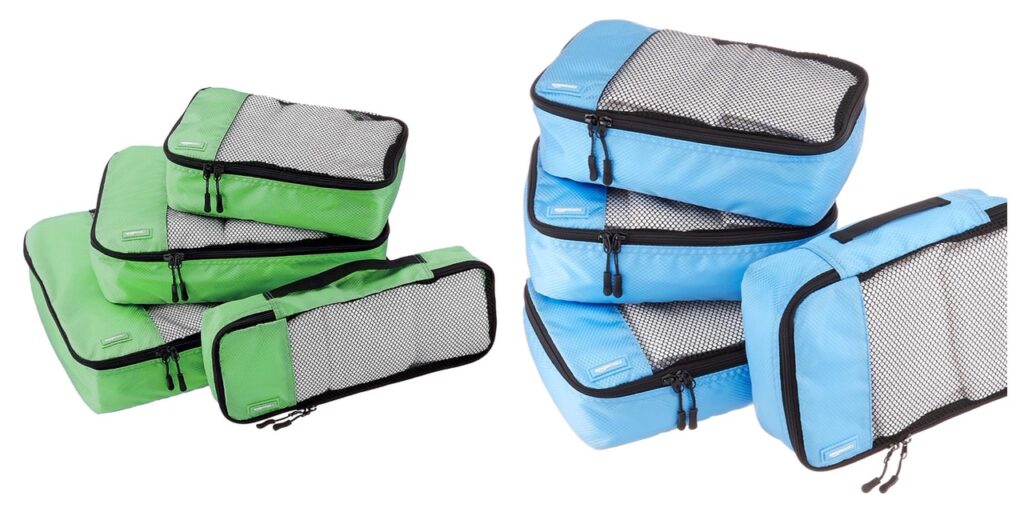 After a few uses, here's what I have found works for me.
Get and stay organized
The packing cubes are great for staying organized. You know how every piece of clothing becomes unfolded when you grab that one thing on the bottom of the suitcase? No more! Just grab the cube you need. Everything else stays neatly arranged in its own packing cube.
For short trips, I'll pack one outfit per packing cube. On longer trips I've placed pants, shirts, underwear, sweaters, etc. each in its own packing cubes.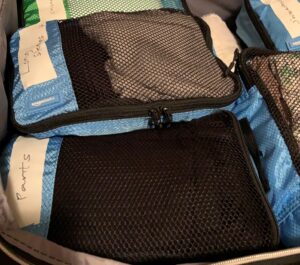 Easy to use
The packing cubes I have offer a nice handle as well as a zipper pull. The zipper opens and closes very easily. Both features are great for people with limited hand function.
Pack more
I've found I can pack more in less space with packing cubes. This is helpful for shorter trips when you'd rather use a bag like this Hynes Eagle 44L Carry On Backpack.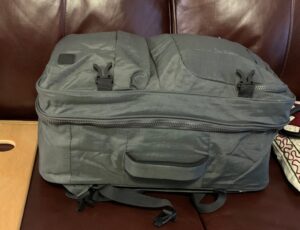 Easily rearrange
If things aren't fitting correctly in the suitcase, simply pull out the cubes and rearrange. There's no need to refold every item of clothing.
Labels
I've chosen to label my packing cubes to make life even easier. This is also convenient when someone is helping me.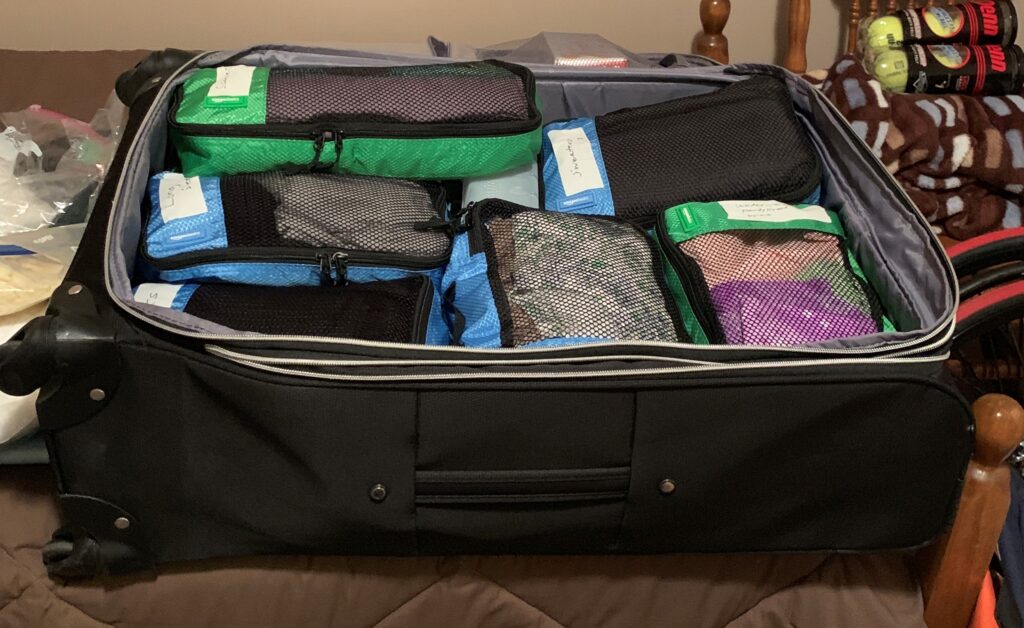 How I use packing cubes
Small cubes:
The small cubes (11 x 6.75 x 3 inches) are great for individual outfits (a pair of pants, two layers and a scarf) – or for four or more shirts or a few pair of pants. I also use a small cube for my "pharmacy": the medications and supplies I carry on longer trips for "just-in-case" scenarios.
Medium:
For two weeks' worth of closed-system catheters, the medium packing cube (13.75 x 9.75 x 3 inches) works great. (Remember to never put "all your eggs in one basket." Carry several days' worth in your carry-on.)
Slim:
You know me and scarves… Several scarves fit in this long and skinny cube.
Large:
The large packing cube is… well, large. When packed it is too heavy to lift with limited hand function. So I use it to store all the packing cubes once I've returned home and unpacked.
Why not?
Traveling can be a hassle. Why not make it easier with packing cubes?
Other articles you might like: