On the return trip from Knoxville, my mom and I visited to Cumberland Falls State Resort Park. Cumberland Falls is in Corbin, Kentucky; it's about a three-hour drive from Louisville and two hours from Lexington, Kentucky.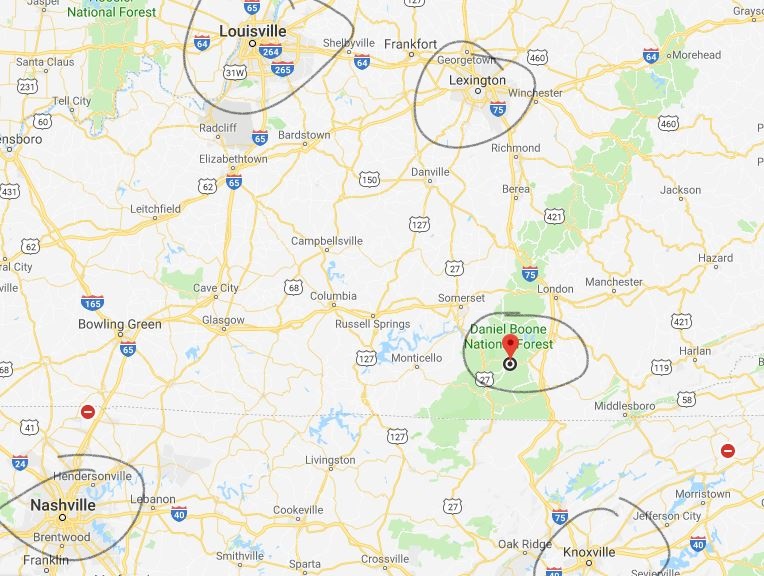 Making Reservations
Two months prior to my trip I was looking for rooms at Cumberland Falls State Resort Park online. I was excited when I saw they had options for mobility accessible accommodations. I was a little less than thrilled when it appeared that the accessible rooms only had one bed. Other rooms at the lodge had two queen size beds. We needed two beds.
Unfortunately, this is a situation that's all too common. In making a hotel room wheelchair accessible, architects seem to save space by expanding the restroom by taking a bed from the sleeping area, therefore offering only one bed.
I'd like the world to know that people with disabilities, too, have family and friends that we travel with. Those of us with disabilities need rooms to accommodate not only our chairs, but two people – who are not a couple – or a family with children.
Getting my Advocacy Game Face On
So I decided to take action. I emailed and called Cumberland Falls State Park. I explained the situation. They were sorry, but the accessible accommodations in the lodge only have one bed.
"But," the representative offered, "You can book two rooms in the lodge."
"I don't need two rooms," I replied.
"Well, for $100 more, you can book an ADA cottage with two bedrooms and three beds."
I took a deep breath, put on my best advocate voice and calmly said, "But you offer rooms with two beds to the general population. I should not have to pay more."
After being put in touch with a manager, I simply asked, "How do you plan to accommodate us?"
We were offered either two bedrooms at the lodge or the cottage at the same price as one bedroom. I reserved the accessible cottage.
It should not take this much time and effort to book a room. Ever.
Upon Arrival
We arrived at the state park at around 1 o'clock in the afternoon. The skies were heavy and gray with impending rain. When checking in, I found out check-in wasn't until 4 p.m. So we ran down to the restaurant and purchased a sandwich, then drove over to the main attraction: Cumberland Falls.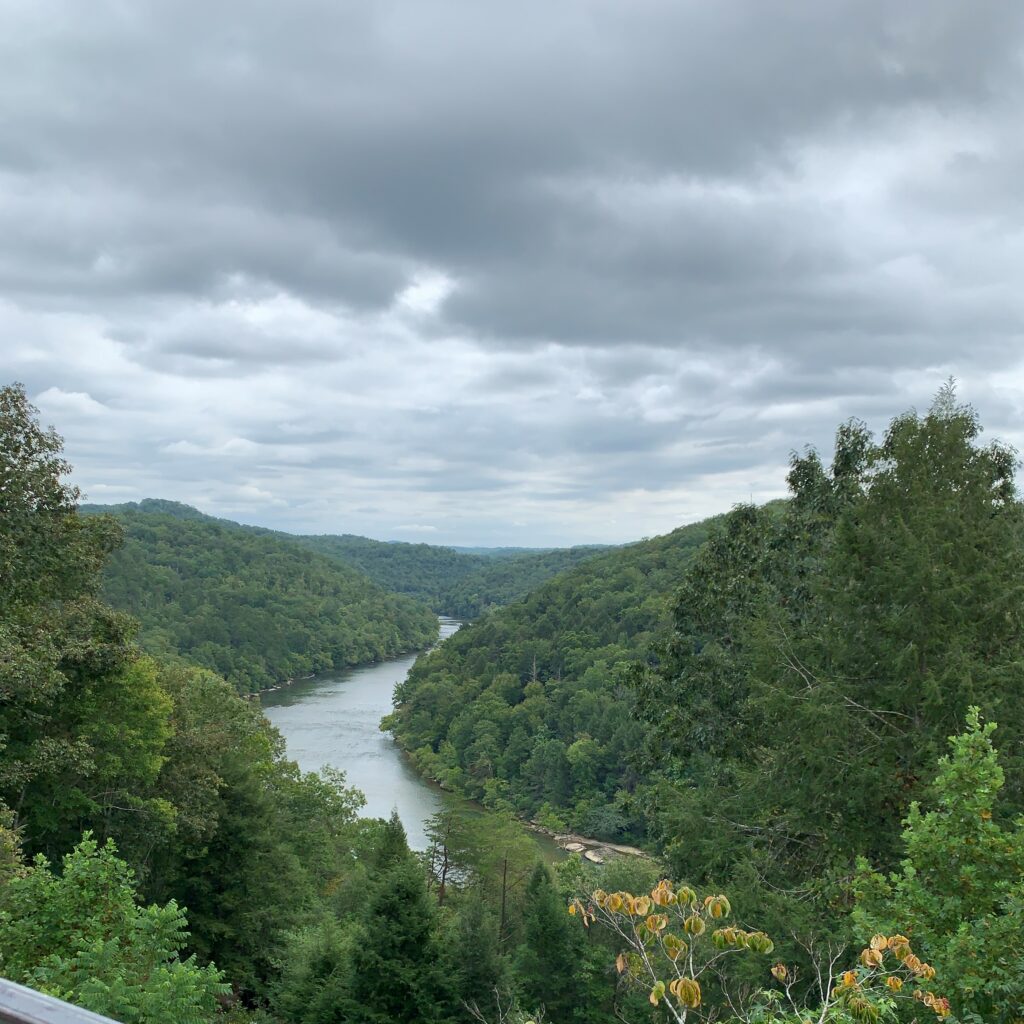 Just in time for a deluge of rain.
While eating lunch in my van, my mom and I waited for the rain to pass. It finally lightened to a sprinkle. We dashed into the gift shop. Thankfully, they had rain ponchos for $3. I purchased three: one for my mom and two for me. I wrapped my legs up tight, then put a second poncho over my upper body. We were ready!
Then it stopped raining…
Cumberland Falls
We ventured out to experience Cumberland Falls, also nicknamed the Niagara of the South. It is the second largest waterfall in North America. When a full moon and clear skies are present, a phenomenon known as a moonbow can be seen (see the schedule here). Cumberland Falls is the only place in the Western Hemisphere where a moonbow occurs regularly.
The first entrance to the lookout had one step going down to it. I went around to the far entry and was able to get to that viewing area just fine. The thunder of the water and the mist blowing in the wind was a beautiful site. I could've sat there for hours watching and listening to the power of the water.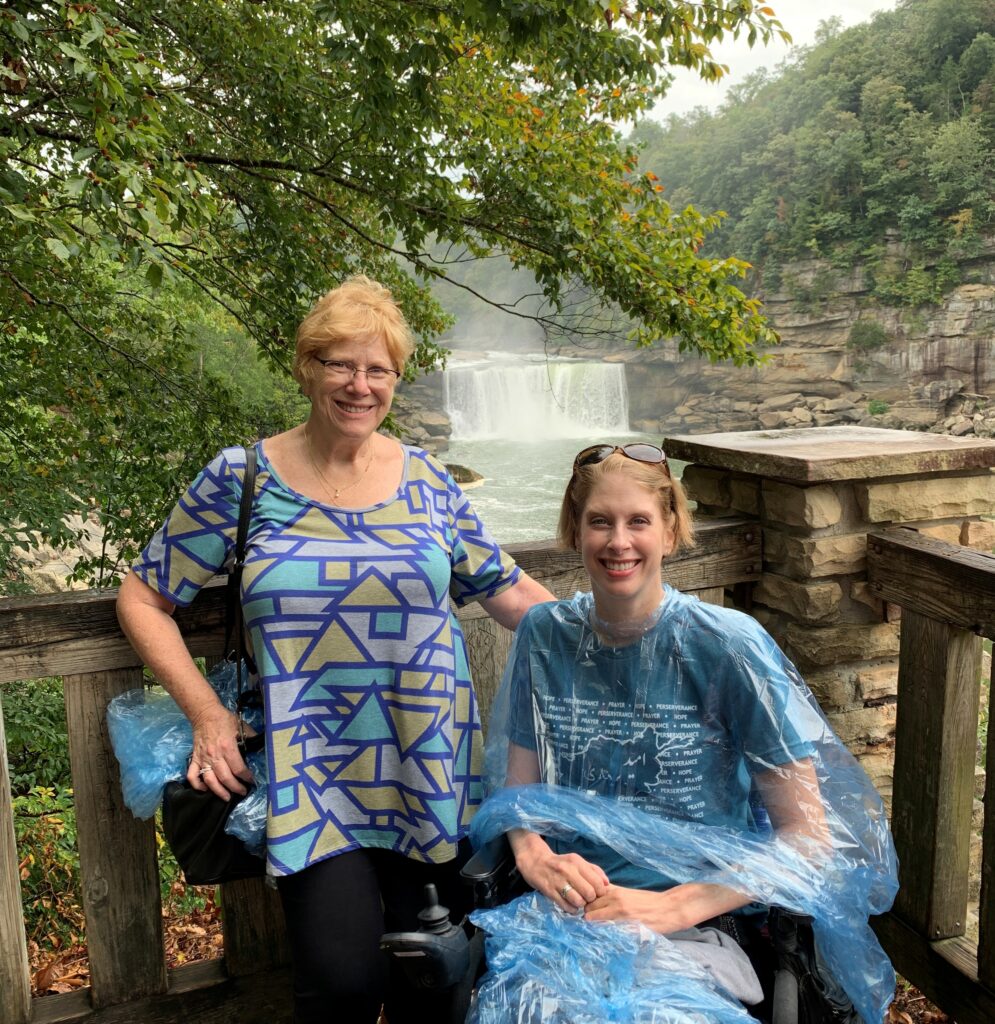 But there were other lookouts to explore. Were they accessible, too? There was only one way to find out!
We walked further downstream and came across another viewing area. This one, too, was fully accessible with a great view. Getting to it involved a steep incline. In my power chair it wasn't a problem. But manual chair users, be prepared to prevent your own "Cumberland fall."
There were signs near the lookouts explaining the history of Cumberland Falls. The signs are at a nice level for wheelchair users to read. There is a path to at least one other viewing area, but you had to descend very steep steps to get to this area.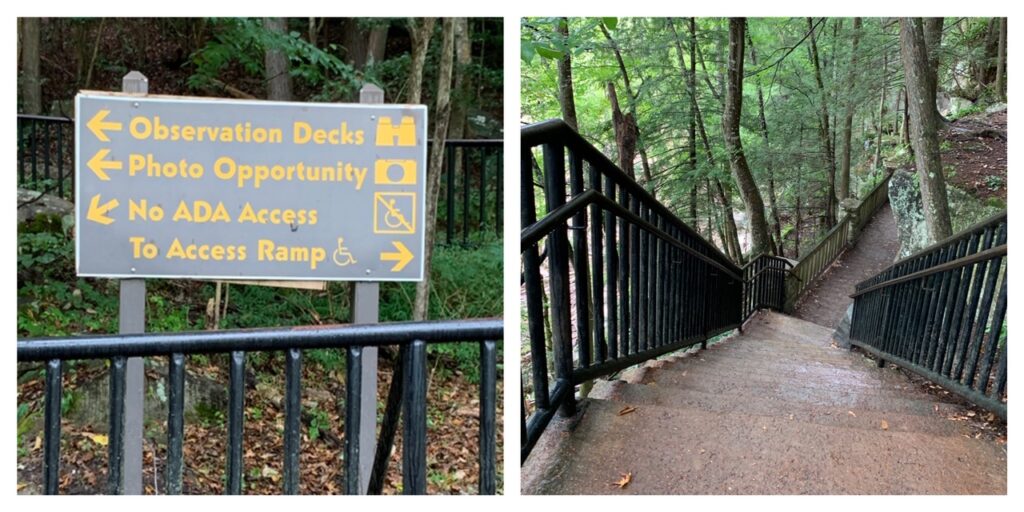 An Unexpected Surprise
My mom and I took our time meandering back to the front of the park. On our way there, we saw a couple walking up a ramp. At the base of the ramp was a large expanse of sandstone leading all the way out to the Cumberland River above the Falls. There was a chain blocking the ramp. But as people were coming up, I asked if we were allowed to go down. A state park employee was there to answer my question. She said, "Everyone else is down there, so you might as well go on down."
The couple lifted up the chain for me and I ducked underneath it and began descending the ramp. It was steep, but doable. The question now was if the uneven sandstone would be conducive to a wheelchair.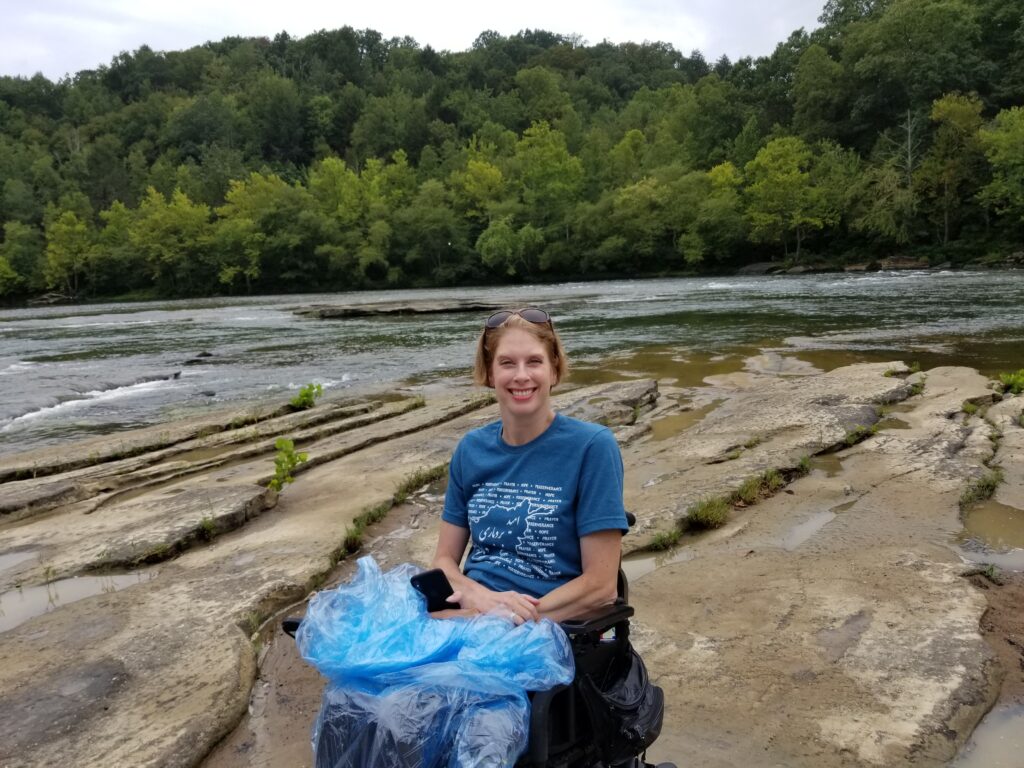 To my great pleasure, I slowly made my way almost all the way down to the Cumberland River. It was uneven and I had to make my way carefully to avoid getting hung up on any rocks or stuck in puddles. But I managed to get out quite far. It's not very often I have the opportunity to do get this close to water – except for when I'm rowing!
(I want to give a shout out to my Quickie QM-710 and its SpiderTrak Suspension for off-roading so well over the rough terrain.)
At the Cottage
We decided to head back to check in and get into our cottage. There's a nice parking place, fit for a side loading vehicle, at the side of the cottage. The entrance is flat and a key card opened the front door with a lever door handle. As we walked in, we could immediately feel the air-conditioning. Perfect!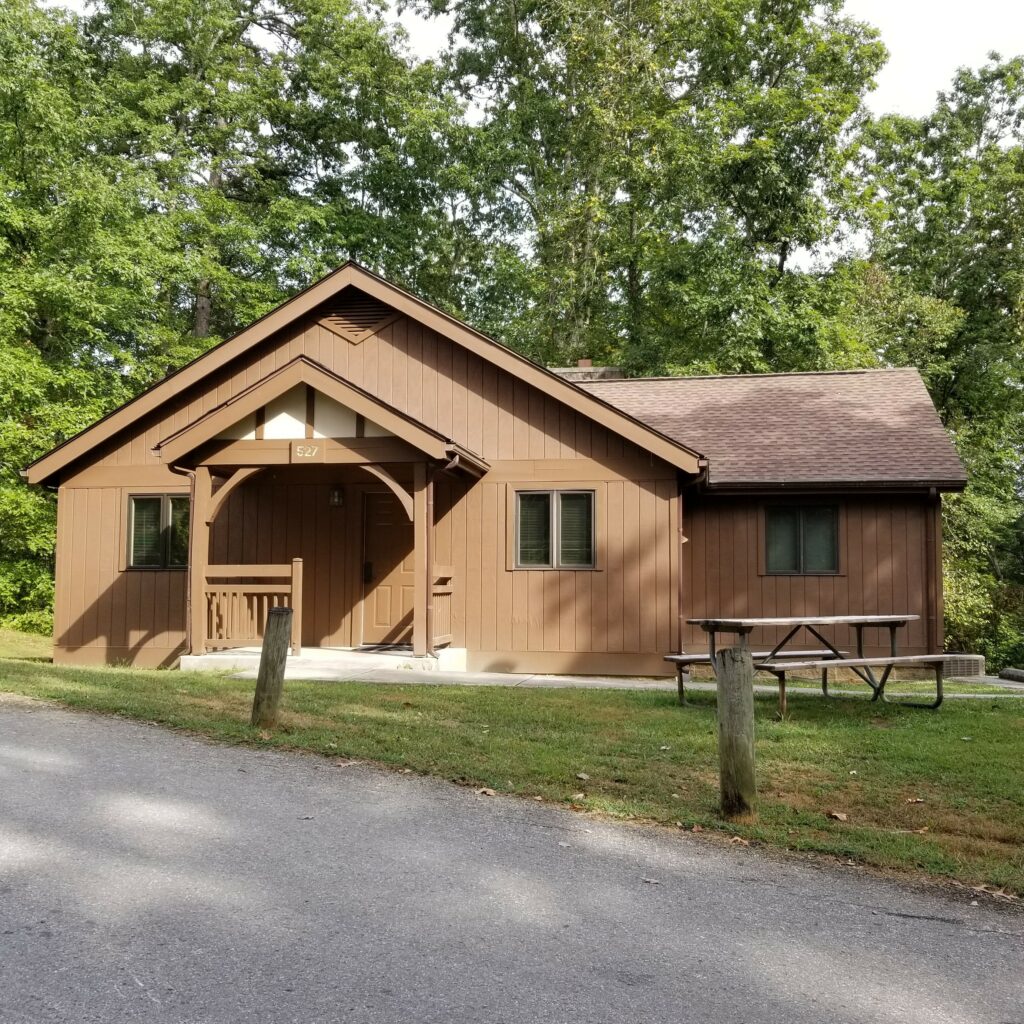 The cottage was… cottage-y. It's not a first class hotel, but had a nice homey feel. The accessible bedroom had one queen size bed, about 26 inches high. The bathroom was large with a roll-under sink and a step-in shower. The shower was small, but was fitted with a fold down seat and hand-held shower head.

The second bedroom had two queen size beds. The bathroom was much smaller and it would have been difficult for me to get around in there.
Off of the living room was a patio with table and chairs facing the dense woods. Inside, a table for six sat between the living room and the fully ADA kitchen. Honestly, it's the best kitchen I've seen outside of a custom-designed accessible kitchen. Even the sink and countertop could be rolled under. The knobs were on the front of the stove, allowing safe use by a wheelchair user.

The Grocery Store
As we neared dinner time, I didn't feel like driving back to the lodge's restaurant for dinner. We'd seen a sign for a grocery store near our cottage. So we decided to drive up and see what they had in stock. If you're looking for good, quality food, this is not your place. But we found a few basics and were able to buy some ground sausage and eggs to make a simple dinner with enough leftovers for breakfast the next morning.
A Perfect Getaway
I spent a relaxing evening on the balcony reading A Moonbow Night by Kentucky author Laura Frantz. Ahhh. There's nothing better than reading historical fiction and being in the location where the book is set. (But watch out for the mosquitoes in the evening!)
I'd love to return to Cumberland Falls State Resort with a group of girlfriends. I think it would be a great place to get away. And, hopefully, Kentucky State Parks will review their policies about accessible accommodations. I'd like to see the process of booking a room a bit easier – and equitable.
My conclusion… Cumberland Falls State Resort Park is a great place to take an accessible getaway.
What to expect:
Don't expect perfect weather. If you don't like getting wet – like me – come prepared with rain gear.
Expect comfortable surroundings in the cottage, but don't expect a five-star hotel. I can't speak to the lodge.
The air conditioner worked well. The bed was comfortable.
There's a fireplace in the living room and wood can be purchased at the lodge. Outside there is also a small grill. On a cooler evening, it would've been a perfect place to grill burgers or make some S'mores.
Don't expect to have cell service. Although there is Wi-Fi available, my connection was not very strong. Actually, this was a plus in my opinion. It's a nice way to completely disconnect and relax.
There is a TV in the living area and both bedrooms. If you are there to disconnect… just don't turn on the TV!
If/when I return, I will plan ahead with meals. The cottage does have pots and pans, as well as a refrigerator, silverware, utensils for cooking, microwave and coffee maker. But no salt and pepper. (I had to run back up to the store to get some salt and pepper for dinner.)