For about a year I've been digging in to the subject of resiliency. In some ways I think I'm an expert on the subject. At other times I don't feel resilient in any form or fashion.
So what is resiliency? A simple definition is it's the ability to bounce back after experiencing hardships or trauma.
Resilience comes from both external resources (family, community support, financial and medical resources) as well as internal resources (determination, compassion and courage).1 It is both innate and learned.
Did you read that? Resilience can be learned.
And better yet, it is not an uncommon trait. Southwick and Charney state: "[Resilience] can be witnessed all around us, and for most people it can be enhanced through learning and training."2
Looking for an example of resilience
I'd wiped the existence of 2018 off my calendar after multiple surgeries. I was convinced 2019 was going to be a better year. And in many ways it has been. But several trips to the ER, continued complications, physical weakness, and emotional turmoil has had me asking the "Why" question throughout much of 2019.
I know all the Sunday school answers. Heck, I even wrote an article on suffering. And I really, truly believe what I wrote. It's just that I don't always feel it.
In my quest for learning more about resilience, I was trying to think of people who exude this trait. And Michele Adams was the first person to come to mind. I decided to reach out to her.
Michele's story
First, let me give some background. I met Michele and her husband Tom shortly after they had started planning to move to Italy. Their plans changed a bit and their departure was delayed. Michele worked at her church in the meantime.
"When I was working at the church, it was a busy, busy time. We were shorthanded. I was doing all kinds of youth activities and camps. So I was away from home probably six weeks in a row. And during that time I was having some stomach issues."
Michele went to the doctor. He told her, "Let's do a colonoscopy just to rule out the cause of any bleeding."
"I was losing weight, but I was trying to lose weight. So I was excited about it," Michele adds.
But when the doctor did the colonoscopy, he discovered that Michele – at the age of 40 – had stage 4 colon cancer. And when more tests were done, they found it had metastasized and spread to her liver and lymph nodes.
Instead of living in Italy, she has lived the past eight years in the world of cancer.
A change in plans
In our conversation, Michele explained how she and Tom became interested in going to Italy in the first place. They were listening to a woman who was working in Italy with a missions organization.
"The entire time I felt God was saying, 'I need you to go to Italy.' So when the presentation was over, I went over to Tom."
She asked, "Okay, don't shoot me. But did you feel that God was telling us we needed to go to Italy?"
That's when the unexpected happened. Tom turned white as a ghost and replied, "I did."
After praying about it together, they started on the journey of preparing to move to Italy; this included taking a trip to Italy to learn more about the work they'd be doing.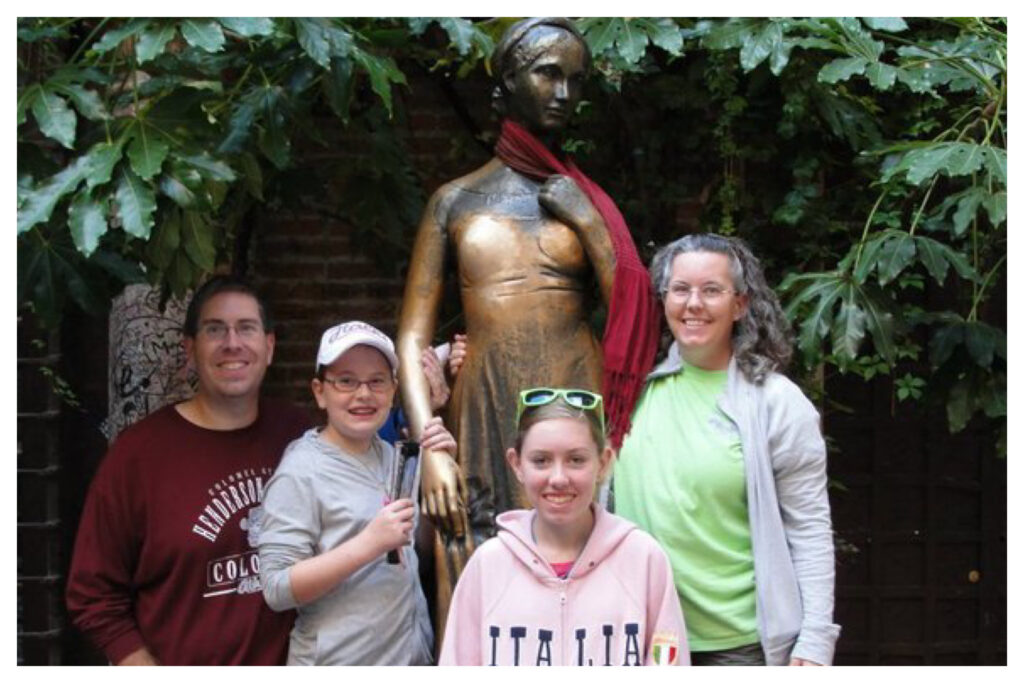 "Tom and I thought this was about us going Italy. God used some things in that trip that really helped strengthen us. So it wasn't a 'wasted trip.' But being a missionary isn't only about going out into the world. It's about spreading the Gospel wherever God tells you to."
The plan to go to Italy was halted after her diagnosis. As Michele says, "Cancer got in the way."
She adds, "The coolest spin off from this is that when God told me to 'go,' I specifically said, 'Here I am Lord; send me.' I did not say, 'Here I am Lord, send me to Italy.' Now that I look back, he was preparing us for the cancer mission field."
A different type of mission field
I had to ask what she meant by the "cancer mission field." What does that look like to her?
"It's not like I'd go into chemotherapy with a positive outlook and I'm ready to save souls. It's a whole lot about being sick. It's a whole lot about being on the verge of death, but holding on to God. It's all about telling people of God's glory through my own pain and suffering."
It doesn't always make sense to her.
She continues, "Our job as those who are experiencing pain or suffering is to shine his light no matter whether we're feeling good or we're feeling bad. Our job is to keep proclaiming his deity and his sovereignty and telling the good that goes with the bad."
Telling it like it is
In her updates on social media, Michele is real. She doesn't try to pretend that everything is great when it's not. It's what I appreciate most about Michele: her transparency. And I believe that speaks to others.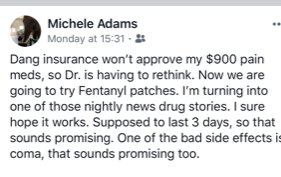 "I've been given the cancer battle, but there are other people that have depression. There are people who have arthritis. God doesn't promise that we're going to have a smooth road. In fact, Jesus warns us many, many times that the road is going to be hard."
And it has been hard. Eight years later, Michele has endured multiple rounds of chemo, numerous surgeries. Remission followed by the cancer coming back with a vengeance. Developing an allergy to the chemo, which left her with painful, open and oozing sores on her head. The cancer has now metastasized to her stomach.
Resilient Living
So how has Michele lived – truly lived – during these past eight years?
She learned to be resilient at an early age.
Growing up was difficult. She signed up for the military reserves at 16. Just as she joined full-time to go with the Army Airborne forces, she was in a civilian car crash, dashing her dreams. She served as a chaplain's assistant while her discharge was being processed. Then her unit was called up to serve in Desert Storm. She served stateside until her medical release was sorted out.
"The military was good for me. It taught me discipline. It let me get out on my own. I became independent."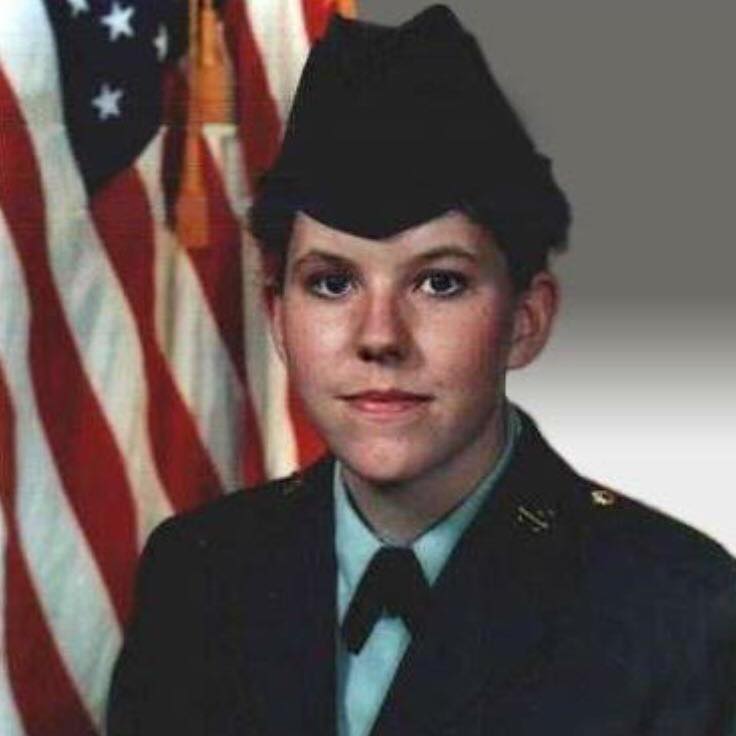 The tough parts in her life taught her how to be resilient. How to bounce back in the face of adversity.
"All this crap that I've been through in my life – like growing up, the military – all of these things I would never want to do again ever. But without them, I don't think I could be going through what I'm doing now. Each experience built more character. You can't see that as you're going through it. But now that I'm in the cancer, I can turn around and look and see how each bit of that ugliness made me a more resilient person."
Wanting to give up?
Has there been a time when she wanted to give up?
"Oh yeah. This last surgery. I completely did not want to do it. If it weren't for my oncologist, I would not have done it because I was in a place of peace. I wasn't hungry even though I hadn't eaten for a week. My body just shut down. My blood loss was such that I could have just gone to sleep and not woken up. And that would have been the most peaceful way to go in my mind. But then I also was sitting there watching my husband cry, watching my best friend cry, and watching my kids cry – even though they tried not to cry in front of me."
Then Michele's doctor came in and said, "We have a battle plan."
The oncologist who has worked with Michele for the past eight years knows her and had spoken with the surgeon. And since the oncologist believed surgery was worth it, Michele was willing to go forward.
"I'm going to keep fighting. My oncologist knows me and will tell me exactly like it is. And she knows that I don't have long-term goals. I'm not expecting to be here in three years. But she wanted to help me meet certain goals… so that I can be here at my daughter's wedding in October."
And Michele not only made it through surgery, but she attended her daughter's wedding in October.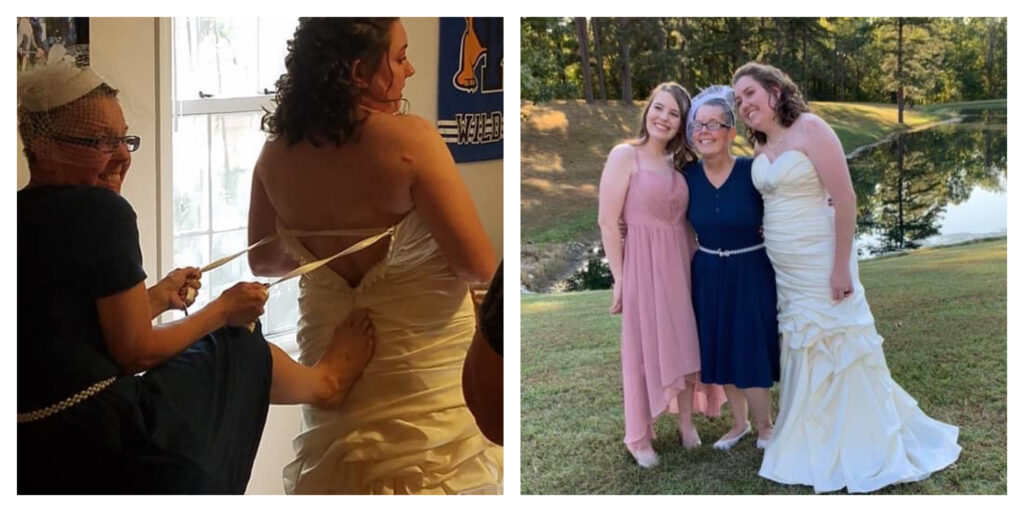 Words of wisdom
What words of wisdom does she have for those who are going through tough times?
"We've talked about this a little bit before that God does not promise a good life here on earth. That's not our goal. We can have a good life, but there's going to be a whole lot of crap in it, though, that you have to negotiate around. And the only way to do that is to keep your eyes focused on Him. And then He will show you which way to go. And it might even be a path that has even more crap than the one you just went through! But He's going to help you get through it. He doesn't promise a smooth road, but He does promise to hold your hand through it."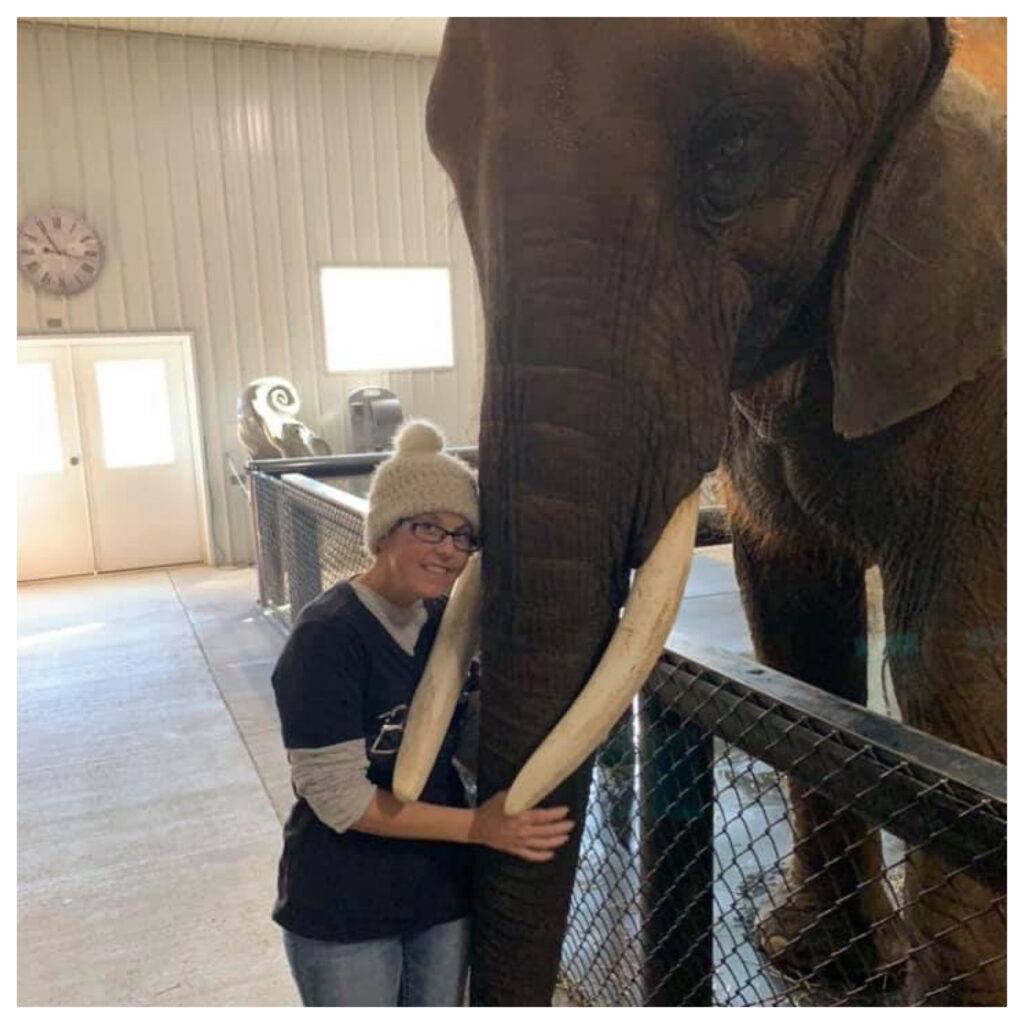 And the most important thing to remember? If God takes away the hard stuff, how are we ever going to relate with others who are experiencing difficult times? First 2 Corinthians 1:3-5 says that God comforts us so that we can comfort others.
Michele says, "It's not necessarily about thanking God for giving us problems, but for getting us through it. You can help someone else with your experience."
What are your thoughts on perseverance and endurance?
"Oh, that's a hard one. I think the only way you can equate it is to running a race. And if you've never run, I don't know how to explain it to you."
Her explanation: "Every racer runs a different race. For example, the person who stopped and walked, they'll notice the people around them cheering them on. The one who has his eyes closed and is pushing through the pain, they see nothing but the finish line. They're missing all the opportunities along the way."
As an example, Michele remembers this event from the 1992 Olympics. Derek Redmon, the British record holder in the 400m sprint, snapped his hamstring during the semi-finals. After falling to the ground, he got back up, grimacing in pain and hobbled toward the finish line. And then Derek's father pushes his way on to the track to assist his son to the finish line. As his father puts his arm around his son, Derek completely breaks down and leans into his father for support. With the crowd cheering him on, Derek Redmon crossed the finish line with assistance at the Olympic Games.
"That's what this life is about. It's supposed to be about finishing the race, not what color medal you receive at the end. All of this perseverance and endurance means nothing if we're getting through life on our own by the skin of our teeth. God gives us other people."
She's no inspiration
"Our family joke – we laugh at it – is what an inspiration I am," Michele laughs. "My family knows who I am and everybody else wants to make me an inspiration. And we just laugh at it because if people saw the bare bones of who I am, not a person in this world is going to think that I'm an inspiration. It's not about you or me being the inspiration. It's about allowing God to be the inspiration through our suffering."
And that is Michele's goal. To allow God to be glorified in her suffering. To be honest and transparent about what she's going through. And to finish the race well.
"For me, the end of this battle is not doom and gloom and sadness. It will be hard for my family. It's for them that I continue to fight because they want to hold me here as long as possible. But for me, the end of the battle is going to be me winning this cancer war. I get to go home."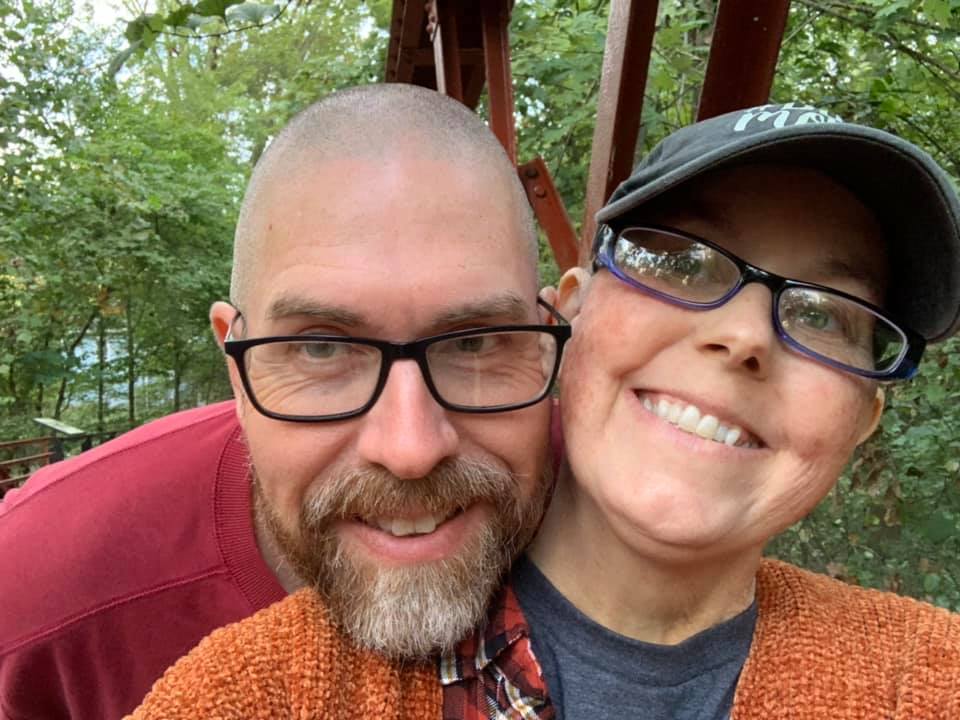 An honest prayer
Endurance. Perseverance. Resilience. Michele can talk about these characteristics and in the same breath, she has an honest request.
"Pray for the end that I go in my sleep and it's easy. That's what I'm hoping for. You know, when my time is set and God takes me home, I would love it to just be – to go to sleep and wake up. And if that's not God's will, then just pray for the strength to get through that."
A model of resiliency
When I called Michele, I wasn't sure of the purpose of my conversation. I was studying resilience. But I knew I needed encouragement, too. I wanted to learn from someone who is "fighting the good fight and finishing the race" (2 Tim. 4:7). She has learned and practiced resiliency in the face of death.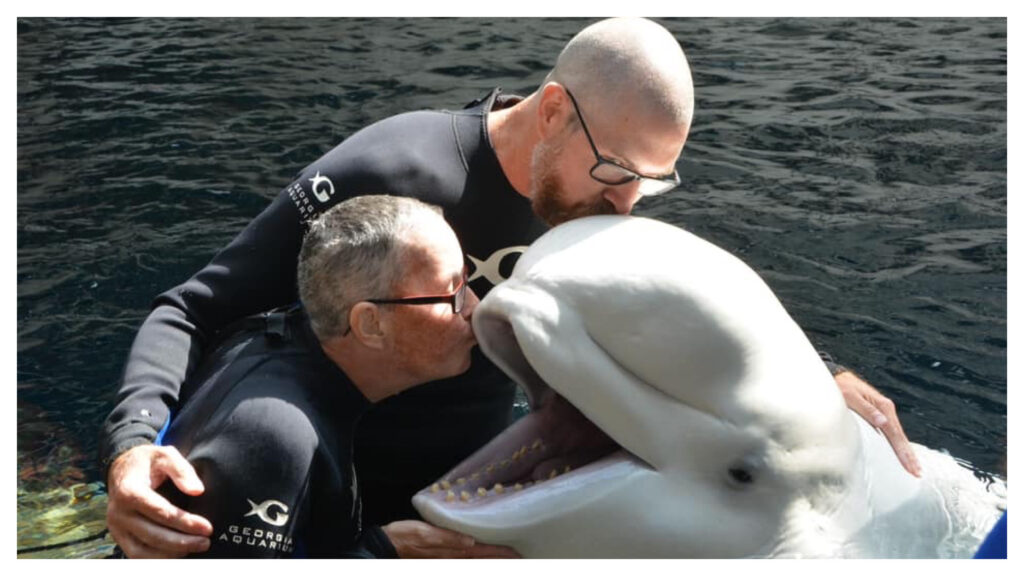 Michele reminded me to lean on others. So often I try to run this race with perseverance in my own strength, not wanting to ask for help. It's simply not possible. We need others. And I need strength that only God can give for the endurance to not give up or give in during times of discouragement.
I hope to follow Michele's example when life gets rough as well as she has. She has modeled resiliency beautifully.
Factors of Resiliency
According to Southwick and Charney, 10 factors exist that almost always are all present in those they studied who demonstrated high resilience in situations of adversity. Here they are:
Ten Resilience Factors
Realistic Optimism – maintained an optimistic but realistic outlook
Facing Fear – confronted their fears
Moral Compass – relied upon their own inner moral absolutes to guide their thoughts and behaviors
Religion and Spirituality – turned to religious or spiritual practices
Social Support – sought and accepted social support
Resilient Role Models – imitated sturdy role models
Physical Fitness – attended to their health and well-being, and trained intensively to stay physically fit, mentally sharp, and emotionally strong
Brain Fitness – attended to their health and well-being, and trained intensively to stay physically fit, mentally sharp, and emotionally strong
Cognitive and Emotional Flexibility – accepted responsibility for their own emotional well-being; found a way to accept that which they could not change
Meaning and Purpose – were active problem solvers who looked for meaning and opportunity in the midst of adversity and sometimes even found humor in the darkness; used their traumatic experiences as a platform for personal growth  
References
Library, New World. "Bouncing Back: Rewiring Your Brain for Maximum Resilience & Well-Being." YouTube, YouTube, 15 Apr. 2013, https://www.youtube.com/watch?v=jMes821-6qw.
Southwick, Steven; Charney, Dennis. Resilience: The Science of Mastering Life's Greatest Challenges (p.25). Cambridge University Press.