This article is written mostly for people with spinal cord injuries and/or neurogenic bowel who are researching the BCIR or Koch Pouch as a way to manage their bowel program.
On March 30, 2018, I took control of my problem. The previous 8 or 9 years had been hell. And I decided to have major surgery to do something about it.
Bladder and bowel maintenance are the two hardest parts of living with a spinal cord injury. If you take a poll, I guarantee 9 out of 10 people would say they'd rather have bladder and bowel function than the ability to walk. (To hear what is involved with a bowel program, watch this video.)
For the first 20 years of my injury, my bowel program worked rather well. As a quad, I had to have help. But it was manageable in the scheme of things.
Around 2008 I started having accidents. That's a really nice way of saying my body would unexpectedly expel excrement at the most inconvenient times.
I'd have to leave wherever I was – work, volunteering, sports. Then there was the problem of getting cleaned up. If I did it myself, it'd take two to three hours. I could ask for help, but from whom? My PCA had other clients, willing friends had children and jobs, and my mom shouldn't help due to health issues.
It was a crappy situation.
At the end of my rope
As I scrolled through support group pages for spinal cord injuries, I kept reading how people thought a colostomy was the greatest decision they ever made.
But I didn't want a colostomy.
Allergies to adhesives. Would it stay on while playing sports? And – let me be honest – vanity. I had the Mitrofanoff procedure to get rid the Foley catheter and bag in 2007. I certainly wasn't interested in choosing to have a colostomy.
But I couldn't continue living with the constant worry. Fear of leaving the house. Afraid to eat.
I was at the end of my rope.
A continent ostomy as an alternative option to a colostomy
As I was reading through a post on a SCI support group about colostomies, I saw a comment: "I have a Kock Pouch."
I private messaged her. "What's a Kock Pouch?"
She explained that the Kock Pouch (also called a K Pouch) is a continent ileostomy; the pouch and stoma are made of small bowel tissue and she empties the pouch several times a day with a 30 French catheter.
Looking for answers
With many questions, I did what I do best: I started researching. Learning about the Kock Pouch led me to the BCIR (Barnett Continent Intestinal Reservoir), a comparable procedure.
The surgery sounded very similar to the Mitrofanoff procedure that gave me new freedom in bladder maintenance. Both take bowel tissue, form a pouch and stoma, and then you empty the pouch using a catheter.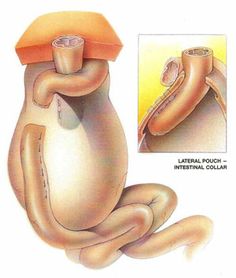 I decided to reach out to the contact person for the BCIR.
The response I received said that in some instances it may be considered for someone with a spinal cord injury, but a colostomy is recommended.
Why?
With a spinal cord injury, there is no diseased tissue; the procedure would be removing healthy tissue. It boils down to ethics.
Unlike the Mitrofanoff procedure, this surgery is typically reserved for patients with ulcerative colitis, familial adenomatous polyposis (FAP), and other diseases of the colon. During the BCIR, the colon, rectum and anus are removed, leaving one with what's called a "Barbie butt." By removing all three organs, the diseased tissue is no longer present to cause problems or develop into colon cancer.
No, I didn't have diseased tissue.
But what exactly is functioning properly right now? I asked myself.
Making a decision
It turned out that Dr. Rehnke and two nurses were having a seminar in my city less than a month after I learned about the BCIR. Despite an ice storm, I fought my way into my ice-covered van and attended the conference. I learned more about the BCIR and its risks and benefits from the surgeon himself. Even one of the nurses had the BCIR for over 30 years.
After the formal meeting was over, I introduced myself to Dr. Rehnke. I explained my situation and showed him my "limited real estate" as my friend likes to call it (my belly with a Mitrofanoff stoma on the right side and a baclofen pump on the left).
He said he would review my medical records.
I spoke with three people with spinal cord injuries who had a continent ostomy. Each one said it was the best decision they ever made. All of them had the procedure successfully and had had no complications for more than 10 years.
Then I shared the information about the BCIR with my urologist, rehab doctor, primary care, and two gastrointestinal doctors. Four out of the five said it sounded like a great option for my quality of life. It was a colorectal surgeon who said he wouldn't recommend it due to the high risk of complications.
I gauged my decision to have the surgery on the following points: 1) The input of my doctors, 2) The conversations I had with three others with SCI who'd had the surgery, 3) Insurance approval, and 4) My gut feeling and desire after prayerfully considering the options.
I sent in my medical records and the committee decided we could move forward. Now insurance had to approve it. After a long month of waiting, the insurance approved the surgery.
You can read about my experience in the blog posts in the links at the end of this article. The short story is my three-week hospital stay turned into four surgeries and 15 weeks in the hospital and two weeks in rehab. I experienced the complications I had read about.
The Pros
As with most surgical procedures, there have been pros and cons. Here are the pros I've experienced as a result of the BCIR:
Since 2018, I've not had to leave any activity due to a bowel accident.
I've had much fewer symptomatic UTIs treated by antibiotics.
I've had no skin breakdown due to incontinence.
I am completely, 100% independent in doing my bowel program for the first time since 1989. No need to ask for help, pay people to clean up messes, or requiring my PCA to come out in dangerous driving conditions. I can do the bowel program on my own.
By inserting the catheter into the pouch, I can release gas. I can fart!
Cheese. I can eat cheese (in moderation). Need I say more?
I no longer eat in fear. Eating has become pleasurable again.
The Cons
These are the cons I have experienced with a continent ostomy.
Fistulas. As mentioned above, I had multiple surgeries due to fistulas. Fistulas were one of the complications I knew about prior to the surgery. But since I did not have diseased tissue (at least diagnosed), I "shouldn't" have had problems. But I did.
Pouchitis is an inflammation of the pouch. Since the small bowel is not made to hold stool, it needs to adapt to its new job. Many people have pouchitis. Symptoms include watery output, increased gas, the need to empty the pouch more frequently, abdominal pain, joint pain, cramps, and fever. The treatment for pouchitis is antibiotics.
Electrolyte imbalances. I now have to take potassium, sodium, and magnesium to keep my electrolytes in balance. Since the stool from the small bowel is liquidy, people with continent ostomies must drink more fluid to offset the lack of reabsorption of fluids from the large intestine. In addition, water helps ease the process of emptying the pouch. But too much water can "water down" the electrolytes in your system.
ER visits for dehydration. Prior to the BCIR, I had only been to the ER on two occasions: the day my injury happened and to open an infected wound after surgery. (Oh – and that time when I was three years old and dropped a can of beans on my big toe.) Since the BCIR, I have been to the ER at least six times in need of fluids, potassium, and/or sodium. Most of these visits have been a result of pouchitis.
Diet restrictions.Everyone is different in this area. Some people eat everything without a problem. But even when I've "chewed, chewed, chewed" my food well, I may end up picking out onions, potato skins, and other foods that clog the catheter. It changes what and how I eat – or how I prepare food.
Emptying the pouch. I have to empty the pouch three times a day. It's easiest to do at home. But if I want to go out to eat or to an event after work, I have to plan a bit more. I now have a stash of supplies in the bathroom at work. Watch the video above to see how I empty the pouch.
Lack of doctors. Very few doctors are familiar with continent ostomies. My primary care doctor has been a godsend in helping me treat the potassium deficiency and testing my blood regularly. A local GI is willing to prescribe antibiotics for pouchitis. However, the only two doctors in the US performing BCIR have stopped practicing. If something goes wrong, my only option is a trip Cleveland, New York City, or Asheville, NC, to doctors who perform the Kock Pouch. The what-ifs are scary.
Do I regret my decision?
The question I get most often is, "Do you regret having the surgery?
No, I don't regret having the surgery.
I remind myself of the numerous discussions I've had with people with successful continent ostomies. The positive feedback from my doctors prior to surgery. The insurance approval. And ultimately the prayer to decide to have the surgery.
But I do wish I had been okay with a colostomy. The thing is, I'm still not okay with a colostomy.
What do I recommend?
The second most common question I get asked is, "Do you recommend a continent ostomy?"
This surgery is not like the Mitrofanoff that I highly recommend or with which many doctors are familiar. There are greater risks, and more possible complications and repercussions.
Ultimately, it's a decision only you and your doctor can make.
More information
If you want additional information on continent ostomies, go to Quality Life Association.
To read about my experience with the procedure, click on the links below:
Photo credit: Background photo created by kues1 – www.freepik.com