Well, I knew when I decided to have this procedure there were risks of complications. Unfortunately, I'm one of the people to develop a fistula. A fistula is a small hole. Mine is located near the top of the pouch and leads to the surface of the skin. When a I began intubating on Wednesday, it didn't go well. By evening, I was back on suction with a scope scheduled for Thursday. After the scope confirmed the fistula, I had a CT Scan with contrast.
Surgery to fix the fistula and scheduled for Sunday morning. Needless to say, I'm disappointed. I'm just started to feel okay and, although I won't go back to the very beginning, I will have another 2 to 3 weeks in the hospital.
Below I'll post the messages from the past few days.
Tuesday, April 17
I was up in my chair from 10:30 until 4 today! I got up again for dinner 2 hours. I had PT and we pushed outside and sat in the sun. Absolutely gorgeous. When Christie came back, I pushed outside again. And I transferred back into bed (still pitiful getting back into bed). I also had OT. Just worked on strengthening my upper body. I've definitely had a lot of activity today so far. And maybe overdid it a bit.
I got the PCA removed – the pain medicine, including the pesky "telly" (telemetry) – and will try and oral pain meds, if necessary. I don't do very well with oral. Running a fever again, though. So tired of that.
Tomorrow is the big day: I'll be intubating (emptying the pouch) for the first time. I'm a little nervous, but it shouldn't be much different than how I cath. For the next week I'll have to do this every two hours, and once during the night. The following week I'll do it every three hours, and the following week every four hours. We'll keep in increasing hour by hour until I reach every eight hours. Possible discharge as early as Friday.
Wednesday, April 18
Please, please, please be praying. The stoma is leaking. It might just be that the valve is still swollen. But I don't like it (neither do the medical staff). No one seems terribly concerned, but they would prefer that it's not happening at this point. Also, since the BCIR stoma is above the urinary stoma, there's an increased risk for UTI. We're looking at small waterproof adhesive covers. I've intubated twice so far, it's going fine. It's just a matter of finding the right equipment to meet my needs.
Still leaking. Nurse calling Dr. Rehnke and probably will go back on suction for the night.
Back on suction. ?
God has totally blessed me with an angel here. Her name is Bonnie and she's one of the nursing assistants. I didn't have her today, but she came in to check in on me before she left. It's 8:25pm and her shift ended at 7. I broke down in tears when she came in. She's such a strong believer and encourager and prayed for me a good 10-15 minutes. ❤️
Scope tomorrow morning to see what's going on.
Thursday, April 20
Fistula. Dr R coming over after hours to discuss plan of action. This was one of the known possible complications with this surgery. There is some puss, so that would explain the constant  low-grade fever. Praying against surgery, but if that's better or faster recovery so be it. My bottom split open superficially, so no more transfers. I finally looked at my own bottom it was pretty horrified at how dry the skin is. No wonder it's breaking down. They said I can use the lotion that I normally use. In happy news, my mom went to Moe's and I got to have some rice and ground beef. Actual flavorful food. I'm still not allowed to eat vegetables, but I can do puréed sauces and stuff, so I added a little bit of salsa to give it some kick. Mom and Ellen are running up to the store right now to get me some hummus, which I found out is allowed! And some lotion for my butt. Please continue praying!
Clinging to the verse I read this morning: "The Lord himself goes before you and will be with you; he will never leave you nor forsake you. Do not be afraid; do not be discouraged." (‭‭Deuteronomy‬ ‭31:8‬ ‭NIV‬‬)
Surgery will be on Sunday for the fistula. Additional two weeks in hospital. The good news: it's near the top of the pouch and will be a smaller incision. Plus I'm thin, so he joked that that makes things easier. Dr. Rehnke is probably the most positive doctor/person I've ever met. Even in bad circumstances he can see the good. He prayed before leaving, too. I've been in pain today and finally asked for the sublingual morphine at around 7 when I got back from the CT scan. It's not touched the pain. Pray that I can sleep tonight and relax.
Friday, April 20
I received a care package from the people on my text message list.
Oh my gosh, you guys! Thank you so much for the gift! What a great surprise!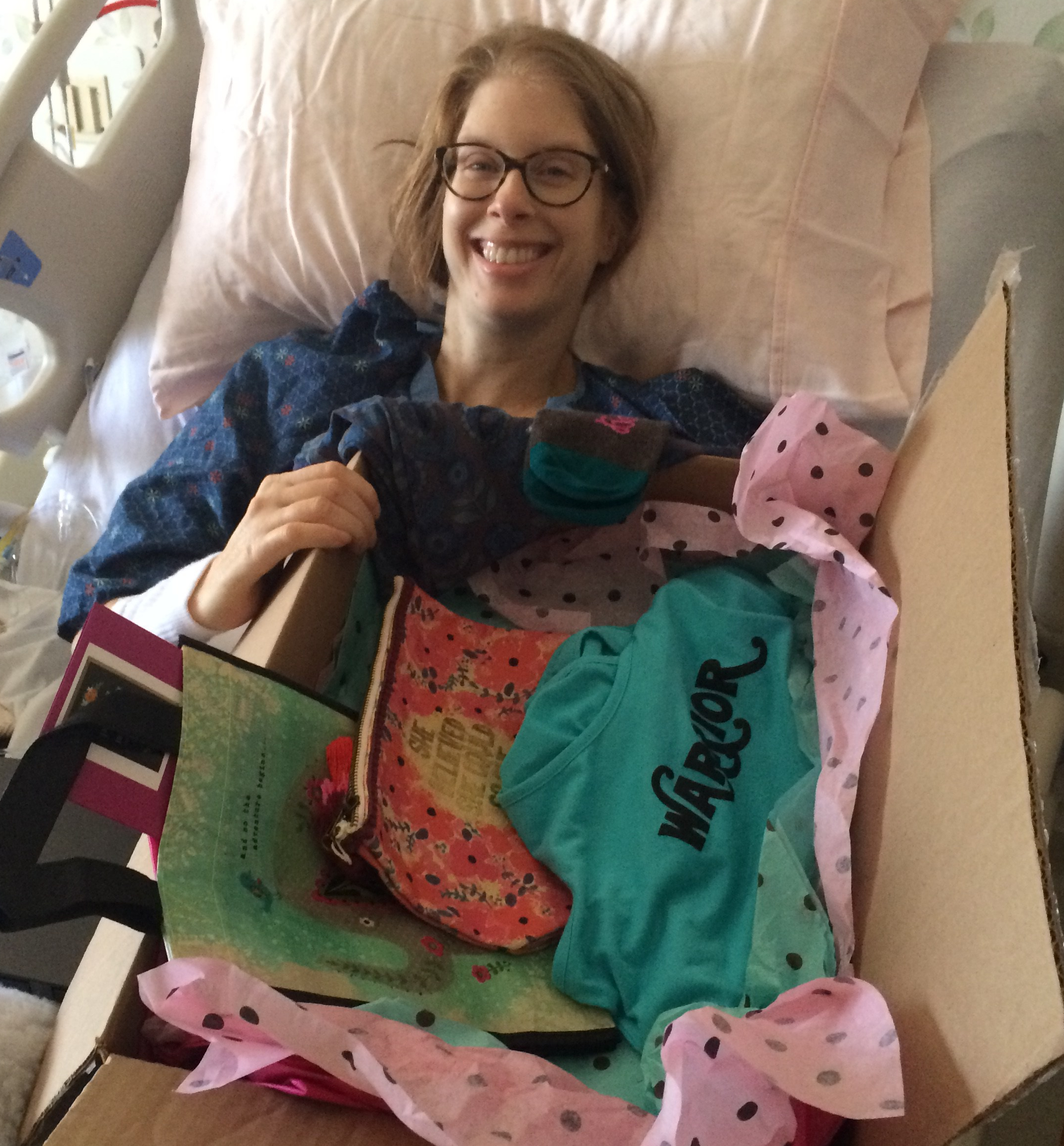 One last thing before closing up. I've had the opportunity to speak with several of the patients. Even if they are here for a revision, each patient has said it's the best decision they ever made. I'm clinging to their words of encouragement.