I'm home. I'm on IV antibiotics and had a scary run-in with sepsis the last week. But I'm home.
As a reminder, the BCIR procedure that I had is a continent ostomy. In other words, instead of having a bag like a typical colostomy or ileostomy, I empty my newly-formed pouch from a small stoma with a 30f catheter several times a day.
Monday, June 12, was my first full day at home. When I left Palms, I didn't have any help set up, even to get Sunday night's dose of antibiotics, but everything – everything – has fallen into place, as only God can do.
The last update I posted was the night before my third surgery for the same fistula that had opened up three weeks prior. I was hesitant to post anything after surgery due to my previous run-in with the fistula. Plus I was enjoying time with my friend Lisa who had come down for a week. As a hairdresser and artist, I enjoyed both indulgent hair washes and painting lessons using water colors.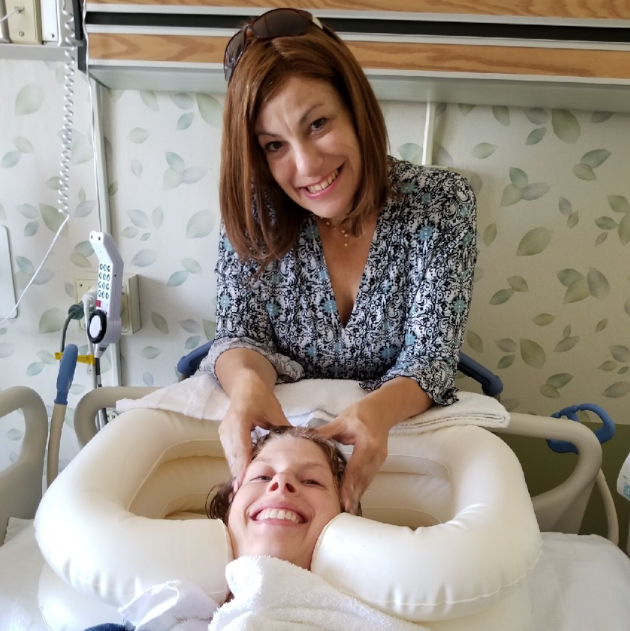 On Friday, June 1 at about 8:30 in the morning, my mom arrived uncharacteristically early at the hospital. Her reasoning was that she "wanted to see the dolphins" (that typically are seen in the morning). Several minutes later my friends Leslie and Jenny walked through the door, leaving my jaw wide open in surprise. I knew my mom had been up to something, but didn't know what. I had a great time laughing, catching up, journeying outside, as well as eating lunch and dinner (Five Guys and pizza) with them on Friday. More importantly, they provided encouragement that was going to be desperately needed in the following few days. I clung to the verses Jenny hung on my board where I could see them.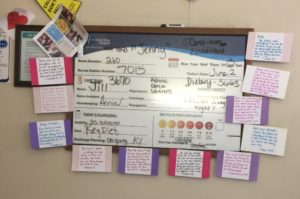 Saturday morning at around 2am I started running a fever and shaking. By Saturday morning I couldn't stop shivering and was taking Tylenol to get my temp down a bit. Unfortunately, I felt like I had ruined a great party, although I still enjoyed Leslie and Jenny's company until they left for the airport around 3pm.  I got back into bed and took several meds in order to control both the shivering and the fever. My blood pressure was really low, while my fever and heart rate were going up. I know the signs of sepsis and was scared. Thankfully, the doctor making rounds saw how poorly I was doing and immediately contacted the infectious disease the doctor. Labs were drawn within an hour and I was put on two antibiotics as a precaution.
When the blood and urine cultures both came back positive for bacteria, I was grateful for the fast-acting staff at Palms. The situation could have been much worse. By Sunday the antibiotics had kicked in and I was feeling a bit better, although I still spent the day in bed. By Monday I was back at PT. On Thursday, my physical therapist Christie cheered me up by bringing tennis racquets and I got to hit some balls inside a small room in the PT department.
I also started intubating on Thursday. At that point I was still waiting for an all-clear from one doctor that my discharge was really going to happen on Sunday or Monday. As a planner – without plane tickets, without help lined up, etc. – this was difficult.
On Sunday I arrived home. In my own surroundings I'm already intubating by myself. It takes a while – preparing bandages, cleaning everything to be as sanitary as possible, but I'm doing it. I'm still scared something might go wrong, but I feel like I'm on the mend. It'll be a slow process, though. I'm intubating every two hours right now, with two 4-hour breaks at night. Wednesday I move to every 3 hours – and can sleep 8 hours. Woo hoo!
Read below for the day-to-day text message updates.
Friday, May 18
I'm out of surgery and back in the room. Sounds like everything went fine, but I'll let you know more when I know.
Yes, I'm still awake… Really haven't dozed off much yet. Guess what? Lisa Perry, a good friend, is going to be able to come down and keep me and my mom company. Definitely an answer to prayer. I think she'll be coming down on Tuesday, when my dad will leave. I'm feeling OK. Mostly tired. From what I was told (Dr. Rehnke is in surgery still with another patient), he really reinforced the location of the fistula. He stitched it and put a binding material over it [ACell powder]. Looking forward to talking with him tomorrow.
Saturday, May 19
I just found out that my hemoglobin dropped to 6, so I'll be getting a blood transfusion in a bit. BP is fine. No worries. Rough night. I just asked the hospitalist if one possible side effect from Dilaudid can be "popcorn brain." My brain just won't shut off. I didn't nap hardly at all yesterday after the surgery and didn't sleep until about 3 AM this morning. She said in some people it can cause restlessness. Oh, lucky me!
Sunday, May 20
Hey there. It's me. Yes, I'm alive. Had a hard time waking up this morning. I basically slept until 12. Been taking deep breaths and using the incentive spirometer today. One of those post-surgery days when my lungs just feel heavy. I avoided watching TV/commercials for the first two surgeries. Couldn't handle the commercials for the food. I am now watching Food Network nonstop. TPN starting tonight. I really don't feel like going through this again.
Monday, May 21
I'm alive, breathing, and sitting up. Not much else to report! I'm researching faucets that might fit over my toilet so I can rinse the catheters out over the toilet rather than in the sink. Anyone have any ideas?
Tuesday, May 22
Today's been hard to be honest. I've been hungry and really weak. I also found out just a couple hours ago that a friend died in Louisville. Hard not to be there to help. The good news is Lisa arrived today. Looking forward to getting my hair washed by a pro tomorrow!
Wednesday, May 23
It's amazing how much better you feel when you use a pain meds. Only used a bit (PCA 3x), but today was better. Got to go outside twice today. I get to have clear liquids tomorrow. Not terribly exciting, but it's a step in the right direction. Swelling in the belly is also going down. Got a good hair wash with the amazing Lisa. I'm going to be so spoiled by the time she leaves!
Thursday, May 24
Doing OK. Been up in my chair since 10.30. Feeling better today. Will have a popsicle in a bit. ?
Friday, May 25
Good day. Christie took me to the gym today and it felt great to do a little. I checked with Dr. Garcia to make sure the TPN was providing enough nutrition to workout a little and he said yes. I'm still watching the Food Network. Mom and Lisa left early to run to the store. We're going to make gift bags with hard candy for everyone. Lisa will leave on Wednesday, so we'll see who is coming next.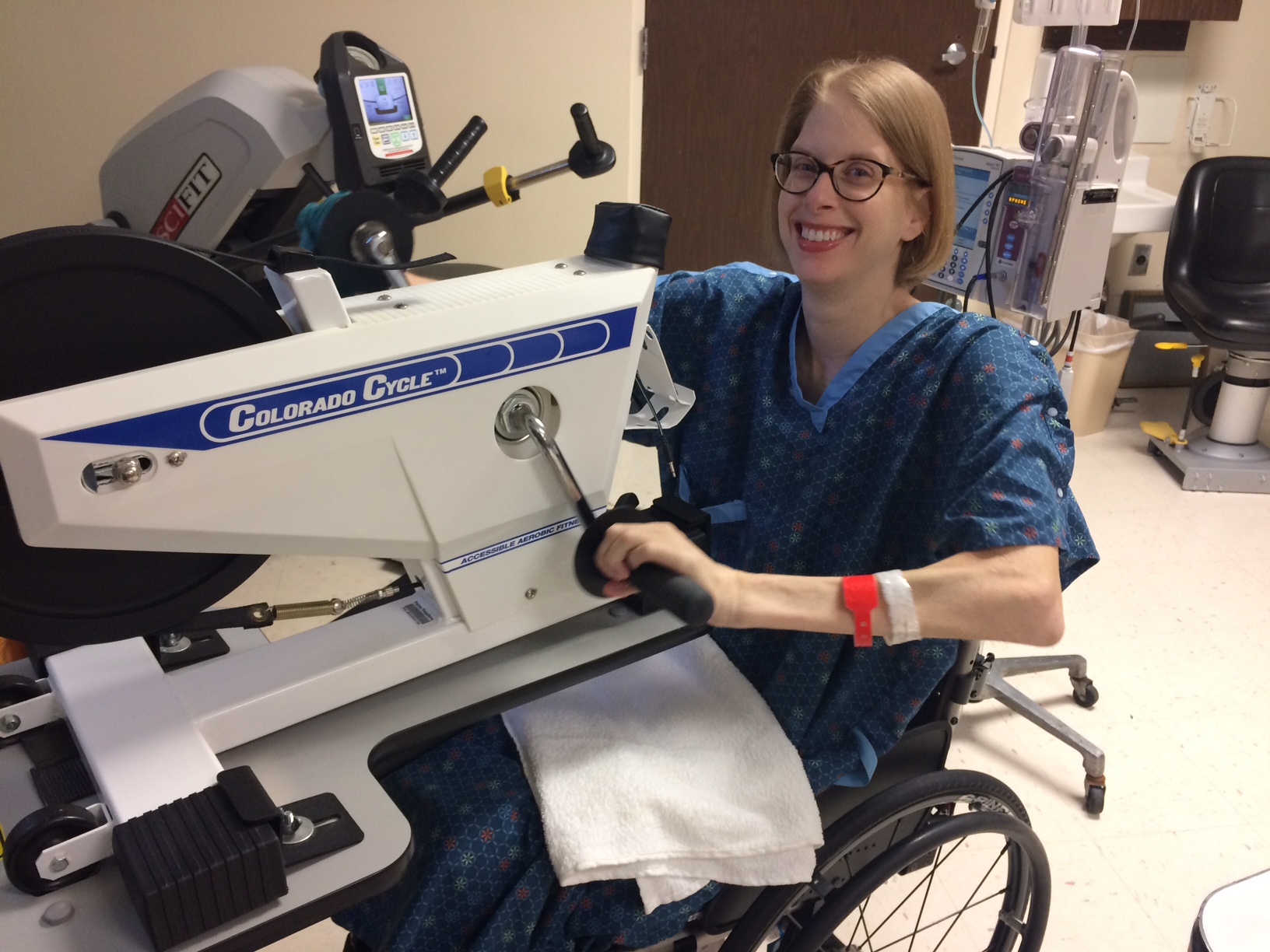 Saturday, May 26
Art day. Lisa painted 13 pictures and my mom glued seashells on to the frames. We got lots of hard candy and put everything in gift bags. They were delivered to each BCIR patient. And I got to have soup today!
Tuesday, May 29
Got a final hair wash from Lisa since she's leaving in the morning. I worked out in the gym and actually did 18 minutes of cardio. Lifted weights this evening. Not too bad. I'm moving up to "real" food tomorrow. Thank heavens. Please continue to pray that everything on the inside is healing well. Yesterday I started a watercolor painting with Lisa's help. I finished it today. Not bad! Mom will be on her own for the unforeseen future. Pray for her during this time.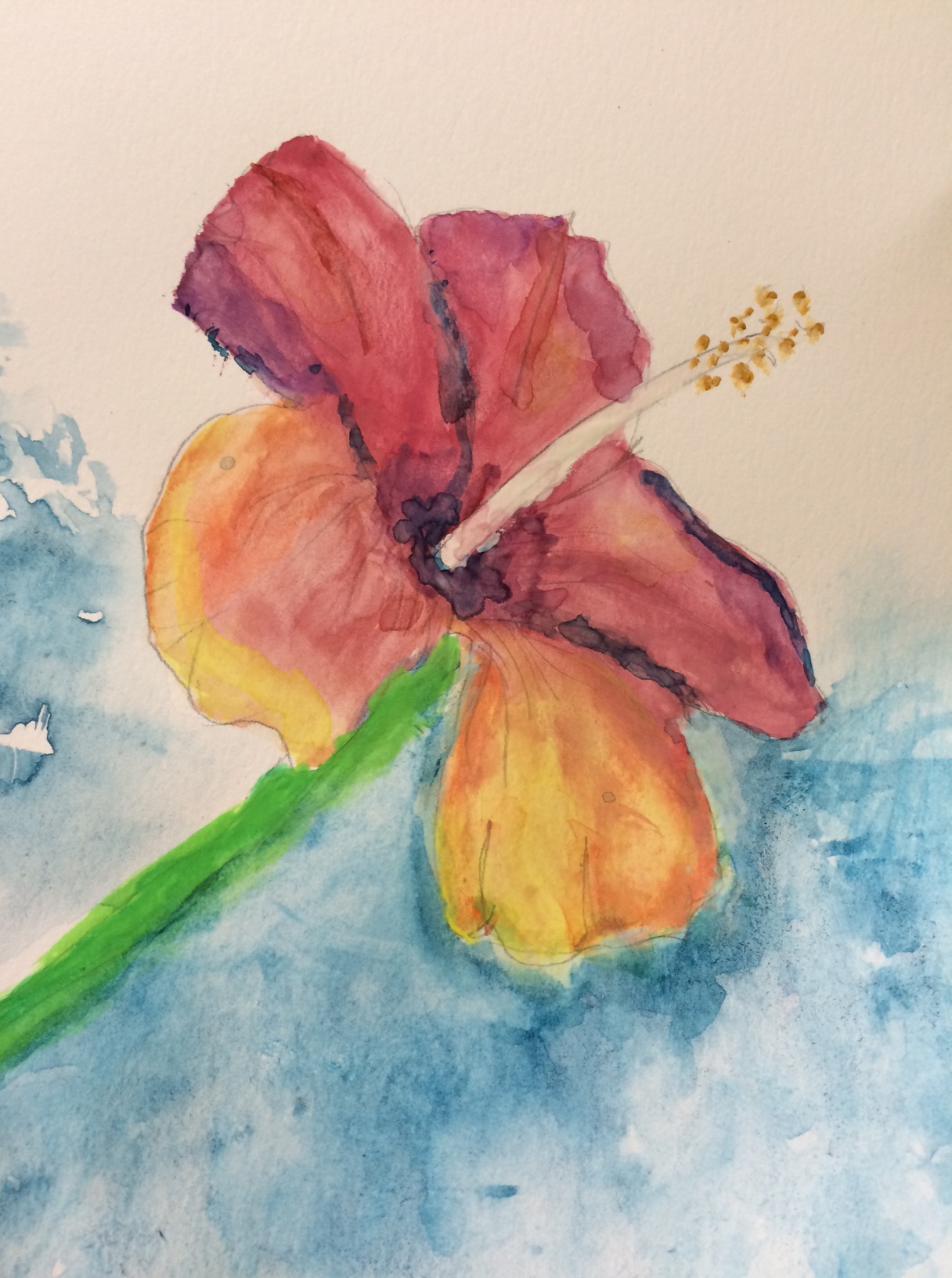 Saturday, June 2
Just FYI. Running a temp of about 100.4. Shaking really badly. Ran a urine culture at 4 AM this morning. Took Tylenol, Valium and Dilaudid. Pretty miserable. Also ordered blood culture and to boluses a 500 mL per hour to get my blood pressure up. Yesterday was absolutely incredible with Leslie and Jenny here. Feel like I kind of spoiled the party today! So grateful for their visit.
Starting IV antibiotics. All doctors are aware of what's going on. The nurses will be checking my vitals frequently. Jill's just now leaving (her shift ended at 7).
Sunday, June 3
Just waking up. Feeling better. No great, but much better.
Monday, June 4
Update. I'm feeling better today. Yes, I asked the nurses and the doctors both before going down and working out in the gym. Took it a little easy, but still did some exercising. Found out my white blood cell counts on Saturday: at 4 PM it was 14.4. Sunday it was back down to 3.4 after the antibiotics were started. We're waiting for the urine and blood culture results to come back tomorrow. Depending on what happens with them, I could be on IV antibiotics up to a week. That, of course, would push my discharge date back. I should begin intubating on Wednesday.
I got to meet two more 10+ year BCIR patients today and one newbie from Columbus, GA. I'll get to meet another newbie from Joplin, MO, tomorrow. So, I'm thankful that the antibiotics are working. Hopeful that the results will tell us which direction to go. Praying that intubating goes well. More than anything, I want to be able to leave here with confidence that the fistula has healed. That would require a scope and they prefer not to do it since it puts pressure on the pouch. But I think that's the only way I'll feel comfortable leaving. [I didn't have the scope to prevent causing damage to the pouch. Every person I asked was in agreement with this decision.]
Tuesday, June 5
Ugh. So, urine and blood cultures both came back positive. As I was going to take a short walk, one of the nurses came to get me to say that they are ready to take me down to get a new PICC line. That was unexpected! So now I have two PICC lines. Getting in bed soon and they'll be taking out the old one. The new one hurts like the dickens. Dr. Garcia said it could be up to 10 days of IV antibiotics due to the blood culture. I said, "That can be done at home, right?" He said, "We'll see." I start intubating again tomorrow.
Thursday, June 7
What does one do in physical therapy after major surgery? Play tennis with your physical therapist, Christie, of course. (See video posted above.)
Friday, June 8
Discharge on Sunday. No home health agency will take my insurance. [Finally found one.] l still need people willing to help with IVs since home health won't do it. Still trying to find help for the first two weeks, too. Pray against stress. I'm pretty stressed out trying to figure all this out. Was hoping to find and pay one person.
Saturday, June 9
Flying home tomorrow and not feeling ready. I still need help with intubating every two hours and with IV antibiotics. In all honestly, I'm in tears just at the thought of leaving. My parents leave Saturday for a trip out West. My mom will spend the night Sunday night and we'll take it a day at a time from there. Hope to see some of you soon.
Sunday, June 10
Discharged and sitting at the gate for my flight home. Even though it was a rough ride, I'm thankful for the wonderful people I got to know during the past 9 weeks.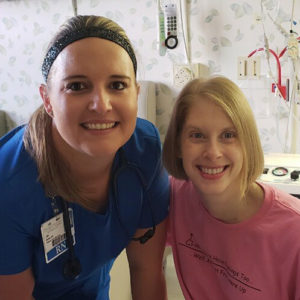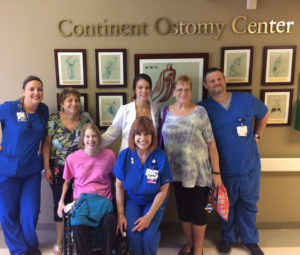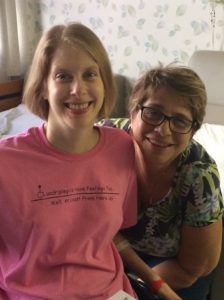 Monday, June 11
Flight went well and slept well, too. I have someone set up to help me beginning tonight for the next two weeks. Transfer into bed wasn't pretty last night. I'm sore I guess from pushing so much in the airport. Getting home health set up across state borders has been a hassle, but Leslie helped with IV last night and my mom and cousin this morning.
I just successfully intubated and cleaned everything up by myself! Whew. Being in my own surroundings is so helpful. AND… the person I have helping me is a third year medical student in Venezuela. Her family comes to the U.S. each summer to try to make ends meet since there's no little money due to inflation in Venezuela. Someone in my Sunday school class connected us. The ironic thing is I'm already brain-dead from being tired… and both mom and daughter speak Spanish. What a blessing that Jennifer and Edgar had been up in my hospital room often enough for me to get my brain moving in Spanish!