I recently came across an article about Target's Universal Thread™ adaptive clothing line. I've heard this song and dance before, so I was hesitant, if not downright skeptical. But my interested was piqued.
Going to Target's website, I searched under women's clothing and surprisingly found a "Women's Adaptive Clothing" option. Scrolling down the page I came across Women's Adaptive Bootcut Jeans by Universal Thread™ in Medium Wash and Dark Wash. Here is the description from the website: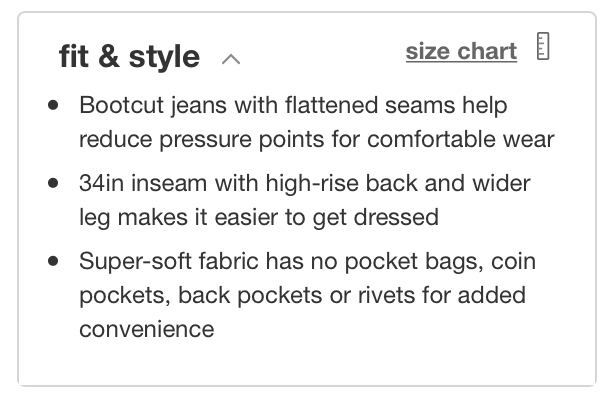 Higher back? No pockets? Standard 34 inch inseam? This was sounding promising. Then I saw the price: $27.99.
No way.
Most adaptive clothing is priced so high that the average person can't afford it. But under $30? I figured it was worth a shot. I ordered the medium wash in two sizes.
When my package arrived, I got the jeans out. I was impressed. They looked like "real" jeans. I swear the Hallelujah chorus played in the background as I saw the flat-laying front and backside with no pockets. The "button" is actually a snap for those with limited dexterity. Even the zipper had a nice-sized hole where a piece of string can easily be tied to make a thumb loop.
But the true test came when I tried them on. Four well-placed belt loops assist with pulling the jeans up. The material (91.0% Cotton, 7.0% Recycled polyester and 2.0% Elastane) is a full-weight denim, but has a really great stretch. They are not jeggings by any means, but jeans with a stretch.
Unfortunately, no matter how hard I tried, I couldn't fasten the snap. I will have to have this modified to a Velcro or magnetic closure. But that is a $10 fix at the local tailor.
The length is a 34" inseam (Short or Tall lengths are not offered). When I transferred into my chair, I was pleased that the pants actually brushed my shoes. These jeans will probably be a bit long on most women, but those of us with long legs appreciate the longer inseam. (I'd prefer an extra inch of length, but I'll take what I can get.)
Once seated I could tell the back of the pants do not rise as high as other adaptive brands I've had, but they are pretty good. Although these are considered mid-rise, the waist sits a little higher than a mid-rise in the front, in my opinion.
Getting the jeans off was a breeze. With the legs being slightly bootcut, there was no pulling the pants off inside out like with skinny jeans or leggings.
The Women's Adaptive Bootcut Jeans by Universal Thread™ are the real deal. The look, feel and price point are spot on. They may not be perfection, but they are the best jeans I've had in over two decades.
And that says something.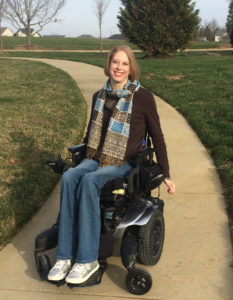 *Since the original posting of this article, Target has changed the items they offer. Go to this link to see the women's adaptive jeans offered by Target.