After agreeing there's a lack of diversity and inclusion of disability in the media, I found myself trying to be a small part of the solution. Read my astronomical role (you'll get the pun later) in creating disability inclusion in Hollywood.
The Morning of September 30, 2022
Scrolling through my Facebook feed, I read the following from a woman in England:
Having a totally diverse range of different groups of people on TV [in England] is brilliant. Those little kids who are plonked in front of the TV will grow up seeing everyone as equal to one another. It normalises disability and I think this can only be a good thing. But I thought to myself last night, I can't recall seeing anyone in the public eye in America? There must be some surely?! Can anyone think of any?
I'm thinking about her post. How often do I see disability represented in media or Hollywood? Rarely. When I do, it's startling—almost distracting—because it's so rare.
The disabled community has its moments, like when Ali Stoker won a Tony Award for Best Featured Actress for Oklahoma! Or the accolades CODA has received—with an almost full deaf cast. And Crip Camp's Academy Award nomination for Best Documentary. (It should have won. I'm just saying…)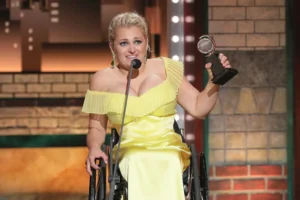 I agreed with this woman's post. It's rare to see people with disabilities in the media, on TV, or in films made in the United States. I mulled over my thoughts and commented:
I'm in the US and agree that disability isn't visible in the media. It's frustrating when there's so much talk about inclusiveness, yet that doesn't seem to include disability.

The afternoon of Friday, September 29, 2022
A coworker posted this on our network:
Here is your big chance. Auditions are Sunday for a movie being filmed in Louisville. Extras are needed.
The rest of the day this message haunted me. In the afternoon, I gave in. I clicked the link about the auditions.
Louisville-based feature film, Just One Life, is searching for a diverse group of 300 extras. Interested in auditioning? Register yourself and/or your group! See our needs below.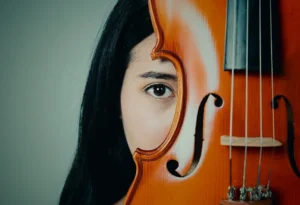 I met the age ranges they want. And, I guess I'd argue I'm "diverse" after this morning's comments, right? But seriously, I can't do this.
Why would I want to?
Saturday, October 1, 2022
Why can't get this out of my head? Probably because I preach that we need to get out of our comfort zones to grow. And I get angry at people who complain when they don't want to be part of the solution.
With my stomach fluttering full of butterflies, I clicked on the button that shouted YES! I WANT TO AUDITION!
As I registered for tomorrow's audition, I checked the boxes for the roles I thought fit.
International Astronomers' Conference Attendees, Ages 40s+
Nice Restaurant Patrons
Bar Patrons
I hope this "audition" only involves walking/rolling in and stating my name. I've not acted a day in my life. Unless you count being the angel in the church Nativity when I was 5 years old.
Oh, heavens, what am I getting myself into?
Sunday, October 2, 2022
Four hours. I signed up for a 2 p.m. audition, but arrived early and ate a small snack after church while I sat in the hotel parking lot. At 12:45, I entered the hotel and saw people seated, filling out paperwork. I stopped by the bathroom first (great decision), then grabbed a form and filled it out. After waiting three hours in a packed, overly hot lobby, I never saw another person with a physical disability. I was overheated, tired, hangry, and ready to leave. But I'm stubbornly perseverant. At 4:22, I finally spoke with the producer, Sunny Donovan.
"Oh, not to be blatant, but I'm going to put you in the front row of the conference."
I replied, "I'm here to be blatant!"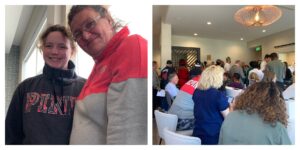 After waiting in another line and chatting with other auditionees Kaitlin, Tara, and Kim. An assistant took my headshot, entered my contact info in the computer, and added "wheelchair" beside my name. Finally, I spoke with the wardrobe coordinator via Zoom. On November 1—somewhere in Louisville at some unknown time—I'll be an astronomer attending a conference.
Hello Hollywood!
Monday, October 31, 2022
I've checked my email every 10 minutes since 5 p.m. Finally, at 8:26 p.m. I received where I'm supposed to go and at what time.
8 a.m.
Ugh. As a quad, I take a while to get dressed, transfer, and get out the door. I set my alarm for 5:15 a.m. I'll pack a few snacks and head to bed.
The Big Day: Tuesday, November 1, 2022
Today is the day. Last-minute instructions for holiday attire were included in an email. I add a bright red scarf to my outfit fit for an annual conference. I put on a pop of bright red lipstick.
Do I look like an astronomer attending an annual conference? I have no clue.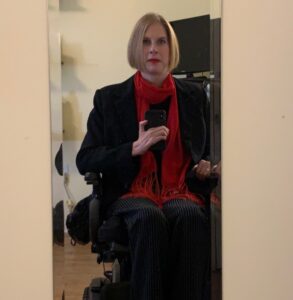 After fighting traffic, I arrived, parked my van, then walked to today's set location. I'm escorted to an elevator, go down one floor, and see a group of about 50 or so other crazy people willing to get up at the crack of dawn to be an extra in a film.
I spot a table with three people and invited myself to join them. We chat for a bit. Sharon has been an extra in six movies in the past year. Leonard is pursuing acting and works as an extra whenever he has the opportunity. Anita is a newbie like me. She shares a box of donuts from Nord's Bakery. I instantly liked her. But my queasy, early-morning stomach warns me to opt out of the maple bacon doughnut.
After waiting about an hour, the second assistant director speaks through a megaphone and tells us what to expect. She introduces us to the terms reset, rolling, action, and on your mark.
Finally, we head upstairs. I see the room we'll be filming in: a camera is at the end of a large crane and soft lighting from the far side of the room fills the darkened set.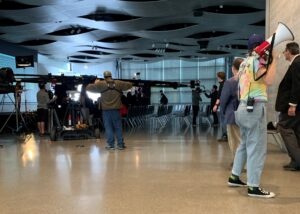 The producer explains that since two scenes involve an infant, time is of the essence. The scenes will be filmed out of sequence to ensure the baby is only "on the clock" for one hour.
First, the conference attendees are filmed leaving the conference. We are given marks, and the assistant producer cues us when to move and with what emotion and volume to do it. We return to our marks. Multiple times. A man (I don't know his role or title) pulls me aside and asks me to stop and shake my colleague's hand on a specific mark. I must've done something right.
We have a short break and I decide to go to the restroom. That turns out to be a good decision after the amount of time it takes to film the next scene.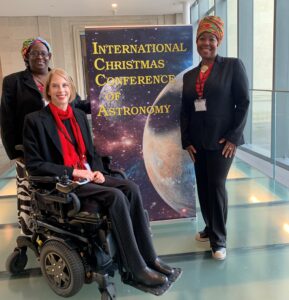 Preparing for the next scene, the extras cue up and go into the room, filling in rows of conference seating line by line in an assigned order. I'm told to wait until the end, as is a man who uses a scooter. As promised, I'm on the left side of the front row.
The next scene is filmed. We respond to the conference speaker/actor's claims with shock, derision, then outright disdain. Over and over again. Sometimes audibly, other times only pantomiming.
The cameras are moved. The next scene and the previous scene are filmed from another angle. Shock. Derision. Disdain. Louder. Bigger movements! Quiet.
"That's a wrap. Great job!"
Applause abounds from everyone.
Back downstairs, the assistant director asks if anyone is willing to stay for an additional scene. I'm already freezing and hungry, so why not? If I'm going to do this, let go all out!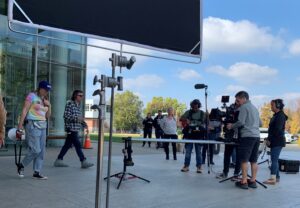 We set up outside: marks, rolling, action. Repeat.
And we're done.
Some final thoughts on inclusion and diversity
What have I learned about the opportunity for inclusion and diversity in Hollywood? As an extra, opportunities exist. But not everyone with a disability can schedule the next day's morning schedule or accessible transportation without several days' notice. But by showing up, I created an opportunity for inclusion and diversity for disability in the media.
I know an extra isn't a leading role. It'll take people with disabilities who are talented actors—as well as producers and directors willing to cast us in major roles—to make a big difference.
But who knows, maybe a young girl who uses a wheelchair will see this movie and believe she can become an astronomer—or actor—just like the woman she sees on the screen.
I'd consider that a small win for inclusion and diversity in Hollywood.