What modifications can make a house wheelchair accessible? In this article I'll explain what I did to create my own home sweet accessible home.
What prepared me to find accessible housing?
More than 15 years after my injury, I went out to the University of Arizona for two semesters to study Persian (yes, Persian!). It only took two months to realize I was never living at home again.
I was injured at 16 and, thus, was still living with my parents. Thankfully, family, friends, churches, and complete strangers gathered together to build an accessible addition on to our house. Our garage was converted into an accessible bedroom and bathroom for me, while an additional family room with an accessible desk area for studying was constructed.
But the kitchen wasn't fully accessible. And I lacked privacy. And I had grown up.
No offense Mom and Dad, but I was finally ready to "fly the coop." I discovered having a personal care attendant several times a week allowed me to have help with what I needed and the rest of "life" I could handle on my own.
Where can I live that is accessible?
I started researching the most obvious choice: an apartment. Unfortunately, the word "accessible" has many meanings. Not one "accessible" apartment fit the bill for my needs. So I began researching buying a place of my own that I could modify. This option ended up having too much work and money involved due to pricey modifications. Finally, I settled on buying a condo that was not yet built; I could make a few changes to the floor plan and avoid the cost of after-the-fact modifications (and have no yard work to be responsible for).
With the help of a real estate agent, I found a new condominium development with an open floor plan whose developer was willing to make changes in the kitchen and master bathroom without an addition up-charge.
The modifications I made
Kitchen
I moved the stove next to the kitchen sink. Since I'm a quad, heavy (and hot) pots can be safely dragged to the sink if they are too heavy to be picked up.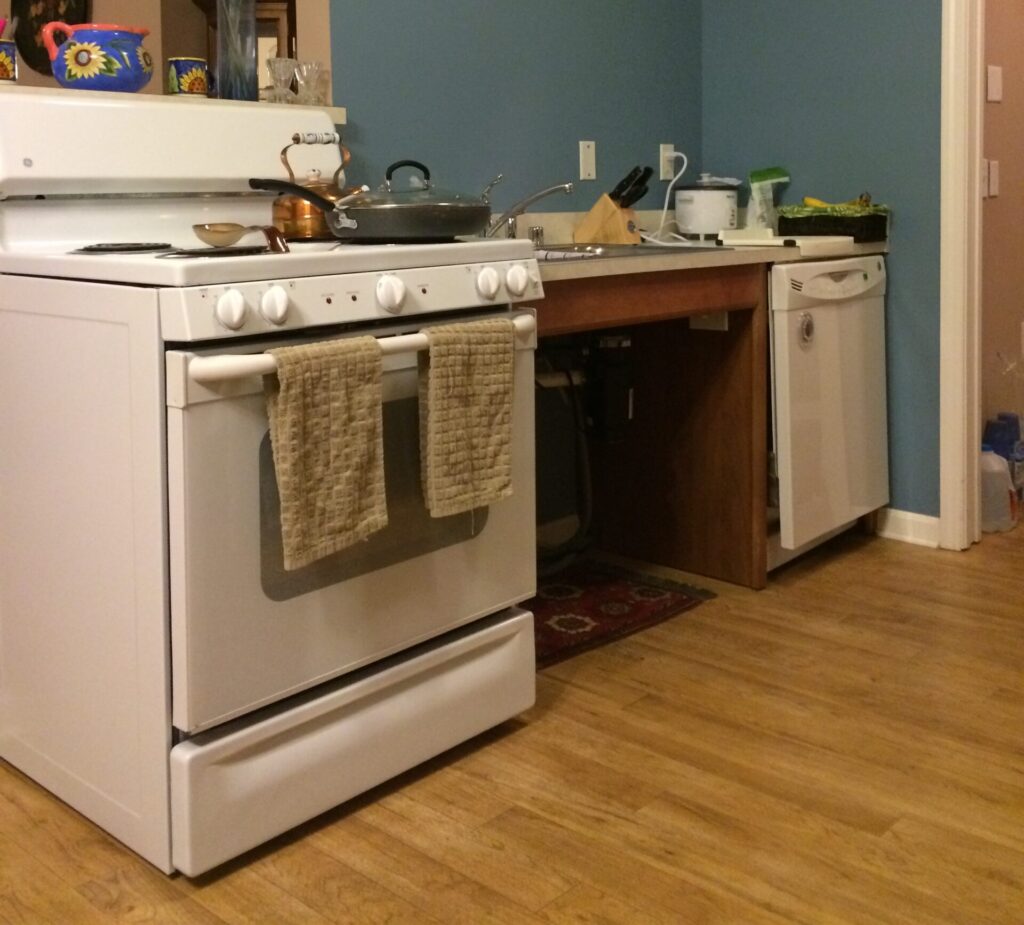 I have openings under the sink and the countertop work area, so valuable storage space is lost. I asked if I could add a storage cabinet at the end of the counter in lieu of another set of cabinets above the sink (that I couldn't reach). The developer was agreeable to this.
Bathroom modifications
In the master bathroom, I had a roll-in shower put in. In order to do this, I needed to make the closet smaller to have enough space in the bathroom. Since the closet was quite large, this wasn't a problem.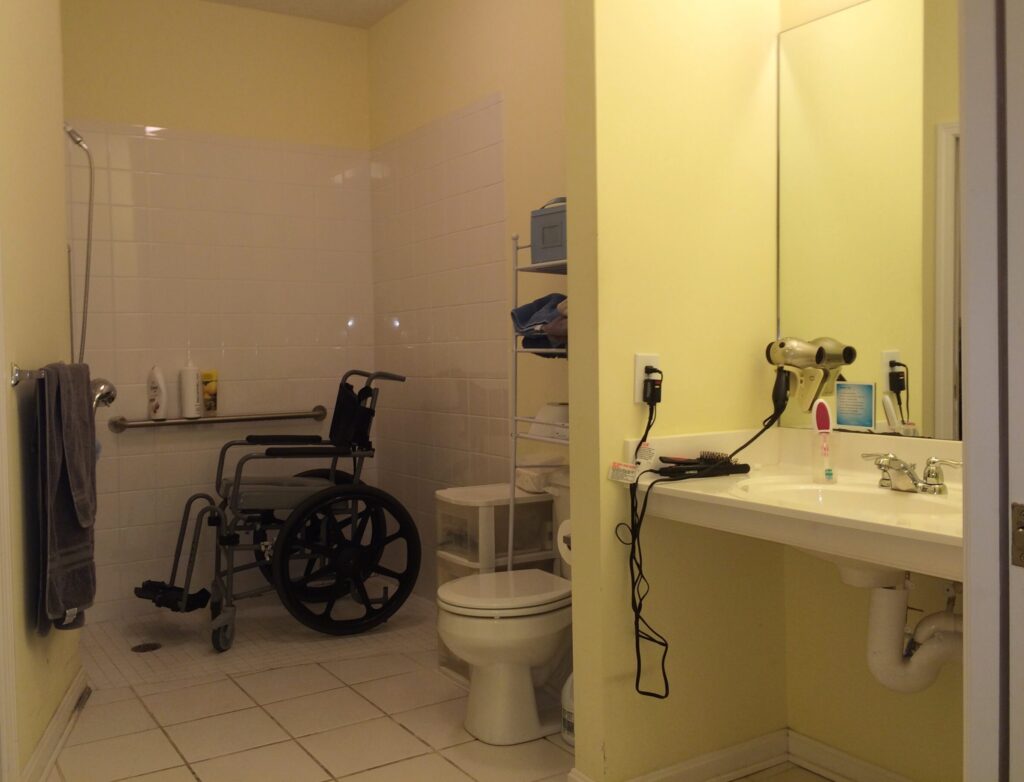 Space saving tips
Instead of regular doors, I requested pocket doors in between the kitchen and laundry room, master bathroom and closet and the master bedroom and bathroom. Pocket doors save a tremendous amount of space.
Don't forget…
Two things I did not think about in the kitchen were the electrical outlets and the switch for the garbage disposal. I had to have the switch rewired to an easy-to-reach location and I added a power strip to plug in countertop appliances. 
My washer and dryer are up on pedestals. This took some convincing due to the price (thanks, Mom!), but it provides extra storage for pots and pans and cleaning supplies, not to mention easy-access to laundry.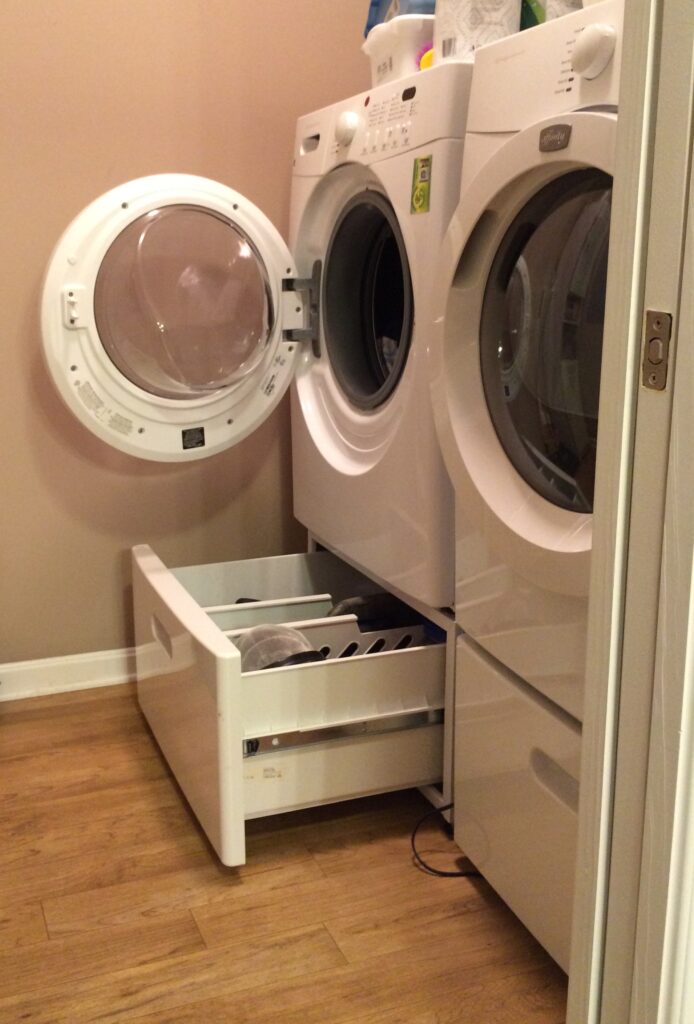 My refrigerator is a "bottom-freezer refrigerator." The refrigerator is on top and swings out and over my legs, allowing easy access to the shelves. The pullout freezer also provides easy access to frozen goods.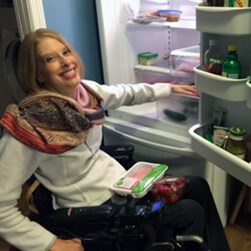 A few other additions I added was a keyless keypad entry for my front door. This allows me to give a code to a caregiver instead of a key. If I have to let a caregiver go, I change the code and don't have to hunt down the key or change the locks. It's also good in case of an emergency.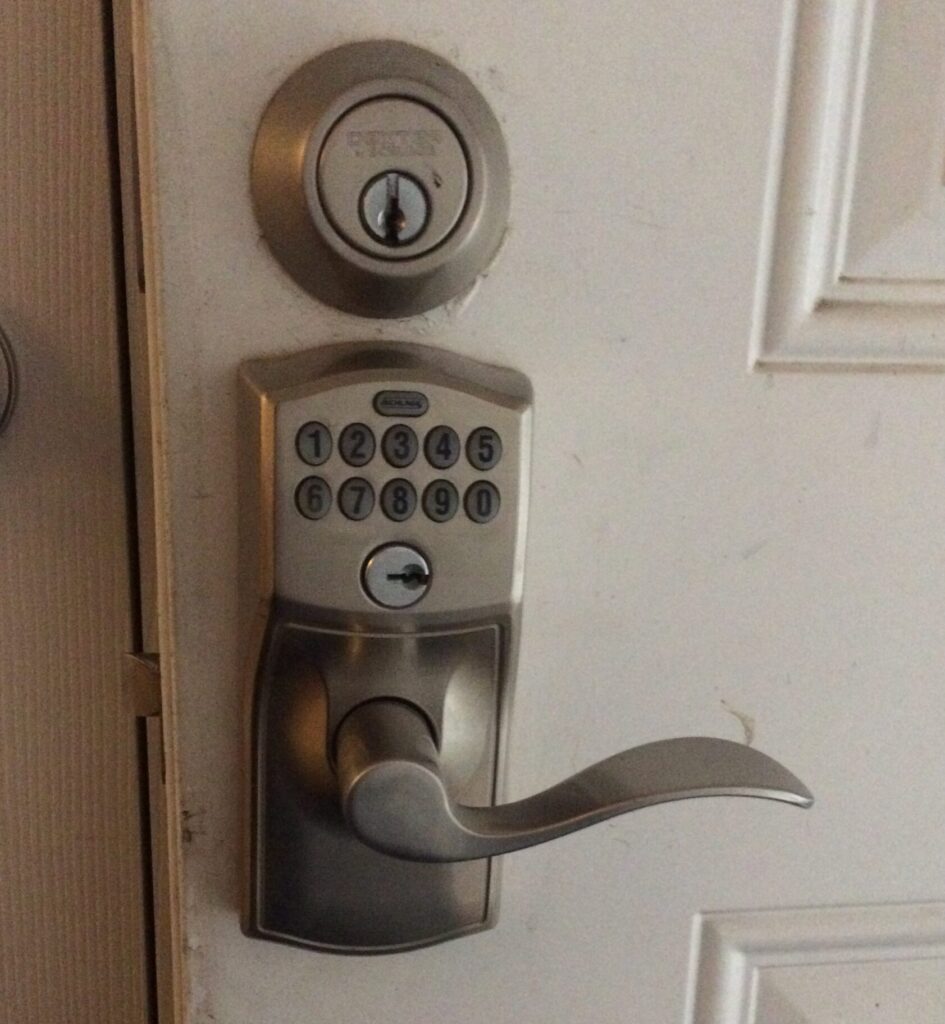 Finally, I have a thermostat that is programmable and Alexa-enabled; in the winter the heat comes on in the morning before I get up so I don't shiver any more than necessary.
Making a house a home
Logistically, that is how I made the condo accessible. But the condo became home after hours – and hours – of watching HGTV to get ideas on decorating, shopping in antique malls and scouring Craigslist for deals that made a house a home.
I still travel to not-yet-accessible locations for my job. On arriving home, I always have a new-found sense of appreciation for being able to live independently simply due to accessibility. There's no feeling quite like it.
Home sweet accessible home.
Get more tips in these articles:
The links in this article are affiliate links; I may receive a small commission from any purchases.