In 2018, I wrote about the adaptive jeans by Universal Thread™. They were nice. But I had to modify the snap. The jeans were a bit too short. And the waist was uncomfortable.
When I recently checked to see if Target still carried the jeans, I was intrigued. Universal Thread™ had redesigned the jeans. A stretch waist replaced the impossible snap. A long length was available. And the price was still a very reasonable $29.99.
Let's go to Target's website
I studied the adaptive jeans on Target's website. The Women's Adaptive Bootcut Jeans by Universal Thread™ are available in black, dark wash, green, medium wash, and dark black.
Here is the description from the website:
The Adaptive Bootcut Jeans from Universal Thread™ feature a classically chic design with thoughtful details specially made for adaptive needs. Made from a power stretch fabric for a flexible fit, these adaptive high-rise jeans will keep you comfy all day, complete with a bootcut fit that flares at the ankles with zippers for extra room. Designed with flat seams and no back pockets for a smoother fit, they also feature a wide, stretchy waistband at the front and belt loops at the back for a stay-put fit you'll appreciate.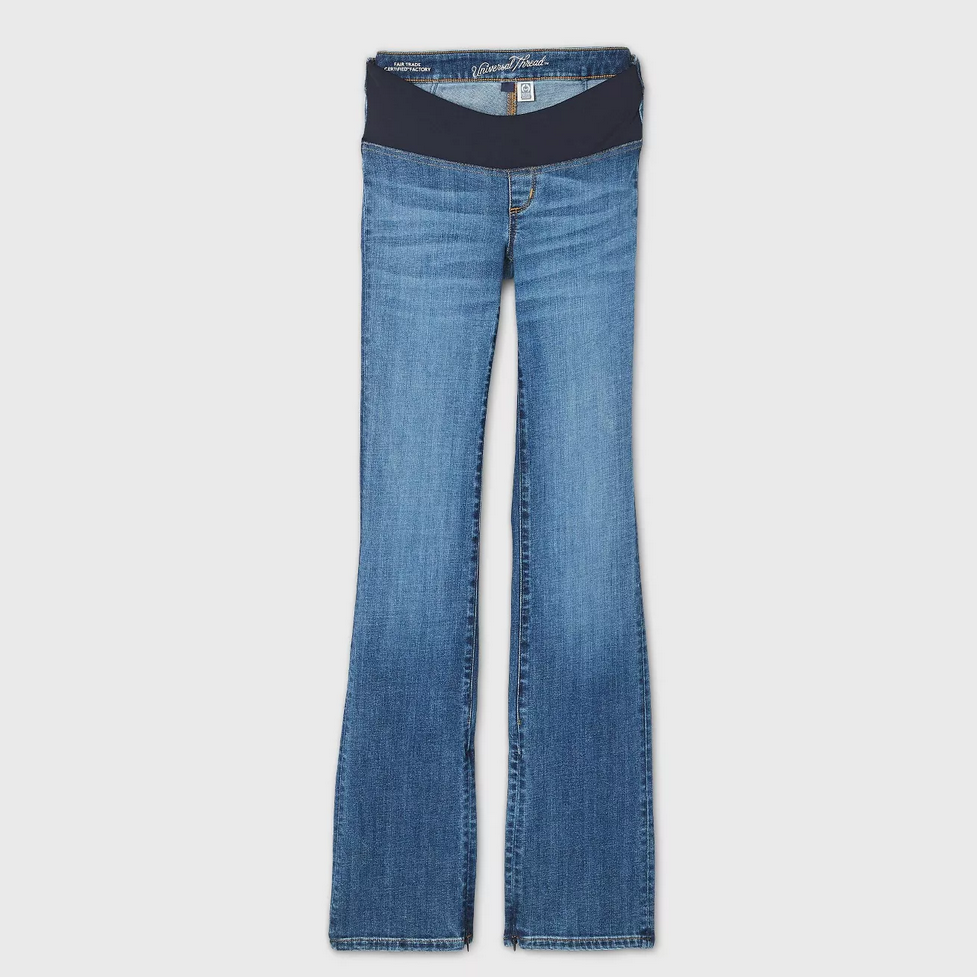 Higher back waistband. Check.
No back pockets. Check.
Flat seams to prevent skin breakdown. Check.
Stretchy waist and stretch denim. Check.
Available sizes: Womens 00 to 18 in Regular (34"), Short (32.5"), and Tall (37"), and Womens Plus 14W to 26W.
Before we go further… Men, unfortunately, the Universal Thread™ jeans are only made for women at this time. I'm sorry, guys. Truly.
Easy ordering from Target
The adaptive jeans are not available in stores. So, I placed an order for a pair of long-length, medium wash jeans. I went up one size as I normally do with jeans.
When I received the jeans, my hands felt the stretchy—yet "real" denim—while my eyes soaked in the great color and l…o…n…g length.
Could this be perfection?
When I tried them on the next morning, the material blanketed my feet; the pant legs were too long. I've never had a pair of pants that were too long! The waist and hips were also quite a bit bigger than I expected.
Disappointed at not receiving instant gratification, I returned the jeans and re-ordered a regular length in my typical size.
And they are close to perfect.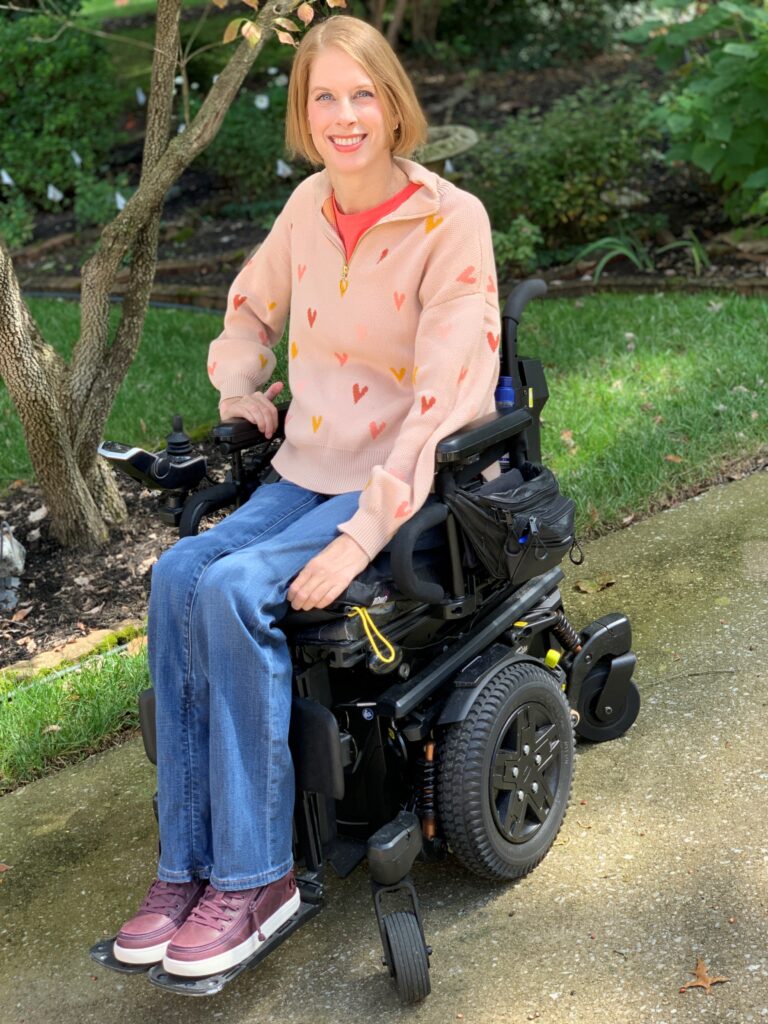 Perfect Adapted Jeans from Universal Design™
But it gets better. Women, you know how jeans can fit in the morning and feel uncomfortably tight by mid-afternoon? The stretchy panel at the front waist allows these jeans to feel comfortable ALL…DAY…LONG.
The jeans have a loop at the side seam to make pulling them up easier.
And if you wear a leg bag at your ankle, the adaptive jeans have a hidden zipper on both legs to expand the opening to easily empty a bag. (The zipper pulls are tiny, so if you don't have hand function, you'll need to modify the zipper or have help.)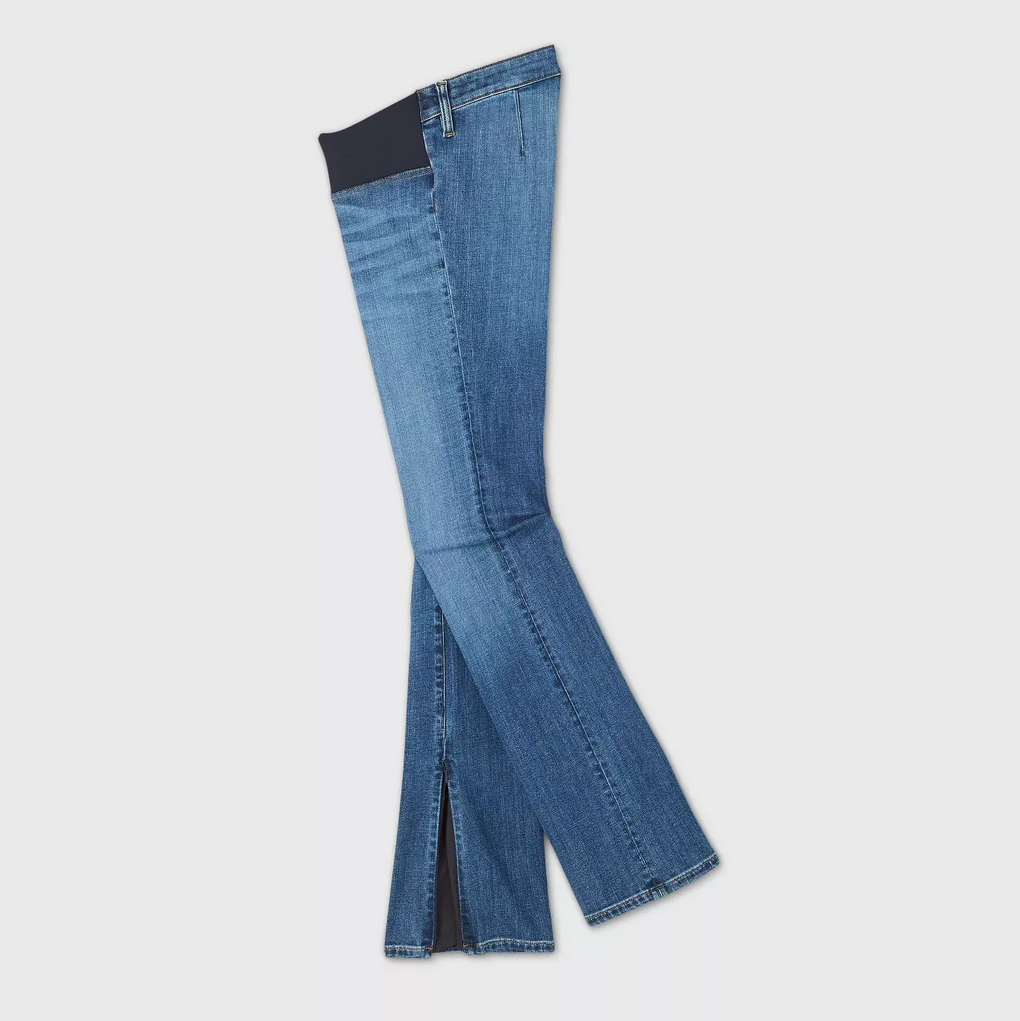 Since the pants are slightly boot cut, they are easy to take off as well.
My only complaint is the length. I'd prefer an extra inch or two of length. But the longs were way too long. Since the length can't be easily altered due to the zippers, I'll stick with the regular length—and tug the pant legs down as needed.
They are so reasonably priced, I ordered another pair
Most adaptive clothing is so expensive that the average person can't afford it. But under $30? I decided to try the dark black pair. One can never have too many pairs of black pants. Right?
What's interesting is that the dark black denim is more of a cotton twill with stretch. Casual dress pants. Perfect for the office. But not "jeans." However, they fit just as well, and I'm very pleased with them.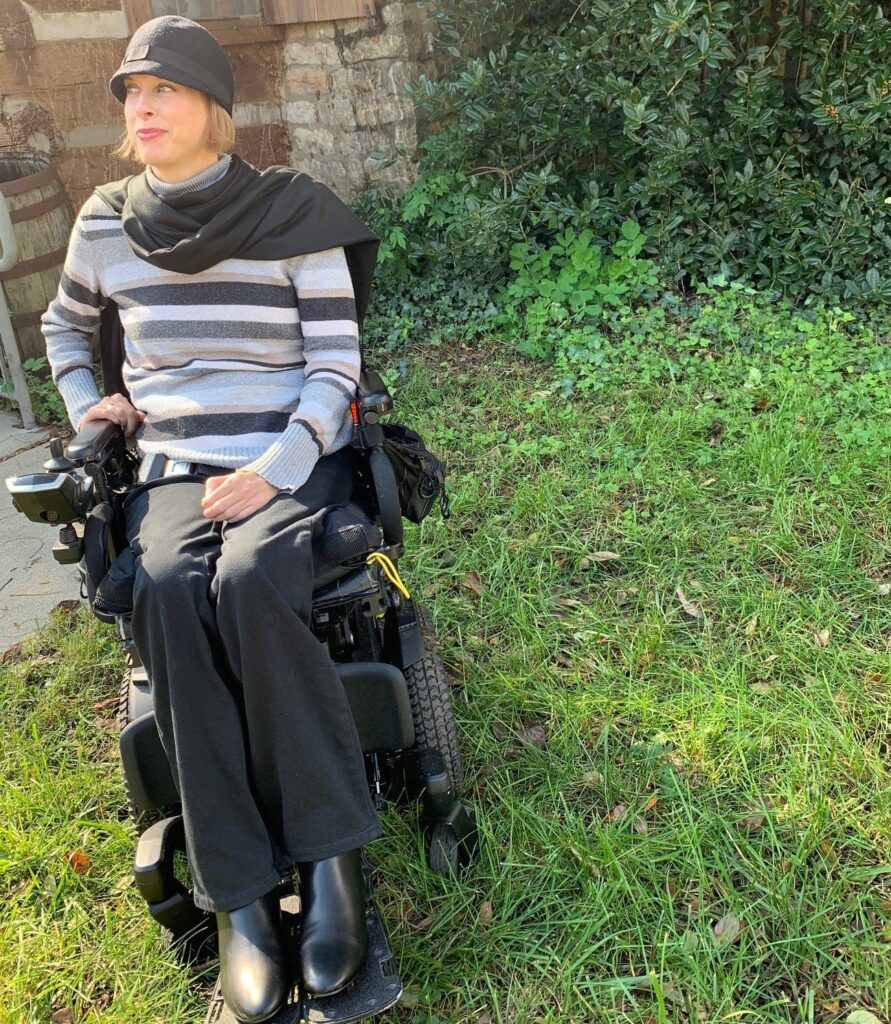 My conclusion
The Women's Adaptive Bootcut Jeans by Universal Thread™ are the real deal. The look, feel, fit, and price point are spot on.
They are the best-fitting jeans I've had in three decades.
And that says something.
My tips for the adaptive jeans by Universal Thread:
No need to size up
If you usually need a 35-inch inseam or longer, try the long length.
If you typically wear less than a 32-inch inseam, I advise ordering a short length. Or get both sizes and return the pair that doesn't fit.
Stock up!
Other options for adaptive pants:
This site contains affiliate links to products. We may receive a commission for purchases made through these links.