Rainy Day + Empty Fridge = The decision to try home delivery with Kroger
The recent advent of shopping online via Kroger's ClickList allows Kroger employees to gather my groceries and place them in my trunk once I arrive in their parking lot. The $5.95 is worth it on occasion, especially when I'm buying more than can fit in the small basket I place on my lap. I avoid searching for an accessible parking spot (or parking way out and taking up two spots when people are parked over the van accessible areas). And it spares me from having to ask strangers to reach the top shelf when items are out of my reach.
On Sunday it was raining. I'd not slept well. I needed groceries, but didn't feel like leaving the house to pick up groceries even by shopping online with ClickList. Then I remembered the email I received stating that my local Kroger was offering delivery service and the first home delivery was free.
Sold.
I went to Kroger's website and clicked on Delivery. The first thing I noticed was, unlike ClickList, my order could be purchased and delivered within two hours. Typically, a ClickList is scheduled at least four or five hours out, if not the next day. Since it was about 3 p.m. (and I planned on taking a Sunday afternoon nap), I chose a delivery time between 6 p.m. and 7 p.m.
The ordering page was different than Kroger's ClickList. Normally, all of my regularly purchased items show up on the first page, making it easy to scroll through and add the items that I normally purchase to my "shopping cart." I had to look up most of my items through the search box. Not a big deal, but it did take a little extra time. Once my order was complete and I had paid by credit card, I received a confirmation email.

After my luscious rainy-day nap, I began cooking dinner. I had purposefully scheduled the delivery after 6:00 to avoid interfering with prepping for dinner. I received a text at 5:10: "Seleste just started shopping! We'll notify you if there are any changes."
Several minutes later I received a text from another number. When coming to a stopping point in cooking, I looked at the message: "The meat you ordered is temporarily unavailable. There are Laura's [Lean Beef] patties." The text was complete with pictures.
I finally realized that I was expected to respond. Several times Seleste and I communicated via text about substitutions. This doesn't happen with ClickList; Kroger employees will substitute for you if you allow substitutions (usually to a larger size or another brand at no additional cost).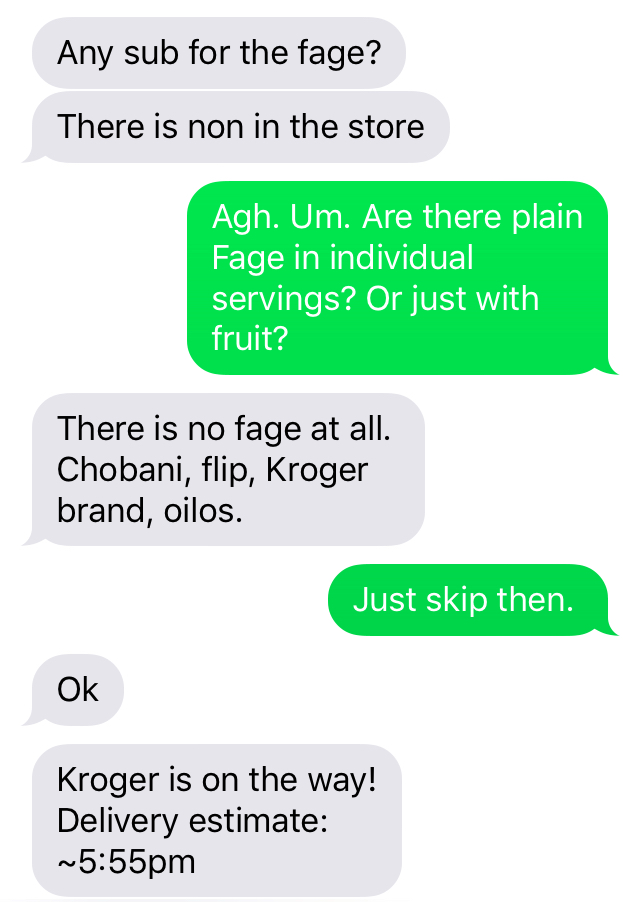 In just a few minutes I received notification my delivery was on its way and would arrive at approximately 5:55 p.m. I peeked on the website and viewed where Seleste was in her delivery route. I cleared off the kitchen counter, turned off the security alarm and opened up the door to find a smiling face standing at my door.
Seleste came in and placed the grocery bags where I requested on the countertop.
I needed some clarification.
"Do you work for Kroger or for another company?" I asked.
Seleste explained that she works for Instacart, not Kroger. This explained the differences in purchasing and communication. Looking again at the confirmation email, Kroger's logo is located at the top left and "powered by Instacart" is on the right.
Will I use this service again? Most definitely. Since I'm single and typically buy groceries in smaller quantities several times a week, I'll save the $11.95 delivery fee (plus tip) for when I really can't get out or when I have a larger than average order. (I'm already relieved at the thought of avoiding snow-covered parking lots this winter.)
Here's a quick overview of my experience with Kroger's delivery service with Instacart.
Pros:
Delivery within two hours, if desired
Great communication with my personal shopper
First delivery is free
Additional coupons are available when shopping with Instacart
Cons:
The website didn't list my previously purchased items at Kroger (although it appears that items I bought through Instacart will show up for future orders)
Possible communication is necessary with your shopper. This wasn't bad, but if I had been at work or doing something where I couldn't be interrupted, I may not have responded to the texts. Next time I'll know to write details about substitutions in the space provided.
For those on limited budgets, the $11.95 delivery fee is not affordable on a regular basis.
Would I recommend home delivery by Instacart with Kroger? Yes. I got my nap, cooked dinner, and had my groceries placed in the fridge just in time to eat. Seleste was wonderful at asking about substitutions and was not only friendly, but very helpful in placing the groceries in an easy to reach location for me.
Take a nap. Cook dinner. Let Instacart shop and deliver your groceries.
And never leave the house.