I needed a professional massage, but I wasn't sure how it would work with a spinal cord injury. It had been 10 long months since I'd had an occupational therapy session. And I was feeling the repercussions of it. Finally, I bit the bullet and purchased two sessions with a massage therapist.
When I first started experiencing some twinging pains in my shoulders about eight years ago, I decided to be proactive. After all, overuse injuries to the shoulders with a spinal cord injury are not uncommon.
For about eight years I have seen Reena (an OT experienced in spinal cord injuries) at least monthly to stretch my shoulders and release my tight neck, trapezius, pectoralis and lat muscles. As a quadriplegic, these muscles are used 24/7. They are my life.
The Need
But 2018 was a weird year. I saw Reena once in March. Then I had surgery. And, you can read the rest of that story here.
In December I was desperate. My neck and shoulders were tight no matter how much I stretched or worked out. And I couldn't get my schedule to work with Reena's for an appointment.
When Elements Massage was having a Christmas "buy-one-get-one-50% off" sale, I went for it. I had been to Elements with great success before.
Planning Ahead
Before going to Elements the first time, I spoke with the owners, asking the following questions:
Are the rooms large enough for a wheelchair?
Do the tables rise up and down?
Will the therapist be allowed to help me, if needed?
The answer was "Yes" to all these questions.
Scheduling
In December I scheduled my appointment on a day prior to when I take a shower (my hair gets oily during the massage). Thinking ahead, I planned a time convenient for all other things SCI-related (bladder, bowel, etc.). And I wore pants that wouldn't slip down when transferring.
I also made my appointment with Cara, with whom I'd had a massage a few times over the past several years. She knows the drill and it's easier to work with the same person repeatedly. (Plus she's great!)
A Little Help
We adjusted the hydraulic table to the same height as my chair. But 2018 was a rough year. My normally independent transfer wasn't quite independent. So I explained to Cara how to give me a little boost. She even lifted my legs up on the table. I took my top layers off, keeping my sports bra on. I stretched out on the gently heated table.
Cara started by working on the front of my neck, shoulders, biceps and arms. Then it was time to flip onto my stomach. I need help with this (so I don't roll right off the table). But with her assistance, I was on my belly. I love belly time. It stretches out my hip flexors, which in turn loosens my tight lower back. We positioned my hips properly on the table. Slipping my sports bra down, she started digging it to my traps and upper back muscles.
Feels oh so…
Since I have a complete C6-7 spinal cord injury, the feeling on my skin ends quite high on my back (above my shoulder blades). But I still can feel deep pressure on the back muscles below my injury. Knots and "ropes" of tight muscles get kneaded with deep pressure. It's a glorious pain. In addition, I get a weird sensation of electric shocks – not painful, but tingling – all the way down to my toes. I have an Asia A injury, but something connects during those massages in an odd, wonderful way.
Benefits
Oftentimes, massages are characterized as simply a luxury item with no direct health benefits. But loosening tight, overworked muscles is an incredible benefit I receive from a massage.
Because I was so tight, I wanted to focus solely on my upper body. But in the past Cara has massaged my lower extremities to help with circulation in my feet. (Let's just say I peed out all the fluid in my swollen ankles soon after I left).
As much as I enjoy the "heavenly pain" of a massage, I feel that my occupational therapist does an incredible job maintaining and increasing the range of motion in my shoulders, which is my primary goal. It also helps that OT is covered by my health insurance.
This is the only body I have. My goal is to keep it in the best shape possible.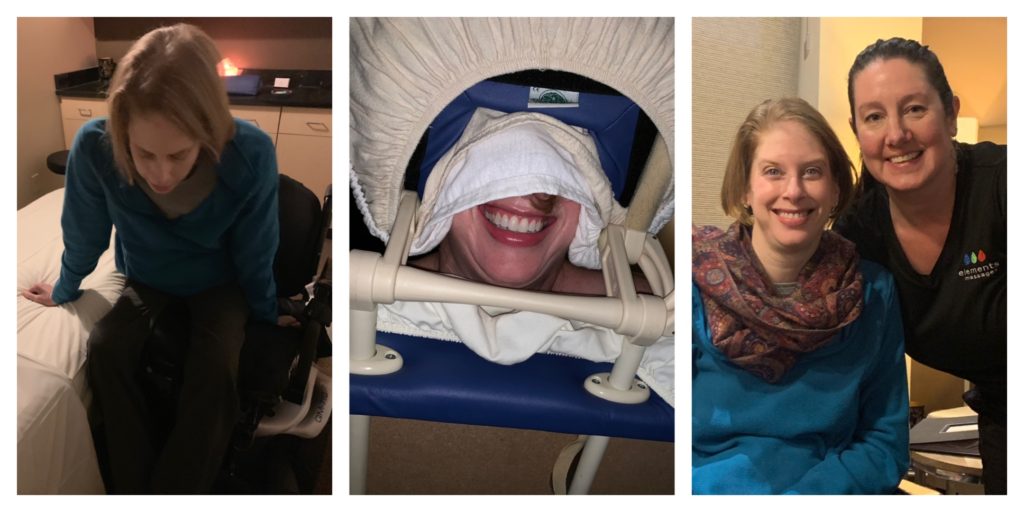 Have you had a massage? What was your experience like?
I have been told by other businesses that they would not allow the massage therapist to assist me due to liability issues. What's your experience been?