I'd always wanted to visit Berea, Kentucky. I'd decided I need to see more of Kentucky. I've lived in Louisville since I was 11 years old, but I haven't seen the majority of the state. So when I found out I was going to go to and speak at Quality Life Association conference in Knoxville, Tennessee, I decided to make it an opportunity to see some sites along the way.
Berea
Knoxville is only a 4 ½ hour drive from Louisville. But I chose to break up the trip and stop and see Berea, Kentucky, on the way.
Berea is known for its artisans, as well as Berea College. I've always heard wonderful things about the small town, so I thought it'd be a nice halfway point to Knoxville. Knowing the Boone Tavern Hotel and Restaurant is an historical site, I called to see if they had accessible rooms available. They did! I booked an accessible room with two beds.
Back Roads of Kentucky
On our drive to Berea, I took the back roads. I prefer seeing the beautiful rolling hills rather than the rear of semi-trucks. We drove through Bardstown, Perryville and Danville.
In Danville I pulled over and we got out to see Constitution Square and its replicas of historic buildings. It was here that the constitution of the Commonwealth of Kentucky was signed on June 1, 1792. The site has nice brick walking paths that are not too bumpy and large trees providing shaded areas. There is one step into each building. After eating a bag lunch under the trees, we got back on the road.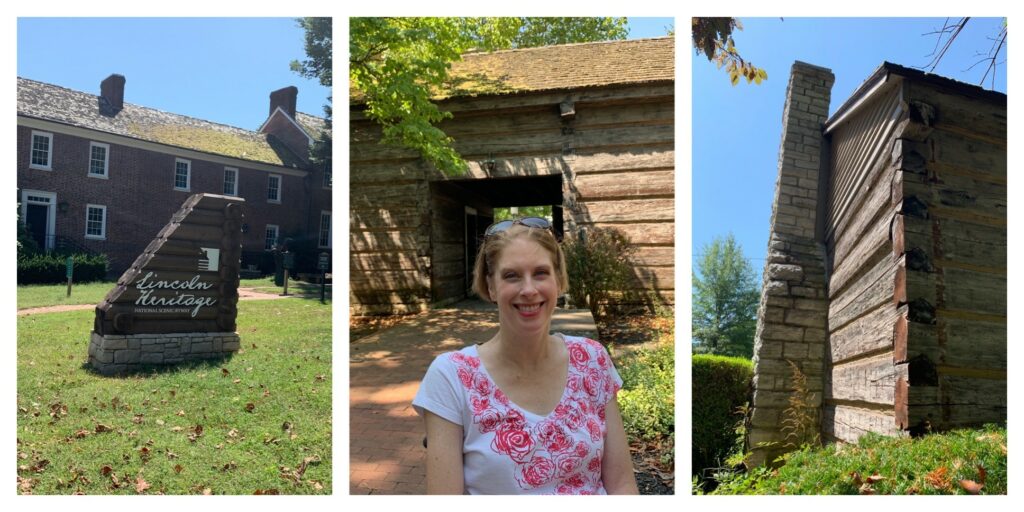 Historic Boone Tavern
On arrival in Berea, we checked in at the Historic Boone Tavern Hotel. The inside of the hotel is magnificent. Various formal sitting rooms prove that this hotel built in 1909 – on recommendation of Nellie Frost, the wife of Berea College's president – had served as a place to entertain guests of the college.
Upon check-in, I again ensured that our room was wheelchair accessible. I was told it was. With a sigh of relief, I asked their recommendation for dinner around town. The hotel also has a restaurant, so we made reservations for dinner.
When we arrived in our room – after fighting with an "old-fashioned" lock and key – I took in the beautifully furnished room. It was everything I had hoped for. Except it wasn't.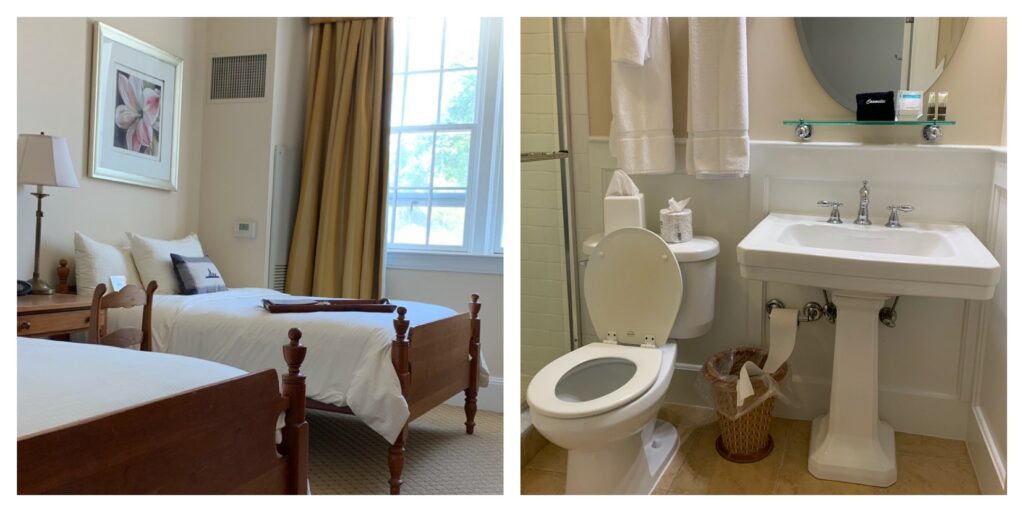 The room was small, as I had expected from an historic inn. But the bathroom was itty bitty. There was no access to the shower for a wheelchair user and no grab bars for those who need them. The pedestal-style sink limited the ability to reach the sink. Honestly, there wasn't anything accessible about this room.
Discovering Berea
Trying to make the best of the situation, my mom and I started to explore. We walked to buildings within the vicinity of the hotel. The highlight of the day was visiting Warren A. May Woodworker.
Warren has been hand-making furniture and dulcimers, a 4-stringed traditional instrument of Appalachia, for over 40 years. He was gracious enough to place a dulcimer in my lap and allow me to see if I could modify the supposed "easiest-to-play" instrument. If I find myself with time (and money) to spare, you might just find me purchasing a dulcimer from Warren.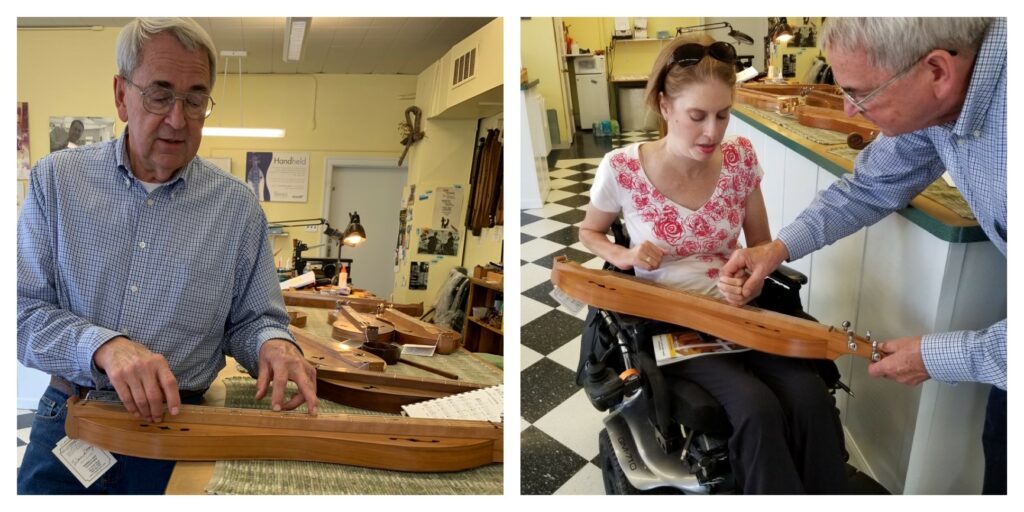 Then we decided to walk to the Artisan Village. We were told it was within walking distance. But on a 90 degree day with high humidity, my mom and I both soon regretted the decision. Too hot to turn back, we pressed on and ducked into the first shop we came to. Ah. Glorious air conditioning.
After looking around and cooling down a bit, my mom needed some water and went to a small shop. I decided to try and see a few more shops before heading back. Unfortunately, several had steps and another I tried to get into had a large doorjamb that my EZ Lock tie-down got stuck on. I gave up, too hot to try crossing the street to visit more stores. (When driving by the next day, it appeared that those stores were more accessible.) We returned to the hotel and spent some time in the room cooling down.
Boone Tavern Restaurant, errr… Café
Then we headed down to the restaurant for dinner. Unfortunately, no table could accommodate my wheelchair. All the tables had a table apron about four inches lower than the table surface. My knees couldn't get under the low-hanging table. After explaining the situation, the server seated us in the café. It worked, but the ambience I was hoping for was lacking while sitting in a coffee shop full of college students.
I ordered the roasted salmon and my mom got "Chicken Flakes in a Bird's Nest." But it was an appetizer that intrigued us the most: Deep Fried Deviled Eggs with capriole goat cheese and spiced cherry jam. Come on! We had to try that. And it didn't disappoint. The sweet jam with the mustardy egg yolk was a delicious treat. Both entrees were tasty, as well.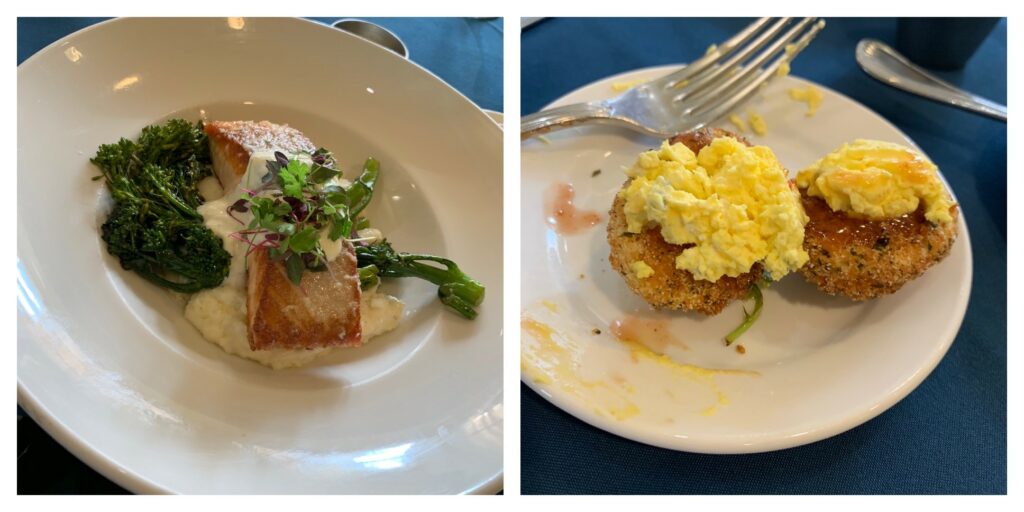 Too close for comfort
After dinner we returned to our room. I had planned to enjoy the evening by reading. But the room was so tight that my mom couldn't pass by me to get to other parts of the room. I finally left to read in one of the sitting areas down the hall. The sitting rooms are lovely with antique furniture, rugs and paintings.
Follow-up call with the hotel
While writing this article I contacted Boone Tavern for input on the number and types of ADA rooms they have available. After looking at records, it seems I was not given an accessible room – despite it being stated in my reservations and my three confirmations.
You might ask why I didn't say something once I saw the room. Why should I need to? I had just confirmed that the room was accessible. Since "accessible" can be a very loose term, I figured this was their definition of accessible. It gets tiring always having to advocate. I guess I learned a lesson: always speak up.
My conclusion
After all is said and done, Berea is definitely worth seeing. It was nice visiting the artisan shops. If you appreciate historic buildings, the Boone Tavern is worth seeing. But learn from my experience and speak up if the room isn't accessible. My understanding is that there are, indeed, ADA compliant rooms.
In a following post, read about our very positive experience when we stopped at Cumberland Falls State Resort Park.
What to expect:
Both beds were comfortable and we slept well.
For transferring into the bed, I did have access to either bed, so I could chose the one that worked best for me.
Although I didn't measure the height of the bed, I'd guess it was about 28 inches. It was high enough to use the elevate feature on my power chair.
For transfers, the bed has an actual wooden frame, so be prepared to transfer over about an extra inch of bed frame to the mattress.
Be forewarned that if you eat at the restaurant, you might have a bit of sticker shock. I should have looked at the menu before making reservations.
Don't expect cheap souvenir shops in Berea. These stores offer high quality, handmade goods that will cost – and are worth – a pretty penny.
Expect to meet a lot of great students. Berea College, founded in 1855, was the first interracial and coeducational college in the South. Berea offers a No-Tuition Promise; every student receives free tuition in exchange for working. The Boone Tavern Hotel and Restaurant employs many Berea College students as part of their education.