On the night my friend Dot completed chemotherapy, a group of friends was going over to her house to celebrate. Due to the chemo and the accompanying fatigue, they opted to order pizza. As I read her email, it was 2:00 in the afternoon and I agreed pizza sounded tasty. And easy.
But I need to mention Dot lives in Italy. It's really good pizza. And pizza in Italy is unlike anything I could ever throw together.
Knowing that my budget prohibited ordering pizza (and I wanted a healthier option), I decided to make "pizza" for dinner. Dear Italy, please forgive me for the use of this word as I describe my homemade, mobility-friendly concoction.
Ingredients
1 pound ground beef (or turkey)
16 ounce can of pizza sauce
Loaf of crusty bread or sub sandwich buns
Mozzarella or Italian blend grated cheese
Any veggies you might want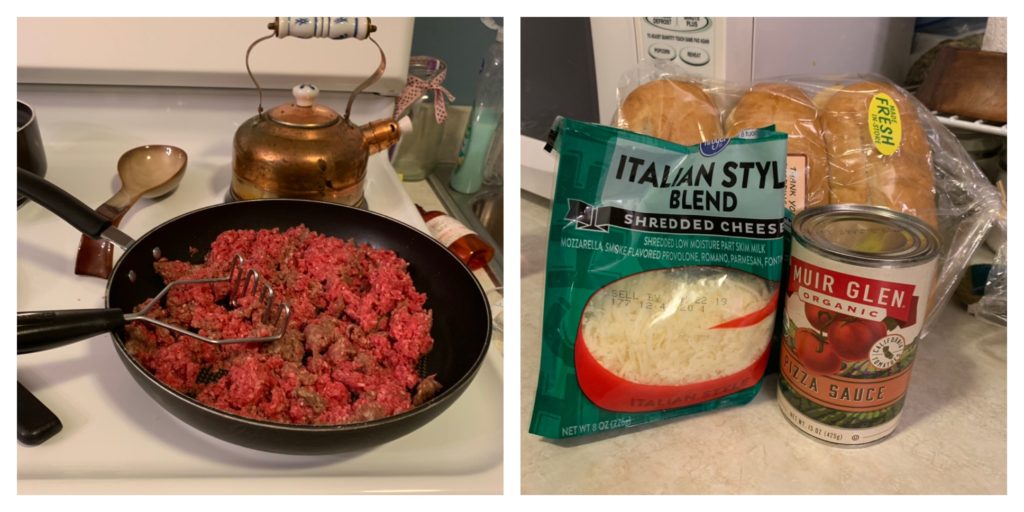 Directions
Brown the ground beef in a large pan. Since I can't safely pour off the excess grease, I use a paper towel to soak up the grease. By tipping the pan towards the paper towel, the grease runs right into it.
A toaster oven is a great option if you have limited hand function. Place a piece of aluminum foil over the tray. Then put the bread on foil. (It helps if the bread is pre-cut when you buy it.; the bread I purchased wasn't cut, so I had to take an extra step to carefully slice the bread into halves.)

Generously cover each piece of bread with pizza sauce. Then heap on the ground beef and cheese and any other toppings you'd like to add.
Set the toaster oven on 425 degrees. Bake until the cheese is melted and golden brown.
While the "pizza" was cooking, I transferred the sauce, ground beef, bread and cheese into resealable containers for leftovers. And I made a quick salad by throwing mixed greens into a bowl with raspberries and blue cheese. (I've had this thing for blue cheese lately.) I topped off the salad by drizzling balsamic vinegar and olive oil over it – as I had learned in Italy – and added a few dashes of salt.
Once the cheese was melted and browned, I turned off the oven to allow the foil to cool off. Typically the cheese sticks to the foil a bit, so I pulled both the foil and pizza over to a plate. (The foil cools off quickly, but be careful if you have limited feeling). Then I scooted the pizza onto a plate. And I may have watched Survivor, my guilty TV pleasure, while enjoying my meal.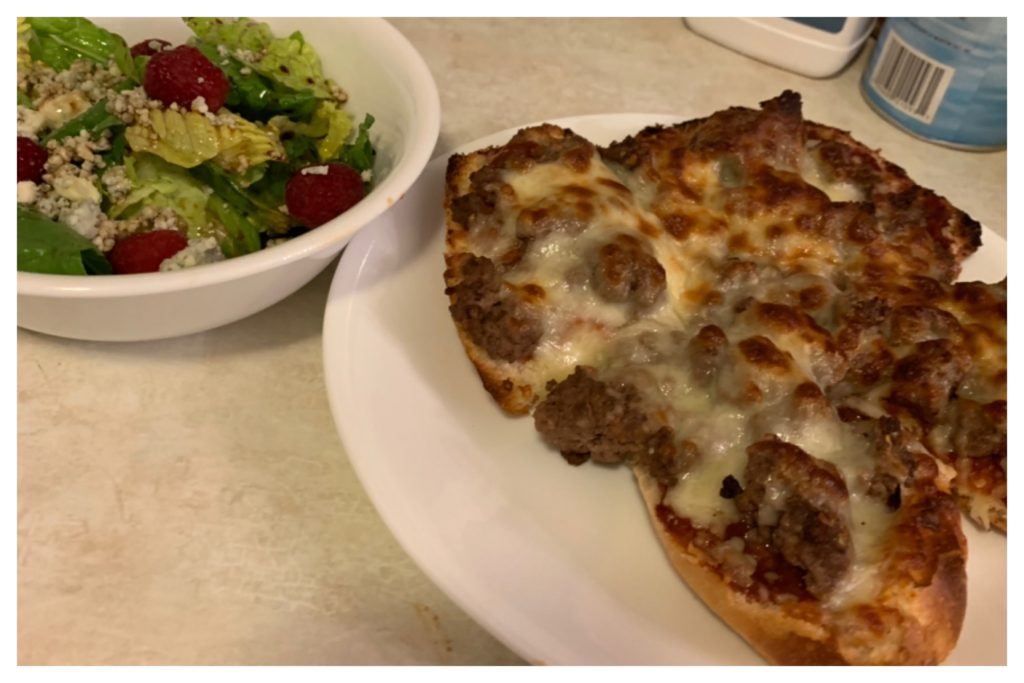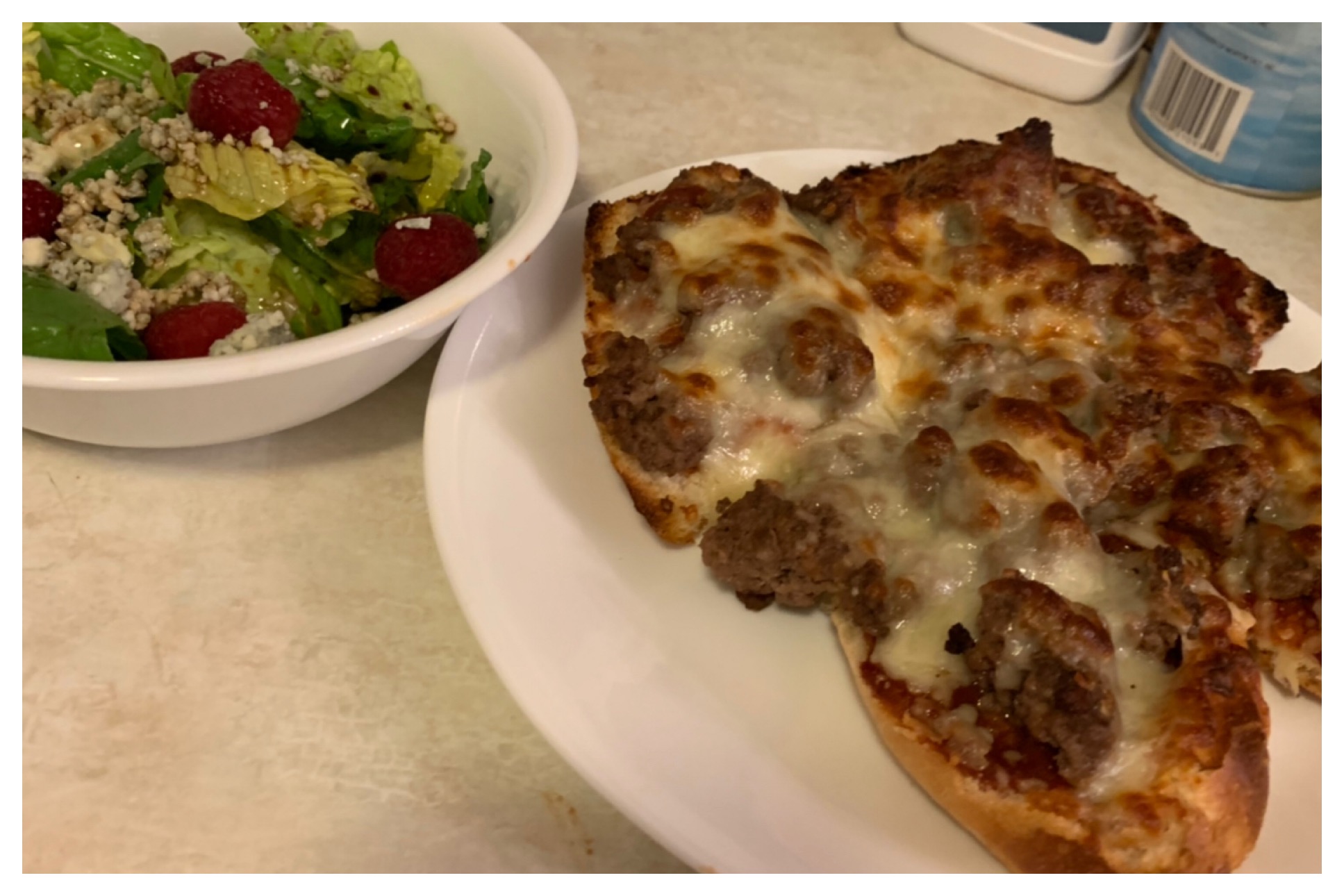 Tips & Tricks
A potato masher is great for breaking up ground beef.
Use paper towels to safely and effectively soak up the grease from the ground beef.
Use an automatic can opener like this one. One button to start and stop – and no sharp edges.
Pack up your leftovers for easy meals throughout the week. Ziplock bags are effective for cheese. Plastic containers are light and easy to open (and they don't hurt your teeth!). To close the bag for breads, I use wooden clothes pins. (Once again, won't damage your teeth.)