Folks, pay attention. This dish is so incredibly delish. And easy. I'm not confident in my fish-cooking skills, but I figured this was worth a shot. And I'm so glad I tried it.
You can easily half this recipe if you are cooking for one or two (you'll want leftovers). Although I only cooked two portions of the salmon and rice, I made the full amount of sauce and only had a bit left over. It's just that good.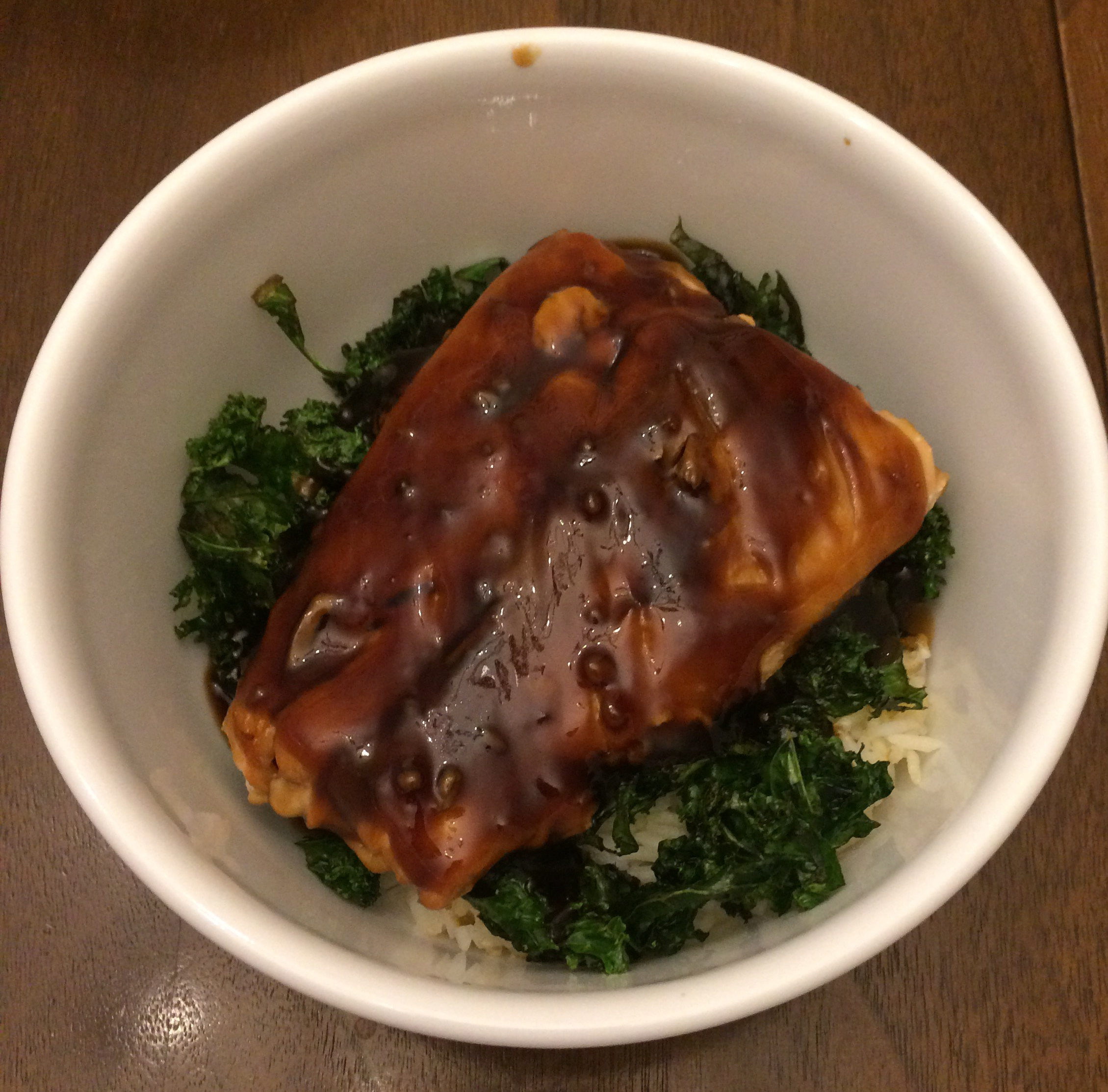 Ingredients (for 4):
4 pieces of salmon (or if you know how to buy fresh fish, go for it)
2 cups uncooked rice
4 tablespoons soy sauce
4 tablespoons maple syrup
4 tablespoons lime juice
1 ½ teaspoons cornstarch
1 teaspoon minced garlic
½ teaspoon olive oil
6 to 8 cups of kale
Cook rice as directed. Sauté the garlic with olive oil until fragrant (about one minute). Add maple syrup, soy sauce and lime juice and cook until it starts to bubble. Mix cornstarch into 1 ½ teaspoons water until mixed thoroughly, then stir it into the sauce. Cook until the sauce thickens (about 2 to 3 minutes). Place the salmon on foil-lined baking pan. Top each filet with 1 tablespoon of sauce. Bake 12 minutes at 350 degrees or until cooked thoroughly. Sauté kale (or spinach) with olive oil in a nonstick pan over medium heat. Divide rice equally among bowls. Top each bowl of rice with kale and salmon fillets. Drizzle each serving with remaining sauce. (This sauce is AMAZING!)
Tips:
I buy individually packed and frozen salmon. Just defrost and rinse before cooking.
I rarely use my full-sized oven for baking due to safety. I use a toaster oven similar to this one by KRUPS. Mine is over 10 years old and still going strong.
A rice cooker makes cooking perfect rice so easy. I use an Aroma 6-cup Rice Cooker. For more flavor, I use chicken stock in place of water.