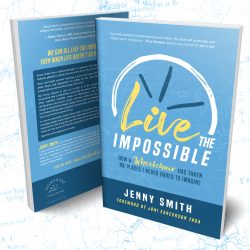 With honesty and humor, faith and fortitude, Jenny shows us how we can all live the impossible, even when life doesn't go as planned.
Jenny Smith was a typical teenager—a gymnast and athlete who loved hair and makeup, played in a band, and was active in her church youth group.
Then one bright summer morning, a spinal cord injury left her paralyzed from the chest down and dependent on others for her most basic needs. Privacy and independence seemed like things of the past.
But Jenny refused to give up or give in to her disability, and over time she discovered that a wheelchair could take her places she'd never dared to imagine. She's traveled multiple times to Afghanistan and Mexico for wheelchair distributions and sports camps, and even rolled the New York City runway as a model during Fashion Week. Today, Jenny Smith is a spokesperson for independent and vibrant living with a disability. Her speeches, articles, and social media presence have touched thousands of lives. 
In Live the Impossible, Smith shares what it looks like to live with paralysis, from the everyday details most people never think about, to the countless people who have impacted her life along the way. With honesty and humor, faith and fortitude, Jenny shows us how we can all live the impossible, even when life doesn't go as planned. Scroll down to read the teaser.
Jenny's book is a heartfelt and honest description of her life before and after her spinal cord injury (SCI). The book describes the struggles and successes from Jenny's unique perspective with sound-written documentation of all the challenges endured by any patient with similar injuries. From her initial injury to all the adjustment, Jenny's description of her life, resilience related to her wonderful personality, good social, medical support, and spiritual connection clearly describes all the tools needed to bounce back after an SCI. Jenny's book is an educational tool and a must-read for those living with paralysis, their families, and anyone caring for a patient with a spinal cord injury.
Camilo Castillo, MD
Program Director, Spinal Cord Injury UofL Health Frazier Rehabilitation Associate Professor, SCIMF Director Department of Neurosurgery/Division of PM&R
If you find yourself overwhelmed and worn-down, this book will encourage and inspire you to not give up.
Kyle Idleman
Bestselling author of not a fan
Jenny Smith has written a must-read for any family who has been affected by a spinal cord injury (SCI). A touch of God's graces, a bit of humor, and plenty of education are all included in Live the Impossible Jenny delves into the raw emotions and stages of grief one moves through with an SCI while adding an uplifting wit to unfold her poignant story. As a registered nurse who has worked with spinal cord injury patients and is now living with an SCI myself, it's easy to understand why newly injured individuals will quickly relate to Jenny's story and realize many others have rolled down the same path before them and they are certainly not alone in their new journey.
Patricia T. Kunze, BSN, RNC
The Rollin' RNs™
Once when Jenny was visiting Kabul, Afghanistan, when she was leaving our office she gently and confidently guided me how to lift, carry, and place her in the front seat of a van. When I read Live the Impossible, Jenny did this again and again. She gave me courage as she told how she is uncovering and discovering what she can do, where she can go, and who she is. Let's Live the Impossible with God, too! A read full of light.
Stve Craig
Former Director of a leading organization working with persons with disability in Afghanistan
Live the Impossible is written by a person who sees no limitations in life. Jenny entertains with her stories and then, almost in the same breath, teaches important information about self-catheterization, pressure wounds, surgeries, and sex. She writes about seemingly uncomfortable topics without effort but with all her heart. As a rehabilitation nurse, I would recommend the book to any patient with a spinal cord injury, but even further, to any person who has experienced significant life changes. This book is all about resilience, perseverance, and joy.
Rebecca S. Koszalinski, PhD, RN, CRRN, CMSRN
Associate Professor, Fran and Earl Ziegler College of Nursing, The University of Oklahoma Health Sciences Center