I discovered several accessibility features on the iPhone that helped me a lot. But when my iPhone 5s starting getting glitchy on me, I held out for over a year. I'm on a budget and had to stick to it. Plus I was determined not to get a new phone until Apple came out with a smaller model that was the size of the iPhone 5. With limited hand function, I wanted to make sure I could safely and easily hold the phone.
Unfortunately, after five and a half years, I had to lay my 5s down to sleep. After researching which model to go with, I held my breath as I went into the Apple store. I purchased the iPhone Xs to get me as much longevity as possible. Gulp.
And then…
After transferring all my information to my new phone, the Apple associate started showing me the basics of the phone. She showed me how to touch the screen to open the phone, as well as set up the facial recognition feature allowing me to skip manually entering a passcode.
Nice features.
And then what I feared most happened. Powering down the phone requires pushing two buttons at the same time. I'm doing well if I can push one button, much less two, with my gimpy hands.
But Apple Support came to the rescue. What follows are several accessibility features available on the iPhone. Some I was familiar with already, some are new to me.
Accessibility Features on the iPhone
Apple's customer support is incredible (one of the reasons I'm a returning customer). The store rep added to my contact list the Apple Accessibility support line. I spoke with Shane at Accessibility Support and he helped me with a few work arounds.
In the step-by-step directions below, each link is to a YouTube video that gives a great visual on how to enable each feature.
Power Off/On
Unfortunately, to power off the Xs requires two buttons pushed simultaneously. If you need to power down your phone, there are two ways to do this:
Push the right button and volume up button until you see the "power off" slide. This isn't easily manageable with the limited use of my hands.
The accessible work around is going to Settings – General – Shut Down.
There is one more way to restart (not power off) by using the AssistiveTouch button explained below.
Powering back on only requires holding the right button down.
AssistiveTouch Button
I was shown this feature several years ago by the awesome Abby Marsh. Turn on AssistiveTouch by going to Settings – General – Accessibility – AssistiveTouch.
Once you have that little gray button on your screen, you can turn the volume up and down, take screenshots, restart the phone, and mute or unmute the phone all by that little circle. It's wonderful.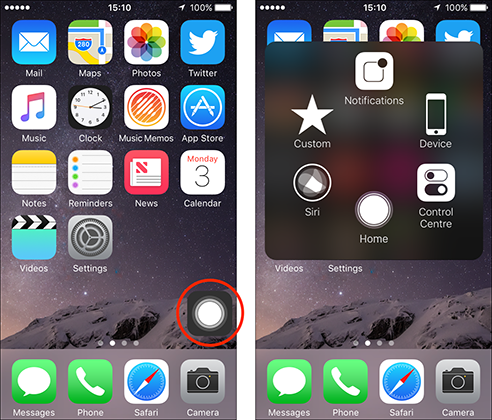 A feature I learned about from the video above is the "Custom Actions" for the AssistiveTouch. I now have the button set up with a "Long Press" to take a screenshot. Yay for the little things in life!
The video linked to above will show you all you need to know on how to set up AssistiveTouch and the options you have.
Reachability
Another great feature for those with limited hand function (or small hands) is Reachability. This feature allows you to swipe down at the bottom of screen causing the screen to "shrink" to the bottom half of the screen for easy access to the top of the screen. Enable Reachability by going to General – Accessibility – Reachability.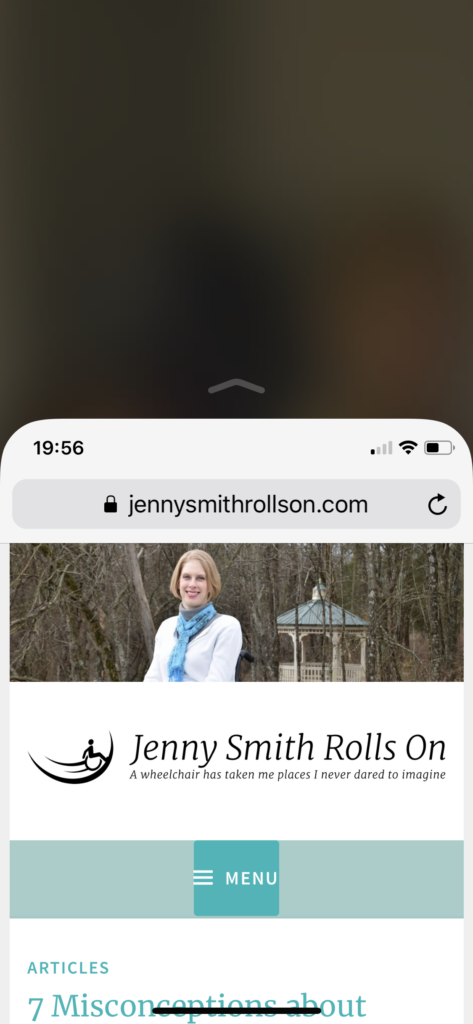 One-Handed Keyboard
Again, the screen on the Xs is larger than my previous 5s. The keyboard can be made smaller by making it left- or right-handed by the following methods:
Settings – General – Keyboards – One Handed Keyboard
or
Hold down the global keyboard button on the bottom left of the keyboard and choose the left, regular or right-handed keyboard setting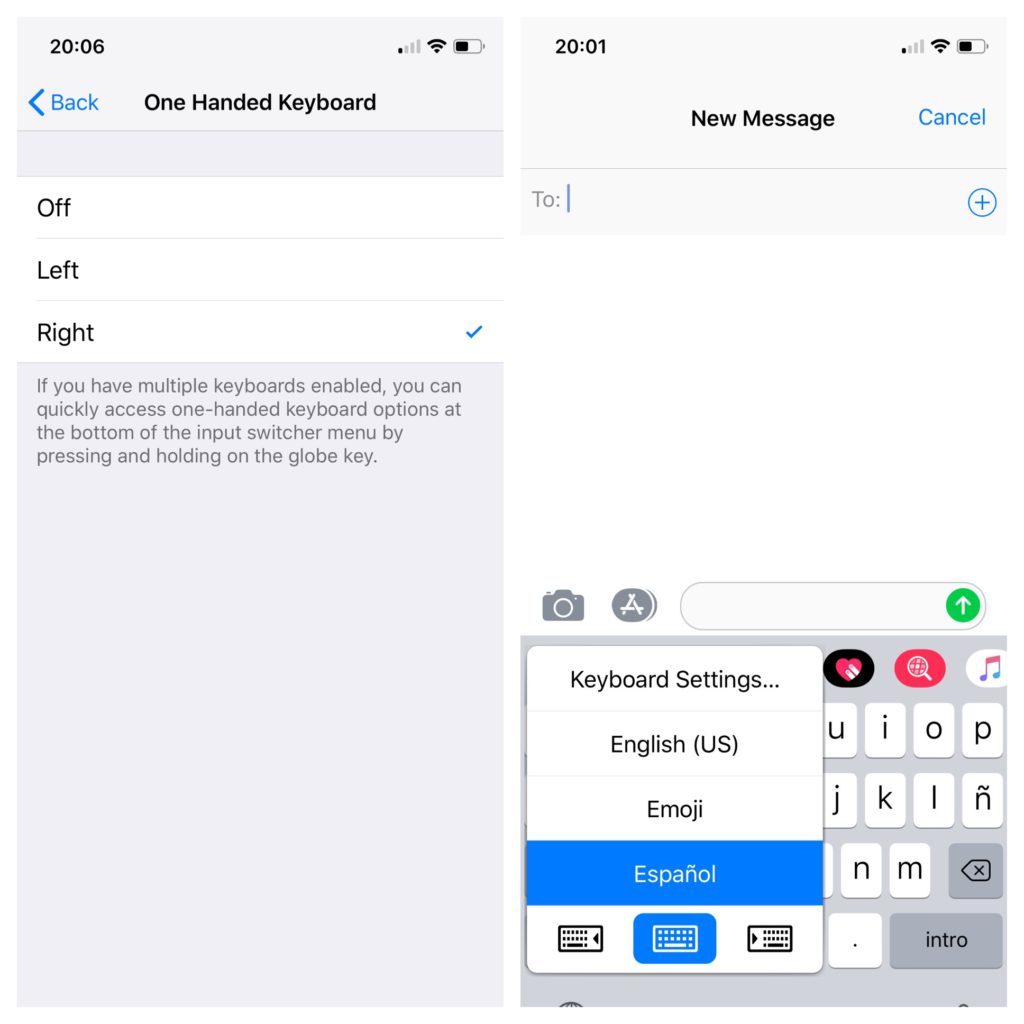 Apple Pay
A coworker was singing the praises of Apple Pay. It sounded like Apple Pay might be a faster and easier alternative to fishing out my credit card from my wallet.
Apple Pay allows you to use your phone to pay with a credit card. Supposedly, this is more secure than using your credit card. Since setting up Apple Pay, I've only used it once. And at that store, I had to push a button on the reader that I couldn't reach. But I'll try using Apple Pay again.
Protecting Your Phone
With limited hand function, safely picking up and holding my phone is a concern. I want to protect this expensive investment! In the past I have successfully used the Speck Candy Shell Grip Case. It's has a nice grippy surface to it. This time around I purchased the silicone case from Apple out of convenience. It, too, has a nice tacky surface to it that allows me to safely pick up the phone. It is thin enough to not make the phone too bulky.
Final Thoughts
Although technology keeps changing, many companies are including accessibility features in their products. These feature make life easier for both those of us with disabilities, as well those in the able-bodied population.
If you have ideas on how to improve Apple's products or features, Apple has a website where you can provide them with feedback. Go to apple.com/feedback.
Can't find a work-around? Call and talk with an Apple Accessibility Support Specialist at 877.204.3930.